Growing up, fiber artist Nanette Davis was always looking for something to make. "I was really good at using whatever I could find," she says. "Once, I was bored at my grandmother's, and I found some old matchbook covers and crayons and made my own scratchboards."
Davis, who is originally from Texas, grew up in a military family and has lived all over the U.S. She received an M.F.A from San Diego State University in fiber arts and moved to Portland 12 years ago. "I'd read about Oregon and Washington in some of my favorite books when I was a teen and I'd always wanted to come here," she says. "I finally decided it was time to relocate."
Working out of a basement studio, Davis uses a Japanese tie-dye technique known as shibori to create uniquely colored silk fabrics, which she then weaves into baskets such as Snow Solstice (pictured). Each basket takes from a week to a month to make. She begins by stitching a design into the silk with a needle and thread and then pulling the thread tight to compress the fabric into pleats. After that, the piece is vat-dyed in indigo dye, set, dried and then washed again to remove any excess color. "While I use many different colors of dye, I often come back to the same ones," she says. "I'm into using shades of blue and violet."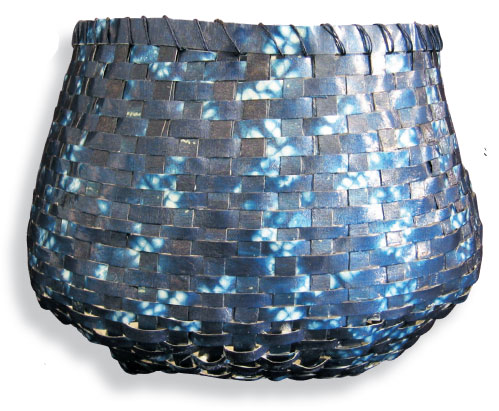 When the fabric is ready, she cuts it into pieces and bonds the pieces with a high-gloss medium to both sides of strips of foil, which she then plaits together to create a basket. "Cutting the fabric breaks down the pattern even more, so I can get some interesting combinations in the design," she says. "I thought some of the sections in this basket looked like snow, and that's how I came up with its name because I made it during Portland's recent solstice snow storm." The 6.5-inch-tall,
8-inch-wide Snow Solstice sells for $600.
Contact fiber artist Nanette Davis via e-mail at [email protected]. Her work also will soon be on display at the Museum of Contemporary Craft (724 N.W. Davis St., 502-223-2654 or go to museumofcontemporarycraft.org) in the Pearl District of Portland.