Tree huggers unite. There's enough tree-inspired décor on the market this fall to transform your home into a forest.
You can choose from quite literal versions such as a lamp by Frederick Cooper that looks like a brass-dipped bonsai tree with a shade, or a custom metal bed by California artist Shawn Lovell that seems to grow around the sleeper. Or go for a whimsical interpretation like the tree-shaped shelf by Korean designer Shawn Soh that cradles books and toys in its branches.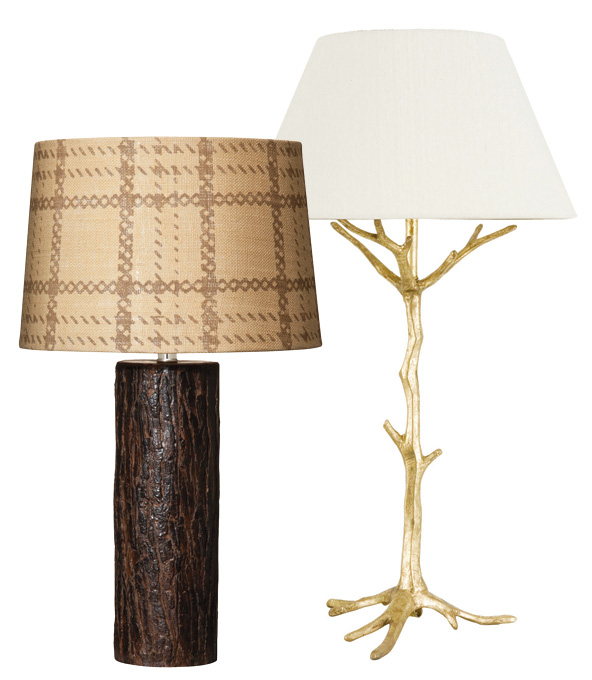 Left: Wood lamp base, $60, and burlap shade, $20, at Target.
Right: Sprig's Promise Lamp by Frederick Cooper, $399, at Paul Schatz Furniture in Tigard, Edman Furniture in Eugene and Bend.
If an entire tree is bit much for your space, there are plenty of pieces that make use of parts of trees including side tables with twig-like pulls, and chairs or ottomans in abstract leafy branch print fabrics.
There are even items that make a mere suggestion of flora such as the small oil lamp by Adam Frank that projects a flickering silhouette of a tree on a wall.
Floral frequently comes and goes; it's practically a home design perennial. But tree-inspired items are relatively rare, maybe because they command almost as much visual space as the real deal.
So use sparingly. Or you won't be able to see the trees for the forest. 
Correction: The nationality of designer Shawn Soh and the spelling of his name was corrected on Oct. 8