Illustrations Santiago Uceda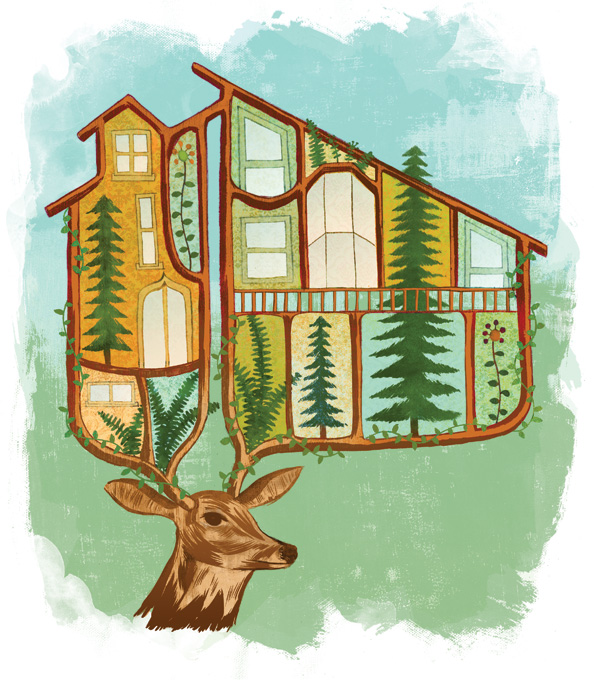 Virginia has its boxy brick colonials. Illinois is home to prairie style. California wrangled the ranch to popularity. And Oregon?
Oregon residential design is more than just a pretty space. It's an evolving process. Trying to define it is like chasing rain with a butterfly net. Ask people what it looks like and get responses like this.
"I take issue with the word 'look,'" says Clive Knights, chair of the department of architecture at Portland State University. "Architecture is so much more complex and rich than its façade."
How a home relates to its site, the footprint it leaves on the land, the way it accommodates residents' needs are all critical measures of its success.
Oregon homes don't simply look different, they are different.
But how?
---
Thinking outside the boxy house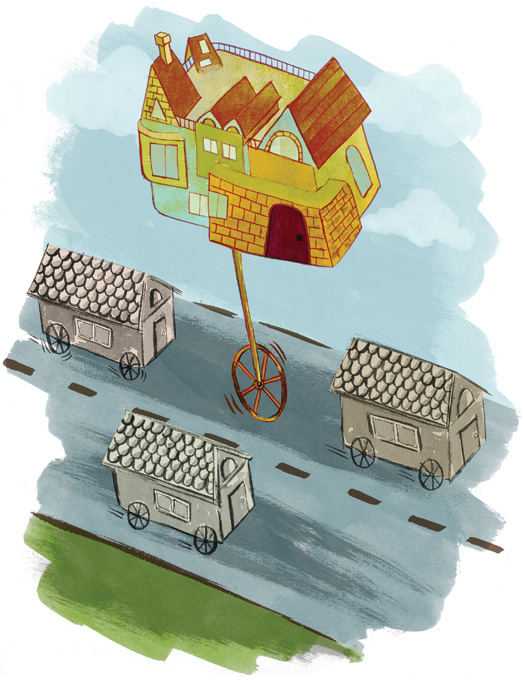 Rule one: Break all the rules.
"You have to go back to the '30s and '40s with Belluschi, Yeon and Storrs," says Portland architect Saul Zaik. "They were outlaws."
That far-thinking posse of architects broke from convention and refused to create replicas of popular homes. Most houses being built at that time were imitations of older styles. Those early Oregon architects leaned instead toward the emerging international modern school with its clean lines and walls of glass. They explored modern from a regional perspective, making it feel warmer and more organic with the use of natural woods. Zaik, a 1952 architecture graduate of the University of Oregon and a bit of an outlaw himself, was drawn to this new Northwest modernism.
"Some people were saying, 'Gee whiz, we have all this available lumber, and all these great sites,'" says Zaik.
So instead of aligning houses on neat grids facing streets, they designed specifically for each site to take advantage of light and views, and embrace the land. They clad the homes not in garish look-at-me painted siding, but in natural planks and shakes meant to blend with the environment.
"If someone drove by and didn't notice a house," says Zaik, "that was a success."
This wasn't the architecture of ego. Zaik's designs epitomize an enduring — and endearing — ethos of Oregon. Don't flaunt it. That's not to say they were dull. One beach house for a family with young children includes a glassed-in crow's nest with an expansive view of the Pacific, and a winding crawl space in the ceiling to keep gerbil-busy kids occupied on rainy days. They were homes for people like Zaik who enjoyed skiing the mountains, hiking the high deserts and fishing the rivers.
"There is so much talk of the Northwest style now," Zaik says. "We were just designing homes for the way people lived."
---
Walk softly, build boldly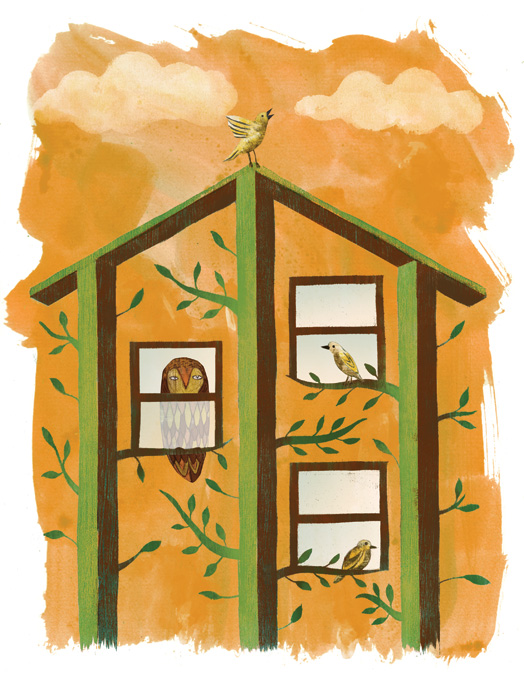 Oregonians lived close to the land. That made an impression on Knights when he first moved from England to work at Portland State University.
"Here the wilderness is a kind of ideal that people strive to experience and protect," Knights says. "The land is not something to be ignored and bracketed but to be used as inspiration for form."
It wasn't enough to visually blend into the environment. Oregonians sought homes that merged on a fundamental level with the land, and left a light footprint on their muse.
In 1992, as McMansions swept American suburbs, Portland architect Greg Acker finished an early example of a wholly sustainable home. Built for an earth-minded client and sponsored by PGE, the HERE Today home demonstrated what the future of green living could be. It was designed for energy efficiency, built with repurposed materials, and included carpets of recycled plastic and tiles of repurposed windshield glass. Acker helped establish national green building guidelines, and went on to many international projects. He's currently in Doha, Qatar as sustainability manager for an urban regeneration project  called Msheireb that will be the largest concentration of LEED rated buildings in the world when complete in  2016.
.
With such a global business, Acker might be expected to dismiss the very idea of an Oregon style as, well, provincial.
"Home design is very regional," Acker says. "Homes are very experimental and personal. It's about the only building type where small budgets can be a plus for creativity."
Oregon style isn't either/or — it's and. It's local and global. It's personal and communal. It's earthy and ethereal and evolving.
---
Allow room for risk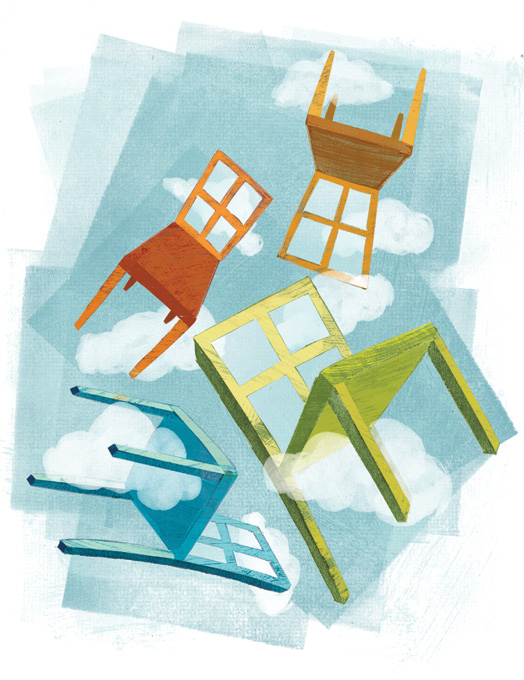 It's that sense that Oregon is still in flux that fuels some builders.
"There is a culture here of 'Why not?'" says Portland developer Kevin Cavenaugh. "There's not a corporate, top-down culture. The top is doing plenty, which is great, but no one at the bottom is waiting for the top to give its blessings."
Cavenaugh has built several daring mixed-use projects in Portland, including Rocket, Ode to Rose's and Box & One, that combine commercial and residential space. He's had smash hits and spectacular failures. And he's OK with that.
"You learn so much," he says. "You toggle back and forth between the right brain and left brain. Just developing a building is a kick in the pants."
Cavenaugh landed a Loeb Fellowship for mid-career professionals at Harvard for the 2007 academic year, and was asked to present a lecture on his Portland projects. He felt nervous. Harvard students were notorious for walking out of classes the minute they grew bored because there was always another more interesting lecture on campus to take in. The room remained packed, which thrilled Cavenaugh — until the question and answer period.
"Most weren't questions but actually statements of, 'Yeah, that's neat, but that would never work where I'm from,'" says Cavenaugh.
That other regions weren't as receptive to risky projects didn't surprise Cavenaugh, but the fact these bright students couldn't even see beyond such confines made Cavenaugh more aware of — and grateful for — Oregon's inspiring and encouraging "why not" culture.
If it permeates the private sector, it doesn't stop there. The World Sustainability Center, slated to open in Portland in 2012, is a collaboration of government, nonprofit and academic communities. The establishment of this green think tank demonstrates a significant commitment to sustainable innovation. Imagine a future where all homes are "living" or "zero" buildings that generate the energy they need to function.
This Oregon ethos brings the inanimate to life, makes zero the new high, and recognizes that the biggest risk is taking no risk at all.
---
Conform to individuality
A house is just a house until people make it a home. Oregonians have a distinctive style, says Kathleen Donohue, a designer with Neil Kelly.
"I think of it as organic contemporary," she says.
Pure modernism can feel harsh, so many clients bring in natural, even rustic, elements for balance. The idea sounds like a faint echo of what Belluschi and pals were doing all those years ago. What was once strange and experimental is settling into a kind of Oregon style, woodsy and sophisticated, rooted in place but still open to the new. And, as Knights suggests, looks are only part of the equation.
People want to know where things come from, says Donohue, and how they were made. They ask whether materials derive from manageable sources. They want to know if the cork used in flooring is harvested in a sustainable manner, or if fast-growing bamboo is a responsible choice. And they want to make their space personal.
"Maybe your cabinet front was made from a tree on the property that fell down," Donohue says. "Or a concrete counter is poured with something embedded in it, something that means something to the client."
Oregon home style is about looking beyond the look. It's about seeking a sense of place in a changing world. It's about expressing the individual while considering the impact on the whole.
And the essence of Oregon individuality is that, naturally, it shuns any conforming labels such as "home grown."