It's one thing to create a comfortable outdoor space defined by grass, plants and trees. It's trickier when the sky, or rather the skyline, is the limit. The rooftop of the Indigo @ Twelve/West, a 22-story mixed-use building in downtown Portland built by ZGF Architects, serves as a neighborhood gathering place for residents. It also houses the wind turbines and solar panels that helped earn its LEED platinum status. "What we were looking for in that entire project was the contrast of the very natural with things that had a sculptural quality," says Kristin Rose, an architect who specializes in interior design at ZGF and worked on the rooftop space. "The wood pieces are architectonic in nature. And the [white and orange molded] chairs have such exuberance. The dichotomy makes that work."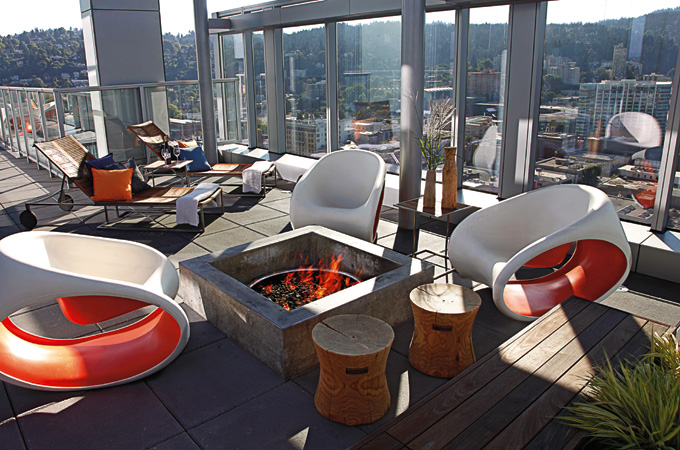 Up high: The Beo Sundeck Lounger by Jane Hamley Wells is an updated classic with narrow teak slats and stainless steel; $4,488, janehamleywells.com.

Low down: They aren't teak, but the Äpplarö wood chaise, $129  from Ikea, has a warm finish and wheels.

Up high: The Driade rocking chair by Ron Arad, made of molded polyethylene, is striking in white with orange interior. Available by order at Hive in Portland (hivemodern.com); about $2,000.

Low down: The curvy profile, citrus shade and clever design of the Alton Flippy chair capture some of the spunk of the inspiration chair. Flipped one way it's a high-backed seat; flipped another, it's a lounger. $110 at J.C. Penney.

Up high: The architects at ZGF had a concrete expert cast the square fire pits on site. Cement Elegance in Bend, cementelegance.com, does similar designs starting at approximately $2,750 for a 3-foot-square fire pit.

Low down: The British-designed fire pit has a similarly substantial style. Fire Sense HotSpot fire pit, 26×26 inches; $129 at Home Depot.

Up high: Tree-stump end tables custom-made in Portland by Kai Fuhrman of Master Furniture Makers (pdxmasterfurnituremaker.com).

Low down: Natural tree-stump end table, $200. Wood vases, hurricane lamps, cushions and pillows all from West Elm.