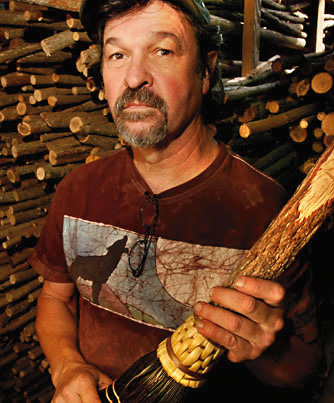 Above: Thurman Scheumack

Pick up a broom and be swept off your feet. Feel the love that goes into each of these handcrafted brooms made in Eugene with sustainably harvested wood and natural broomcorn fiber.
While working at a historical museum in the Ozarks, Thurman Scheumack apprenticed in stonemasonry, blacksmithing and other nearly lost arts. He was earning his living as a stonemason when a serious motorcycle accident put an end to his heavy lifting. "What the heck am I going to do now?" he recalls thinking. "I had a family, kids."
During his months of recovery, he made brooms the way he'd learned at the museum. "If I could sell a few brooms, I could pay for my gas," he says.
He walked into a fireplace shop in 1981 and approached the first guy he saw with a simple pitch: "I make these brooms, and they are good brooms." The man happened to be the buyer for 64 other stores, so the Scheumack Broom Company was born.
His workshop, outfitted with rare equipment and tools from a circa 1878 broom shop in the Ozarks, is one of the few remaining in the country.
"The [demise of the handmade] broom is a microcosm of so many things that are wrong, ethically, in society," says Scheumack, dismissing semi disposable brooms as planned obsolescence driven by corporate greed.
Scheumack and two apprentices produce about 5,000 brooms a year. They make popular housewarming gifts, theatrical props, witch sticks and wedding ceremony symbols — you've heard of jumping the broom? — but Scheumack brooms are built to sweep and last up to 10 years with regular use. The secret, says Scheumack, is in the tools of the trade, the skill of the tradesmen and the 100 percent broomcorn fiber, a plant related to edible corn.
"We don't try to be trendy," he says. "But when Harry Potter came out, we had a lot of interest." 
$48 for kitchen-size broom; broommagic.com