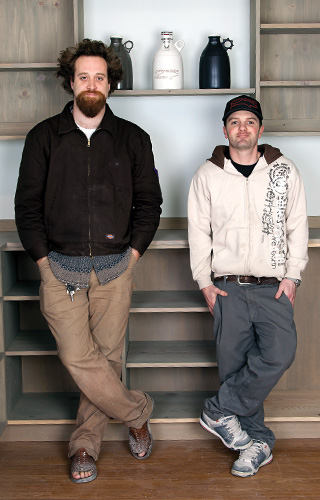 Brett Binford and Chris Lyon, co-founders of Portland's Mudshark Studios.
// Photos by Sierra Breshears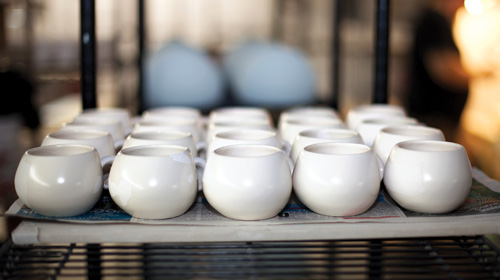 From humble beginnings in a garage to being named one of 10 "American Made" award winners by Martha Stewart, Portland's Mudshark Studios is rising fast. Mudshark offers ceramic mold making, production and product consulting services for numerous clients both local and national. They work with large clients such as Rejuvenation and Schoolhouse Electric, as well as small Kickstarter-funded indie makers.
Despite having never advertised outright, they keep adding more clients. "A lot of it is because we're the only ceramic subcontractor that will do small runs; we're charting the waters," co-founder Chris Lyon says. "We do everything from 50 units to 3,000 at a time."
The company does even smaller runs when it comes to their architectural reproduction work. Historical renovators can come to Mudshark to create reproductions of vintage pieces that are no longer being made. They've even recreated custom vintage urinals from 1909 for McMenamins.
The company moved to their current 17,000-square-foot location on Portland's East Side in March and has been slowly expanding, both by investing in the electrical infrastructure (they've gone from four to 10 kilns) and by adding employees; they rang in 2012 with only seven workers and expanded to 26 less than a year later. Mudshark is already reaching capacity, and Lyon says they may need to find new digs, whether they are across the street from the current Portland studio or across the country. "We've always kind of had the idea of one in the East or South," Lyon muses.
The expansion has allowed Lyon and fellow co-founder Brett Binford to pursue their own design work on the side as well. Along with fellow designers, they formed the Portland Growler Company, which has become one of the top three clients for Mudshark Studios.
"Last year we couldn't keep up with the demand for 100 growlers a month," Lyon says. "This year it's the same problem, but with 1,000."
1930 NE Oregon St., Portland