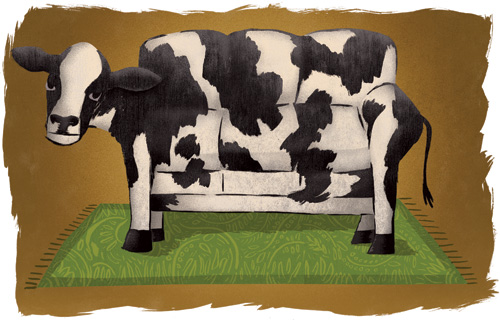 Illustration by Santiago Uceda
Furniture stores seem to wrangle more hides than most cattle ranches. And sales of leather sofas, chairs and ottomans show no signs of slowing.
"I don't think it has peaked," says Stuart Shleifer, owner of Shleifer Furniture Co. in Portland. "In fact, we're buying probably a little heavier than we had been in the past."
Trade publication Furniture Today reported in the last quarter of 2012 that many tanneries had recently dropped prices drastically, making the price difference between genuine and faux leather furniture so slight, more consumers may opt for the real deal in the future. They compared lows of $800 for a synthetic to $1,100 for a genuine leather sofa. Before shopping, learn the language to make an informed decision about whether bonded leather, genuine leather or a combination is best for your needs.
"I'd ask them, what is the use? What are their expectations? And budget?" says Shleifer.
---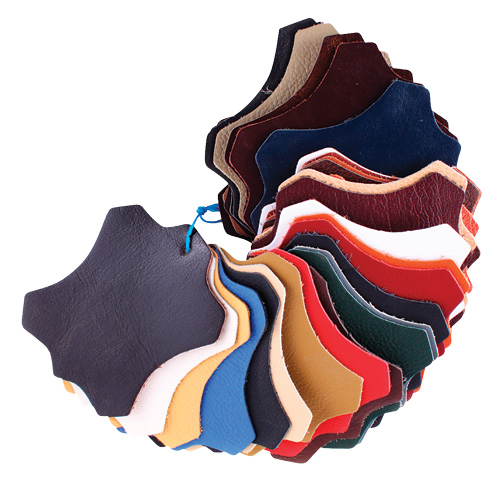 He wouldn't recommend a suede sofa in a TV room used daily by a family with young children, for example. But the more delicate leather can be fine in a rarely used formal living room. One customer might simply be looking for something stylish to get them through a transitional period, while another wants an investment piece to hold onto for years to come.
"I don't know if I've ever seen leather furniture wear out," says Shleifer. "I wish I could say the same thing about fabric."
Leather is available in just about every color imaginable, but the majority of sales are in natural to brown tones. The leather trade is betting on an uptake in reds.
"We sell a lot of red," he says. "Red is a classic color. Not a screaming lipstick color, but a sedate red to burgundy."
---
Leather advice
Top grain: Animal hide is thick, so it is often sliced thinner to form two pieces of hide. Top-grain leather is, literally, the top piece of leather, considered the better quality.
Split hide: The bottom part of that slice of hide is referred to as the split. In full leather furniture, the split is often used on the backs and sides of furniture, because it is not quite as supple as top-grain leather but still very durable.
Top grade: Leather quality can be graded A, B, C, or 1, 2, 3, but there is no industry standard, so one furniture company's A could be another's 1. Don't confuse top grade with top grain.
Corrected leather: If a cow rubs up against a barbed-wire fence, its hide gets scarred. Processors will buff down or correct leather to look smooth. Most leather used in furniture has been corrected.
Bonded or bicast leather: A synthetic polyethylene leather-look material is bonded on top of low-quality leather. The bottom piece is most often scraps of leather bonded together in a manner similar to particleboard. The synthetic is durable, inexpensive and can look great. But calling it leather is a bit like putting laminate atop particleboard and calling it a bonded-wood countertop.
Preworn leather: This is a process of dyeing and rubbing the leather to give it the weathered look of an old bomber jacket. It's not rubbed enough to shorten the longevity of the leather.
Semi-aniline: Leather in its natural state is rarely used in furniture. Semi-aniline means the leather is colored with a translucent stain or dye so that the hide's natural characteristics remain visible.
Pigmented: This is leather that is coated with an opaque color.
Suede: The split piece is finished to create a napped texture. It's more delicate and susceptible to stains and wear, so it's not the most practical choice for everyday use.