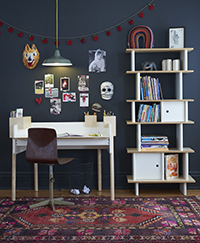 Designed for simplicity, and functionality, the Brooklyn desk is crafted from the highest quality Baltic birch plywood. Slim, rounded legs and removable storage create a modern and sleek design. The desk surface has 3 different height settings, so it can adjust for growing children to create the perfect spot for reading, writing and activities to come.
Whether its arts, crafts or homework, the Brooklyn desk provides a calm environment for learning and creativity.
Oeuf's furniture is made in the EU, so it meets their strict environmental and labor standards. Producing the furniture in Latvia, provides Oeuf with easy access to sustainable raw materials, skilled labor, and a long, proud woodworking tradition – all things that are important for making the best quality furniture and being good to the world.
Oeuf's products are made from the highest quality wood products and with non-toxic finishes free from VOC health hazards. Oeuf recycles all unused wood and uses recycled cardboard to pack its products.
The desk retails for $575.00 and available on the site : http://www.oeufnyc.com/brooklyn-desk.html.