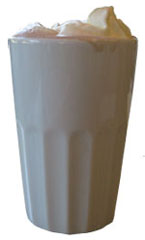 B.L.T. YOURSELF BEFORE YOU GET SNIPPY
Settle in at the stainless-steel countertop at LITTLE T AMERICAN BAKERY (2600 S.E. Division St., 503-238-3458 or go to littletbaker.com) on the bottom level of the Clinton Condominium building, and prepare your tastebuds for a treat of a sandwich.
Baker-owner Tim "Little T" Healea, a former head baker at the Pearl Bakery in the Pearl District, opened this place six months ago. (The coach on his U.S. baking team in the 2002 Coupe de Monde de la Boulangerie, the Bread Olympics dubbed him "Little T" to differentiate Healea from a teammate with the same first name.) Note the concrete floor and the soothing gray-green tile that covers the wall between bakery case and kitchen.
Opt for the BLT ($6.50), which includes two thick slices of yellow Sally Lunn bread smeared with aioli, then stacked with thick bacon and fresh tomatoes—and grilled. For dessert, try a birthday cupcake ($1.25) washed down with a Stumptown mocha chew ($1.50).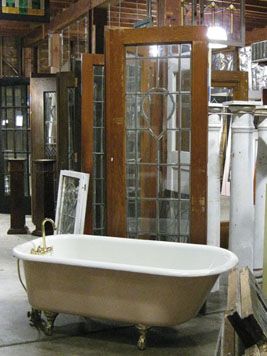 SALVAGE STYLE

Do you covet a turn-of-the-century house's jewelry (think doorknobs and French doors) more than bracelets and earrings? If your answer is the affirmative, head for OLD PORTLAND HARDWARE & ARCHITECTURAL (4035 S.E. Division St., 503-234-7380 or go to oldportlandhardware.com), a former Maytag repair shop that's a 5,000-square-foot emporium for period light fixtures, exquisite doorknobs ($65 for this 1885 Eastlake doorknob that features a bamboo motif), vintage mantels, claw-foot tubs, pillars—and more!
Shop owner Bret Hodgert worked for more than a decade in architectural salvage before he opened his own place last fall. "Everything I sell is old; nothing in this store is a reproduction," he says. "The old stuff is made with amazing craftsmanship. It'll last forever if you take care of it."
LIVING ORBS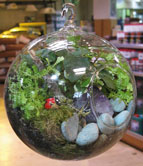 URBAN FLORA (3029 S.E. Division St., 503-236-3344) is known for its stash of Bat Guano Grow and grow lights to help indoor gardeners, but bop in here, too, if you're in the market for a wooden Laughing Buddha statue ($24), a terrarium lushly planted with succulents and accented with rocks ($35) or a Vietnamese oil lamp ($50 for a large torch) that will shed a little light on your favorite outdoor place.
LEGENDARY LEATHER MAKER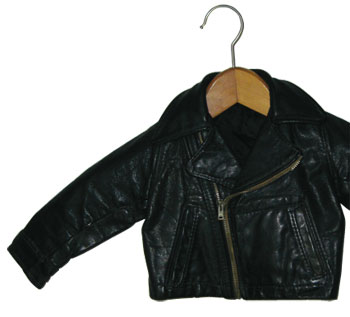 Even if you don't own a motorcycle, make a pit stop in the world-famous LANGLITZ LEATHERS (2443 S.E. Division St., 503-235-0959 or go to langlitz.com). Walk in the entrance and look above the door to remind yourself to save your kids' cutest toddler-sized jacket. There hangs one of the company's smallest commissions: the sixty-something-year-old jacket (pictured) that shop owner Jackie Langlitz wore when she was a preschooler.
Since 1941 Langlitz Leathers has stitched up more than 85,000 motorcycle jackets, vests and pants for fans worldwide. "The bad U.S. economy is bringing in a lot of foreign money," says Jackie's husband, Dave Hansen, noting where leatherware is bound for. "This one's going to Taiwan…this $2,600 horsehair jacket is for a Mr. Johnson in London…this is going to Wasilla, Alaska—not for a Palin, for a Turner. We make the world's best motorcycle jacket. Our clients know that if you want a Rolls Royce, you don't shop at Chevrolet."
OLD WOOD MAKES MODERN FURNITURE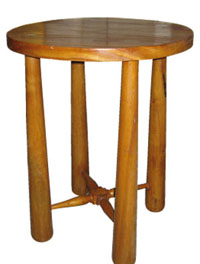 At TROPICAL SALVAGE (2455 S.E. 11th Ave., 503-236-6155 or go to tropicalsalvage.com), owner Samuel Lamport counts Mother Nature among his business partners.
In 1998, while rehabbing mosques on the Indonesian island of Lombok, the former textile importer saw work crews removing footwide 500-year-old wood beams for which they didn't have a scheduled second use. "I started accumulating the beams in a warehouse," he says.
Landslides and other natural disasters yielded more wood, and he began turning out fine furniture. Now his production facility in Java crafts the salvaged materials into furniture such as this Madelaine's Table ($390). "I love the sustainability angle of what we do," he says. "We don't cut trees; we mine wood that's been underground so long it has absorbed minerals from the soil. It's nature's art. You can't imitate it. You see geology expressed in the wood!"
STEMS AND GEMS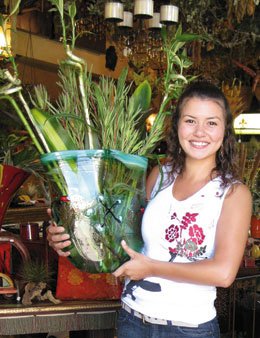 Flower designer-shop owner Rachel Payton (pictured) arranges unusual stems—as well as vintage and new home furnishings and accessories—at a former bakery that's now her pretty shop FLEUR DE LIS (3588 S.E. Division St., 503-963-1839 or e-mail [email protected]).
"I worked here for four years before I bought the shop 1 1/2 years ago," she says. "I try to create unusual arrangements for my clients, many of whom I have weekly accounts with—no spider mums or baby's breath! Right now, I love this glass vase with the turquoise rim ($160). For Christmas, I stock small bear and deer made of all-organic materials. They're so beautiful! They'll look like this pony; his hoofs are made of birch strips and his coat is some sort of grass dried brown. Isn't he sweet?"