ALL THE PRETTY DRESSES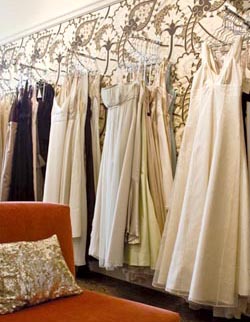 Whether you're headed up the aisle at your own wedding or downtown to a special affair, check out the pretty gowns in THE ENGLISH DEPT. (1124 S.W. Alder St., 503-224-0724 or go to theenglishdept.com). In front of a bold-patterned English wallpaper are the creations of shop owner and custom bridal designer Elizabeth Dye, and seven other designers such as Vera Wang and Jenny Yoo.
  "No, Elizabeth isn't English," says Clara Seasholtz, who works in the shop. "She has an English degree and when she opened her shop she thought it would be fun to name it so that she could say she was still working in the English department."
  The shop, which moved from N.W. 23rd Ave. 14 months ago, stocks sophisticated dresses. "Portland is a funny place," says Seasholtz. "It still has bridal shops that sell dresses with big poufy sleeves, but they aren't always the best fit for Portlanders. We sell quiet, pretty dresses in beautiful amazing fabrics. And nothing in the shop costs more than $1,500. You could easily find a beautiful wedding dress here for less than $500."
OH BABY! TREATS FOR TASTE BUDS AND BUDDING CHEFS!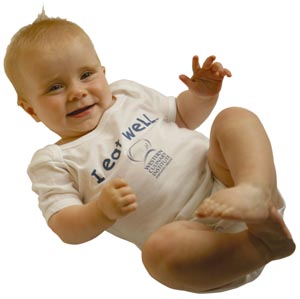 Lattes and Americanos aren't the only hot things for sale at the Western Culinary Institute's CAFÉ BLEU (600 S.W. 10th Ave., 503-223-2245 or go to wci.edu). This espresso and pastry shop in the 1910 Galleria Building—the original home of Olds, Wortman and King, the first department store in the Northwest to fill an entire block—also sells 100 percent cotton onesies with I EAT WELL above the cooking school's logo ($7) for your favorite budding foodie (Is Georgia not the cutest little patootie in Portland?), full-length chef-style white cotton aprons ($7) and a selection of oh-so-sharp Japanese chef's knives ($75 for an 8-inch blade; $83 for a 10-inch tool).
  If you really just want a grande of something ($3.15 for a coffee latte; $2 for an Americano), pair it with a pastry, sandwich, soup or salad that students and staff in the Le Cordon Bleu Pâtisserie and Baking Program have made.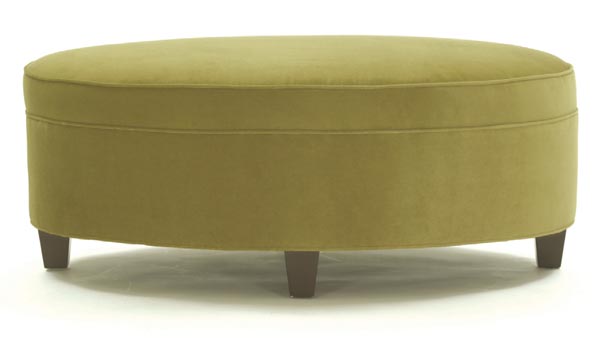 CLEAN-LINED SEATS AND FAB FURNISHINGS
Remember that 1940s capable-of-holding-six-butts-during-a-party ottoman in that perfect dusty-pink suede that you found at Goodwill for $50—and then spent $600 to recover after you couldn't get rid of its don't-even-think-about-what-could've-caused-them stains? Well, head for MITCHELL GOLD + BOB WILLIAMS (1106 W. Burnside St., 503-972-5000 or go to mgandbw.com) the next time you need a great retro-looking or thoroughly modern ottoman, chair, sofa or recliner.
  The 5-yearold store's windows look to W. Burnside St. and the southern end of the Pearl District beyond. The pickings here—everything from sofas to lighting to casework to rugs to accessories such as vases and photography—would look equally at home in a 1920s bungalow or a minimalist loft in the Pearl.
  We liked this oh-so-"Mad Men" 48-inch-wide oval Owen Ottoman (starts at $850), the 90-inch-long three-seat sofa (starts at $2,620) in The Jackie Collection and an 8- by 10-foot Power Shag viscose rug ($1,750) in a nice gray called
Gargoyle (it also comes in Camel and Natural).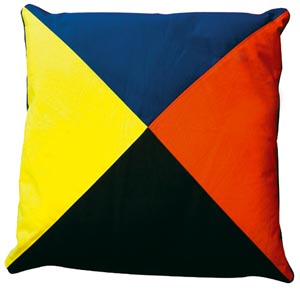 AMSTERDAM VIBE
The beautifully illustrated turn-of-the-century books at AM LIVING (600 S.W. 10th Ave., 866-700-9200 or go to am-living.com) are the first clue that there's some sort of connection between The Netherlands and this Galleria store: The not-for-sale tomes are written in Dutch. "Those are from the owner's personal library," says Danielle Garver. "He's Dutch. That's why our other store is in Amsterdam."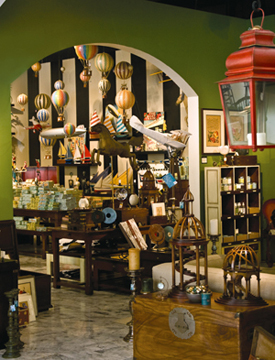 The AM in the shop's name stands for Authentic Models, which clues you to the mix of historical reproductions such as a mural-size circa 1739 Etienne Turgot map of Paris ($800 for three wall scrolls on fabric) that originally took five years to complete, 16th century Mercator globe spheres and a 1928 Cadillac Headlamp ($750) light fixture.
  Parents will like the balloon mobiles and the nautical signal pillows ($40 for the Zulu pillow, pictured, that depicts the letter Z) that relay messages such as Man Overboard! and letters of the nautical alphabet in yacht style.
STAY FUELED FOR THE DISTRICT'S FINDS
If you're shopping solo, keep up your energy level with a quick lunch at one of the tables at PAZZORIA BAKERY & CAFE (621 S.W. Washington St., 503-228-1695). The homemade soups and chowders change daily ($3.75 for a cup; $6 for a bowl) and are a filling lunch when paired with a sandwich such as the Toscana ($6, pictured), an Italian sub sandwich. For the frugal-minded, sweet-tooth-impaired among us: cookies and brownies ($2) are discounted 50 percent after 2 p.m.! If classic American fare is what you crave, eat at JAKE'S GRILL (611 S.W. 10th Ave., 503-220-1850 or mccormickandschmicks.com), where you can't go wrong with a cheeseburger and fries ($7.90) or an entree salad such as the Chicken Pear Salad ($8.90). ELEPHANTS DELICATESSEN'S FLYING ELEPHANTS@FOX TOWER (812 S.W. Park Ave., 503-546-3166 or go to elephantsdeli.com) has coolers lining the perimeter of the eatery with a great selection of fresh sandwiches such as tuna salad, ham and turkey options, wholesome salads and soups.