"FRAMES" HAVE TWO MEANINGS IN THIS GALLERY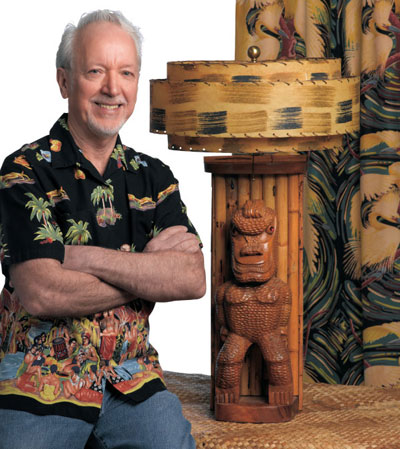 It's an art gallery! It's a high-end eyewear studio! OGLE ART FOR YOUR EYES (310 N.W. Broadway, 503-227-4333 or go to ogleinc.com ) is the 10-year-old baby of husband-and-wife co-owners Valentina Barroso Graziano, an artist who is the gallery's art director, and Jeremy Graziano, an optometrist (above, with their real baby, Milo), who examines patients in the studio. "I like that the space is ambiguous," says Jeremy. "People come in sometimes and say, 'Do you do eyeglasses?'" Look for architectural eyewear such as these blue titanium Theo frames ($500, plus the cost of prescription lenses), which are made in Belgium. And don't miss the artsy display of 77 lit-from-within cast-resin cubes in different colors topped with fashion-forward frames such as these Danilo Carraro rubberized frames ($300, in Jeremy's pocket and on Milo's nose). It proves the melding of their professions works. 
SUEDE PARADE—AND MORE!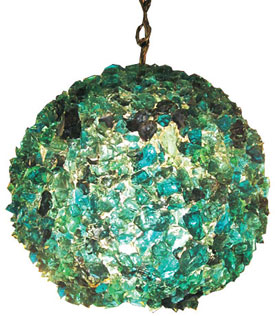 Urban cowboys—and art school students, Nike shoe designers, upholsterers and everybody else doing anything with leather—know to mosey over to 102-year-old OREGON LEATHER CO. (110 N.W. 2nd Ave., 503-228-4105 or go to oregonleatherco.com ). Here you'll find garment- and upholstery-perfect rawhides and pelts (from $4 for a rabbit pelt to$40 for a Cabretta lambskin hide), spools of suede laces in 20 colors ($10.45 for this 25-yard spool, above), and the sweetest little Wild West-style silver letters ($10 each, below) to afix to your saddlebag (or backpack). Upstairs is a saddlery and tack shop filled with supplies to tend to your best ride. "Yeah, we're a little 'old school' around here," says Bruce MacPherson, the grandson of one of the founders, of the little-bit-of-everything mix. Giddyap!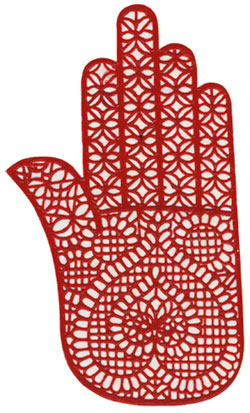 A DISPATCH FROM THE TRENCHES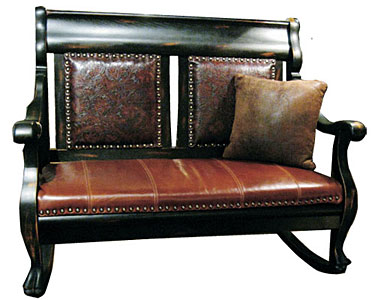 You never know what you'll come across perusing the "organized chaos" at HOODOO ANTIQUES (122 N.W. Couch St., 503-497-1002), where Mission-style quartersawn oak tables and desks are topped with an eclectic mix of whatever captures shop owner Mike Eadie's fancy.
"Eight years ago, I was Mr. Arts and Crafts, but I've since moved toward unusual pieces such as 1920s and 1930s industrial salvage," says the dealer, whose own antiques-filled 1911 Craftsman was the cover story ("Collectors Corner") in the Jan.-Feb. 2006 issue of Oregon Home.
   We came across this WWI shell casing table lamp (left) with new amber glass shades ($500), a Dammasch State Hospital gurney ($425, "it'd make a great bar or big-screen TV stand") and a huge 1920s Chicago Candy copper vat ($495 for the 22-inch-wide-by-16-inch-deep vessel). "At home, there's always a pile of stuff at the door to bring to the store," he says. "My wife isn't allowed in the store because then the pile would go the other way." 
DELICIOUS CHEF FINDS FOR FOODIES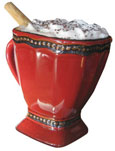 You don't have to have your own restaurant to shop the aisles at BOXER NORTHWEST CO. (438 N.W. Broadway, 503-226-1186 or 800-547-5700, or go to boxernw.com ), though lots of Portland chefs do. The employee-owned company—started in 1919 as a distributor of store fixtures and cash registers—stocks more than 5,000 products in this warehouselike store.
Yeah, you'll find commercial-grade chafers ($146 for a Duraware sculpture-leg chafer), Libbey glasses and stemware (sold by the dozen) and chrome-lidded syrup servers ($12.30 for a 6 oz. server). But frequent entertainers will love the personal salt and pepper shakers
($1.11 for a 1/2-oz. shaker) and huge jars of maraschino cherries ($17.78) to perfectly set off your not-so-kiddie cocktails. If you're serious about giving up pop this year, pick up this stainless-steel squeezer ($5.69) to keep your fingers dry as you add a hit of citrus to your iced water. Sweet!