HANDMADE IN THE NORTHWEST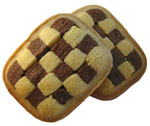 If you've decided to buy local—even when it comes to gifts—stop in at ACCOLADES GALLERY (448 N.E. Third St., 503-472-9400), which specializes in handmade, fair trade and recycled crafts with an emphasis on Oregon and Washington artisans. Your choices range from colorful mats created from recycled flip-flops ($35 each) to wallets and totes from recycled bicycle tires. How about a decorative bird-motif glazed ceramic plaque ($98, pictured) by artist Peg Johnson for your wall? Oregon may be known for its wines, but it's pear country, too, so pay homage to one of the state's most famous fruits with this metal pear sculpture by Martha Farris, just perfect for that empty corner!
Opened just a year ago, Accolades has a definite community vibe. "Upstairs there's an art gallery with revolving shows," says manager Jessica Gerondale. "We also have a shared space with a tearoom, Two Moon Tea, that serves organic and whole-leaf tea, and it's also where we offer classes in writing, art and cooking."
TEACUPS GALORE AND MORE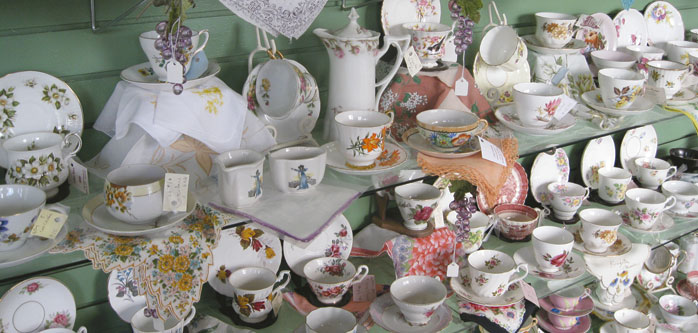 You'll get a new perspective on teacups when you walk into the MCMINNVILLE ANTIQUE AND WINE GALLERY (546 N.E. Third St., 503-474-9696) and feast your eyes on its wall of teacups, each with its own saucer. With designs ranging from flowers to animals, there's a teacup to fit perfectly in your hand, such as this Havilland china set with decorated floral edges and double gold-rimmed handles ($18.95, pictured). Lovers of old timepieces will wish they had a vest pocket for an antique watch ($350) and will rush home to start clearing out shelf space for a copper art deco Seth Thomas clock ($245).
Add to your collection of state plates, with an Alabama 1983 calendar plate ($12) decorated with historic Alabama buildings or a 1976 Bicentennial plate ($12) adorned with a battlefield-ready Revolutionary drum corps.
WESTWARD HOME!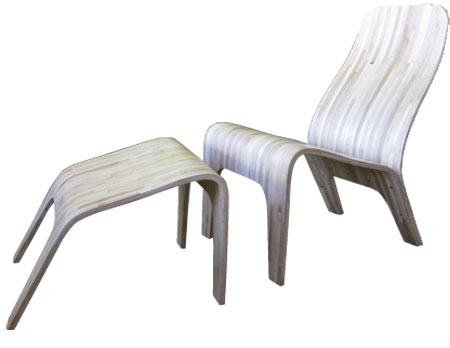 If cowboy boots, hats and the smell of leather make you swoon with happiness, head over to COWGIRL MERCANTILE (448 N.E. Third St., 503-472-0159). Among all the wearable goodies, you'll find Old Gringo cowboy boots ($339) and clothing by Hazel, Double D and Cowgirl Tough ($30 to $40 for a T-shirt). The store, however, is also an unexpected treasure trove of home accessories with a Western flair.
"We got the idea for the store because we were both involved with horses," says Lindsay Enos, who owns the store with her friend Jean Peterson. "We wanted to have some accessories to decorate the store, but also have things you'd want in your home."
Lasso some studded leather drawer pulls ($14 each) to change the look of some cabinets or go all out with a dark red bureau covered with metal rivets in a floral motif ($1,395). For your buckaroo's bedroom, there's this sweet 24-inch by 36-inch red horse painting ($195, pictured). And what little Roy Rogers wouldn't enjoy bacon and orange juice served up in a cowboy plate and cup ($20). The set also comes in pink for your budding Annie Oakley.

WINE TASTING NIRVANA
If you like sinking into a comfortable leather chair in a room filled with light and art while indulging in an afternoon or evening of wine tasting, NW A WINE BAR (326 N. Davis St., 503-435-1295 or go to nwwinebar.com) is a must-stop destination. With its ever-changing list from more than 50 vineyards, this inviting space painted in warm colors is the perfect place to take a break and try local and international wines while you nosh on small plates ($12 for a selection of artisan cheeses or $10 for an antipasto plate).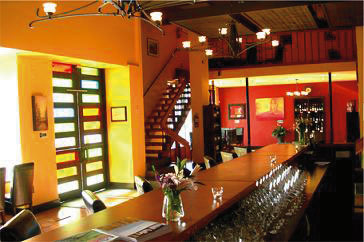 You can sample wines by the flight or the glass and even take your favorite tastes home with you. Local pinot noirs include Bergstrom ($75 a bottle) and The Four Graces ($27 a bottle). Try some Spanish cavas or, for those celebratory occasions, pop the cork of Margaine champagne ($45 a bottle) from France.
There's great street-watching through the large windows or you can chat with fellow tasters at the long bar. When you're looking for a change of pace, just head upstairs for a game of pool.