GOODIES AND GIFTS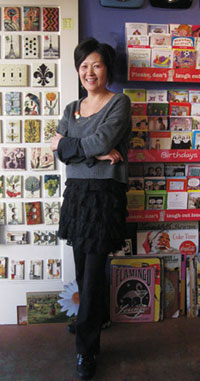 You get the feeling that the kicky mix in LEMONTREE (1724 N.E. 40th Ave., 503-287-3070) is one woman's vision and, indeed, that's true. Shop owner Pam Park (pictured), a native of Korea who has studied interior design, is the Decider of what makes the cut in her gift shop-gallery.
Look for the popular handmade-in-Portland Queen Bee handbags, Kurumi Glass art and Tinymeat vinyl wallets ($15 each; Monster Jam and Punk Rock Girl appear here), which are globally designed but produced in Portland. We loved the embellished switchplates just inside the store ($17 to $26 per switchplate). "I seem to be drawn to things from either New York or Portland—and not to much that's made in between," she says.
A FAUCET-TO-LIGHTING OUTPOST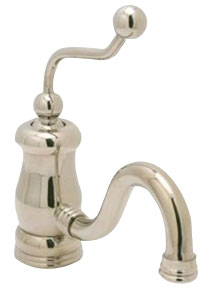 Peruse the claw-foot tubs, sinks and faucets in the showroom section of A-BOY PLUMBING & ELECTRICAL SUPPLY (4010 N.E. Broadway St., 503-287-0776 or go to aboysupply.com), then head to the back of the store, where 12 aisles of well-stocked and well-organized hardware are at the ready for your next home improvement project. We loved the shape of this polished-nickel Huntington Brass faucet ($235) and found a low-divided, cast-iron white sink with a beveled edge and a curved top ($260) that would look most excellent underneath it.
BRAKE FOR BRAND NAMES? AISLE-WALK HERE
Ralph Lauren. Tommy Hilfiger. If you love the offerings of big-name designers but you're budget-conscious, too, head for TUESDAY MORNING (4148 N.E. Hancock St., Suite A, 503-288-7255 or go to tuesdaymorning.com), the queen of famous-maker closeout merchandise. Yeah, the store, located in the basement of the Hollywood Market Square, has exposed ductwork in the ceiling, an old linoleum floor and a loud cooling system that makes it feel as if you're in a dollar store in Berlin during the war, but the bargains are worth the "Twilight Zone" ambience. Walk the eight aisles piled high with screaming deals such as a pink-and-white-striped king-sized sheet by Tommy Hilfiger ($39, originally $120), Retroneu stainless steel 44-piece service for eight ($59, originally $150) and a Home Collection 100 percent cotton rug ($20 for a 24-by-40-inch rug, originally $60).

BUY OLD SPINES FOR THAT UBER-PERIOD LOOK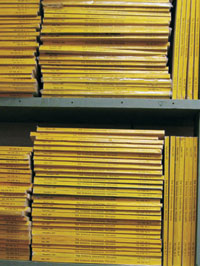 Whether you're about to work on a 100-year-old Craftsman, a mid-century ranch or a 1920s cottage on the Coast, if you're into historically accurate remodeling, start your research at PERIODICALS & BOOKS PARADISE (1928 N.E. 42nd St., 503-234-6003), where vintage magazines—and previously owned newer titles—are available for dollars off the cover price.
Here you'll find every he-man's favorite mustard-yellow mag from back in the day, National Geographic, from 1910 to 1919 ($20 each) and nearly every decade since (the price falls to $2 per issue for 1970s copies of the magazine).
If you're a magazine junkie who's trying to get as many glossy pages as possible for the buck, come here before your next R & R trip to the beach for $3 copies of one of our favorite magazines, Living Etc. ("Britain's best-selling modern homes magazine"); they sell for $8.50 on the newsstand. Other finds include Cottage Living ($1.50), Western Interiors ($2) and I.D. ($2).
FROM BURGERS TO PRETTY CUPS OF CHOCOLATE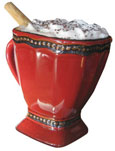 Rest your feet at JAZZKATS COFFEE BAR (1925 N.E. 42 Ave., 503-249-0686), where a cup of hot chocolate ($2.50 for 16 ounces) is as pretty as it is refreshing. The spot offers free wi-fi and serves up specialty coffees ($3 for a 16-oz. latte), yummy desserts, soups ($4.25 per bowl), paninis and homemade sandwiches.
FLEUR DE LIS BAKERY CAFÉ (3930 N.E. Hancock St., 503-459-4887) has become a favorite lunchtime destination, thanks to the restaurant's house-roasted pork or turkey sandwiches ($7.50, including potato garnish and fruit), fresh-made soups and hot fare such as a roast beef sandwich ($8.50).
You'll really feel as if you've traveled back in time when you enter the black-and-white-linoleum floored HOLLYWOOD BURGER BAR (4211 N.E. Sandy Blvd., 503-288-8965). Housed in an octagonal-shaped building that was a trolley ticket sales booth in the 1920s, the popular burger joint serves its Original Burgers ($5, with fries, potato salad, cottage cheese or potato chips) atop a paper-shrouded brown plastic tray.