PECULIAR ART TO FEED YOUR AVANT-GARDE SIDE
If landscapes and glass vessels bore you, check out the oddly wonderful canvases, light fixtures and follies at CANNIBALS GALLERY (518 N.W. 21st Ave., 503-224-BONE). Pamela Springfield (left) is the curator of the quirky collection. She eats up pieces such as Changa (right, $700), which Portland artist Danny Locke created out of items such as old curlers and vacuum cleaner parts. "I show the work of 102 local artists—90 are self-taught!—who like to work with recycled materials," she says. "Artwork shouldn't always be precious—or only viewable in a white-walled gallery under a million halogen lights."
FROM JEWELRY TO HOUSE FARE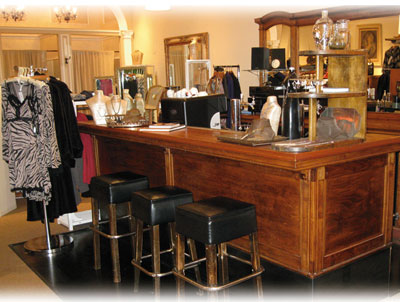 STELLA 'S ON 21ST (1108 N.W. 21st Ave., 503-295-5930 or go to stellason21st.com) packs merchandise for everyone on your gift list—and your house, too. You'll find silver and pewter necklaces such as this one ($159) from Metal Pointu's, a line crafted in Paris. "Their designs have pizazz to them," says shop owner Robyn Craig. A trio of silver cuffs ($130 to $180) would look fresh stacked up your tanned forearm. And why opt for boring faux-tortoise shell reading glasses when ICU Eyewear sunglasses and reading glasses ($20 to $22) are here in white polka dots on a black frame?
On the homefront, look for clocks in fun shapes ($51 for a Yellow Dog; $54 for Octopus Ollie) to tick-tock the time in a kid's room. And every cook needs a vintage-look, new Retro Electro apron ($46 to $52) to add a little levity into the family's most popular room to hang out.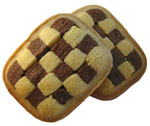 EVERYBODY LOVES BIKER CHIC GEAR
You don't have to get around by bike to appreciate the goods inside 21ST AVENUE BICYCLES (916 N.W. 21st Ave., 503-222-2851 or go to 21stbikes.com). We liked the Chrome urban riding gear such as the Ranchero backpack ($160) and the brand's Laptop Sleeves ($40). If you've got a bikecrazy grade-schooler, make his or her day with a package of Fun Reflectors ($6), bits of reflective material in cool shapes such as aliens, sharks and flowers. The shine-back-at-you stickers affix to the inside of bike wheels to increase your visibility as you ride.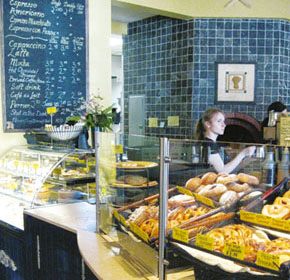 ELEGANT ARRANGEMENTS
Follow the sweep of buckets filled with flowers that look as if they've been just picked—think ranunculus ($9 a bunch), cherry blossoms ($20 a bunch) and French tulips ($3.50 each)—and you'll soon be walking on the Robin's Egg Blue floor inside SAMMY'S FLOWERS (2120 N.W. Glisan St., 503-222-9759 or go to sammysflowers.com). The business has had a presence in Northwest Portland for 20 years.
Stealable ideas abound in this greenhouselike boutique. To the left of the shop's entrance, birch "wallpaper" covers a wall from ceiling to floor. On a bench near the table brides use to consult with a flower designer to embellish their Big Day sit a line-up of arrangements awaiting delivery. (NOTE TO SELF: Remember to pair five hot-orange gerbera daisies with three stems of purple stock and three hydrangea mopheads then splay, splay, splay the spade-shaped kelly green hydrangea leaves. Informal yet stunning!) Better yet, buy a bunch of your favorite stems, just because it's summer.
FROM CLOTHING TO COOL MODERN FURNITURE
Go down the steps into the daylight basement of the 1910 Irvington Street Towers Condominiums and you'll find PORTLAND MODERN (2109 N.W. Irving St., 503-243-2580 or pomomodern.com). Here you'll find everything from a set of Danish nest tables ($285) that would look good in the living room of your ranch house to an original Arco floorlamp ($2,400) that's just begging to arc over an armchair in the corner of someone's loft. A Boomerang desk ($500) stands between more furniture and a corner filled with retro clothes and shoes ($40 for a pair of size 6 fake snakeskin go-go boots).