Most everybody has their own shopping circuit in the Pearl District, one of Portland's most-vibrant arts districts. Bounded by the Willamette River on the north, N.W. Burnside on the south, N.W. Broadway on the east and I-405 on the west, the live-work-play neighborhood covers more than a mile, so it's easy to not stray from what you know. To get beyond our usual haunts, we turned the minimalist in us loose in search of all things clean-lined.
A passion for sustainable style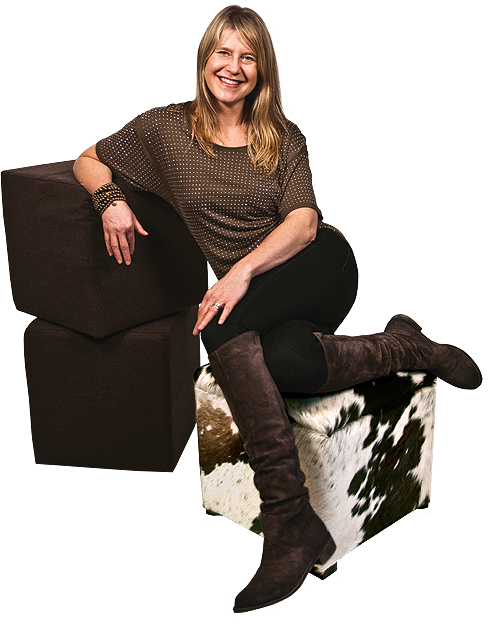 Can we talk? We get that, for a lot of modern furniture lovers, less is more. But for folks who don't eat breakfast atop molded-plastic-and-aluminum-legged kitchen chairs and who like a little . . . stuff around, all those cold surfaces can lack a certain warmth. Not so the sophisticated accessories and furnishings that Renee Russo (shown, atop a 17-inch-tall, 16-inch-wide Hide Cube ottoman, $395, made of cowhide, and leaning against a two-stack of Cube Ottomans upholstered in Grade-E wool, $255 each) offers up at her nearly 4-year-old showroom, EWF MODERN (1122 N.W. Glisan St., 503-295-7336 or go to the store's website, ewfmodern.com).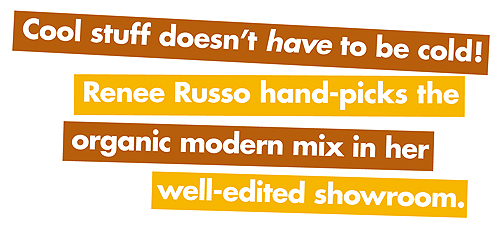 The sleek yet eco-friendly merchandise tempts you to touch, as do the non-hoity-toity in-house designers who man the floor. You'll find fun accessories such as minimalist salt shakers called the Saltside Out ($15) and the Subway Cushion ($15), which is simply embellished with an embroidered yellow streetcar on a blue rail. But the big draws are the leather sectional sofas, platform beds, dining tables and chrome-steel-legged coffee tables hand-crafted in Indonesia from reclaimed Brazilian hardwood ($1,795 for a 72-inch-long, 17-inch-high, 19-inch-wide coffee table), carpets and lighting. "I like to offer the simple and natural—in a variety of price points," says Russo.
---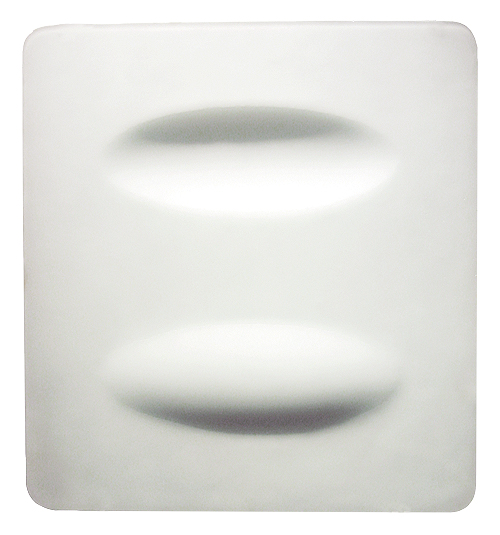 GLASS-TASTIC!
Every time we wander into BULLSEYE GALLERY (300 N.W. 13th Ave., 503-227-0222 or go to bullseyegallery.com), we wonder why we don't leave our Powell's-to-Anthropologie-to-Whole Foods route more often and spend some time checking out the inspiring contemporary art in this loftlike space. The gallery is part of Bullseye Glass Company, a maker of colored glass for art and architecture since 1974.
This visit, Mark Zirpel's white slumped-lacquered, acid-etched glass panel Untitled 2 ($3,800 for the 34-inch-tall, 24-inch-wide piece, shown) wowed us.
YOU GOT THAT WHERE? SERIOUSLY!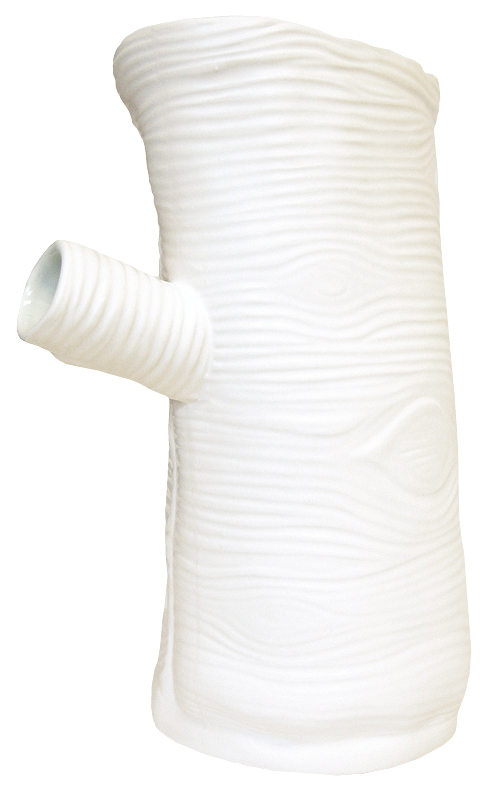 If you pray in the church of Charles and Ray Eames, you probably make the sign of the cross as you walk past more-is-more stores such as ANTHROPOLOGIE (1125 N.W. Couch St., 503-227-2016 or go to anthropologie.com), CARGO INC. (380 N.W. 13th Ave., 503-209-8349 or check out cargoinc.com) and THEA'S INTERIORS (1204 N.W. Glisan St., 503-274-0275 or go to theasinteriors.com). Too bad, because minimalist wares do lurk in these chock-a-block-full shops. At Anthropologie, we liked this Sherry Olsen Wild Woodland Vase ($28) that her Scandinavian ancestry and carpenter-father inspired, and a 1960 Angled Wood Chair ($520).
At Cargo Inc., maximalists will love Patty Merrill's mix (think tabletop accessories from the Far East and Mexico, Buddhas, painted furniture and one-of-a-kind architectural salvage), which fills a sprawling 20,000-square-foot space. So what's here for those who love the spare? We liked a two-handled zinc trough ($42) from India that would make the perfect fruit basket in an all-white kitchen, chairs made from reclaimed boat lumber ($320) and a made-in-India industrial coffee table with six undermount wire mesh drawers ($1,140). At Thea's Interiors, we fell for DS Watkins' baskets ($85 for a 7-inch-long basket; $125 for a foot-long one) fashioned out of salvaged streetsweeper blades.
---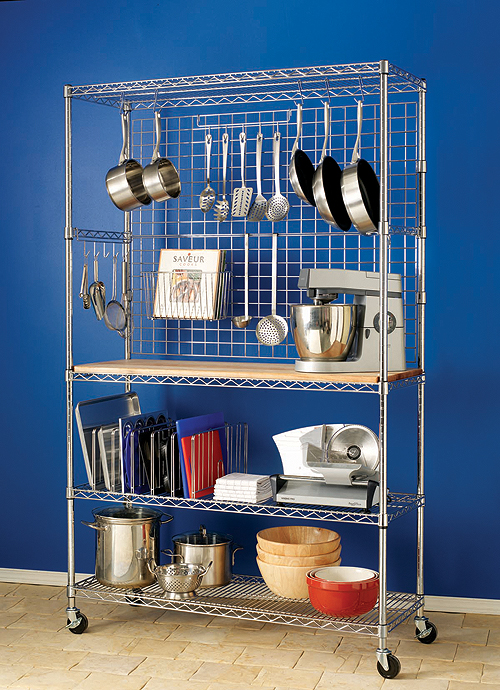 CLUTTER BUSTERS FOR EVERY ROOM IN THE HOUSE
There's nothing like visiting a clutter-free household to make you want to eliminate your family's shoe and boot pile in the foyer, or that unorganized basement that functions as your in-home storage unit. 
STORABLES (105 N.W. 13th Ave., 503-221-4500 or e-mail [email protected]) has all the paraphernalia you'll need to get the job done. We want an army of these five-tier Industrial Post Shelving chrome units ($343 for four 74-inch-tall posts, a set of casters and five 24-by-60-inch shelves) to hold the paper goods and off-season clothes piled up in the basement. Plastic boot stands ($10 a pair) and canvas over-the-door shoe organizers with bamboo accents ($20) could go far to lower your Mt. Everest of tennis shoes and boots.
CLEAN LINES, AFFORDABLE PRICES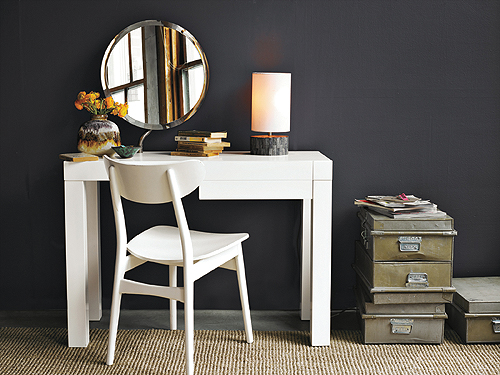 You can't beat the singular vision that a shop owner brings to a boutique that he or she lives and breathes. But WEST ELM (1201 N.W. Couch St., 503-224-4480 or go to westelm.com), a Williams-Sonoma Inc. store, has well-priced furnishings and home accessories that attract everyone from twentysomethings to loft-living empty-nesters.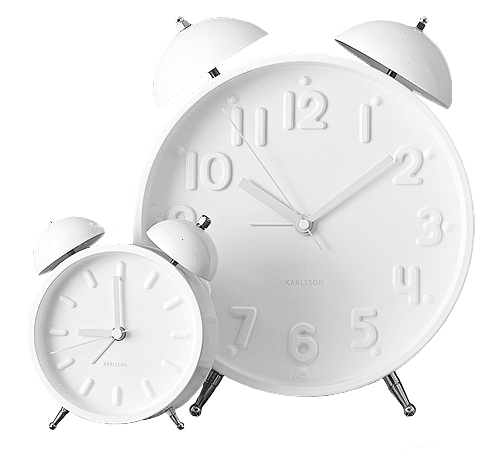 We liked the made-in-Indonesia organic-shaped plates ($6 each); the metal curtain rods and cylinder finials in polished nickel, brushed nickel or gun metal ($59 for a rod that fits a 28-to-48-inch-wide window; $79 for one that fits a 88-to-108-inch-wide window); this laminate Parsons Desk ($300, left); the floorlength Floating Wood Mirrors ($400)—and we finally learned where everyone is buying those deep picture ledges ($35 for a 2-foot-long rail; $55 for a 4-foot-long ledge). If you're still using your plastic LED alarm clock from college, spring for this ceramic one ($34 for the small one; $69 for the large one) that'll make you smile every morning.
---
Tomes for reductionist trend-seekers
If you're acting as your own interior designer during these tough economic times, check out Aisle 511 (MINIMALIST/ZEN) at the flagship location of POWELL'S BOOKS (1005 W. Burnside St., 503-228-4651 or go to powells.com), the largest independent used and new bookstore in the world (yeah, are we spoiled or what?). You'll find lots of stealable ideas—how to simplify lines, how to get contrast in all-white rooms, minimalist ideas for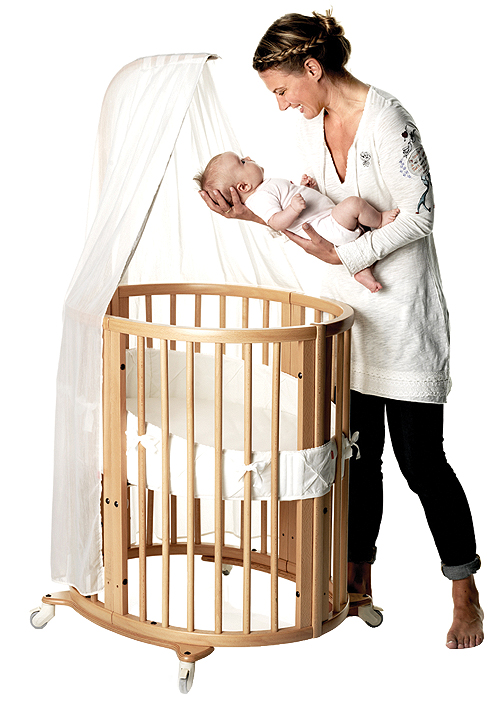 lighting and storage, and how to work translucent panels into your spaces—in books such as Minimalism & Color Design Source (2009, Collins Design, $20) and 500 Decoration Details: Minimalism (2007, Taschen, $15). Then head for Aisle 936 (MODERN and LOFT) on the third floor, where architecture books are shelved. Be a sponge. Air out. Come back next week!
BABIES HATE BAD DESIGN, TOO!
You never know whether your little bundle of joy is going to grow up to be a big-wig starchitect or an interior designer with his own talk show, so hedge your bets and buy some well-designed nursery furniture at LITTLE URBANITES (916 N.W. 10th Ave., 503-227-8729 or go to littleurbanites.com).
We liked this Stokke® Sleepi™ crib ($800) crafted out of beech wood, and mattress ($200 and $400 for a natural mattress). The oval crib's narrow shape—just 29 inches wide!—and wheels are designed to render your nursery mobile. Just don't roll your little Jacob too quickly between rooms or your budding architect may learn to like being in motion and end up becoming a bus driver!
---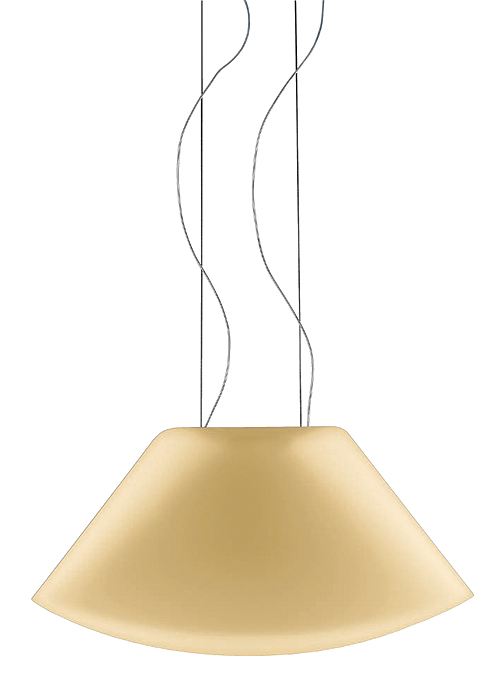 Watt's
Up?
Tons, literally, if you're talking light fixtures. At LUX (1333 N.W. Glisan St., 503-299-6754 or go to luxlights.com), you want to look toward the heavens the minute you clear the front door or you'll miss all manner of modern, contemporary and transitional lighting—and ceiling fans, as the ones dangling above the foyer area prove.
We liked this Cross Giallo Pesca fixture ($1,557, shown), a Firefrost Chartreuse Pendant ($263; it also comes in amber, white, red and cobalt if chartreuse doesn't jazz you), sconces by Hubbardton Forge and—stopping foot traffic on the sidewalk on N.W. Glisan St.—the Xanadu Polished Suspension chandelier ($3,569) with enough bling to satisfy a chrome-crazy King.
If you've been looking for those floorlamps that look like super-sized desklamps, they're here, too. We liked the Fork Floor Lamp by Diesel ($1,110), which sported a gray-tissue shade and a sophisticated anodised metal finish. So many lamps to love! So little wall, ceiling and floor space! Maybe it's time for a second home?

Home of the (Design) whoppers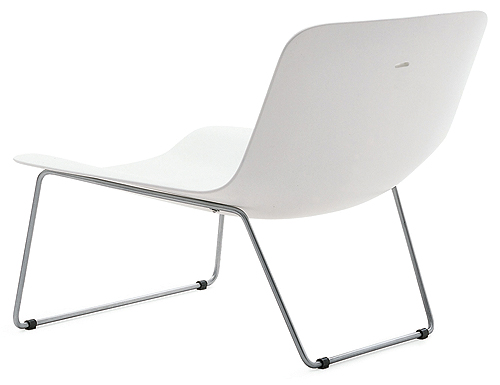 Serious minimalists have been wearing out the sidewalks between DESIGN WITHIN REACH (1200 N.W. Everett St., 503-220-0200 or go to dwr.com) and Hive (820 N.W. Glisan St., 503-242-1967 or go to hivemodern.com) for years.
So what at, say, Hive would get a modern-furniture-loving frugalista buzzing about?
Walk across the polished concrete floor, past the hip chairs, sofas and light fixtures in this showroom to the back corner, and you'll find Philippe Starck's Juicy Salif citrus squeezer ($6) and the cutest little Panton Junior chairs ($125 each in lime, pink, turquoise and red) that are made in Italy by Vitra (hopefully you have a couple sets of twins still in grade school).
A small upper level holds tulip dining tables by Eero Saarinen that are made in Italy by Knoll and a cool Index Storage System ($1,720 to $2,480) made in Canada by Bensen. By the time you head down the steps, your love for clutter will be no more.