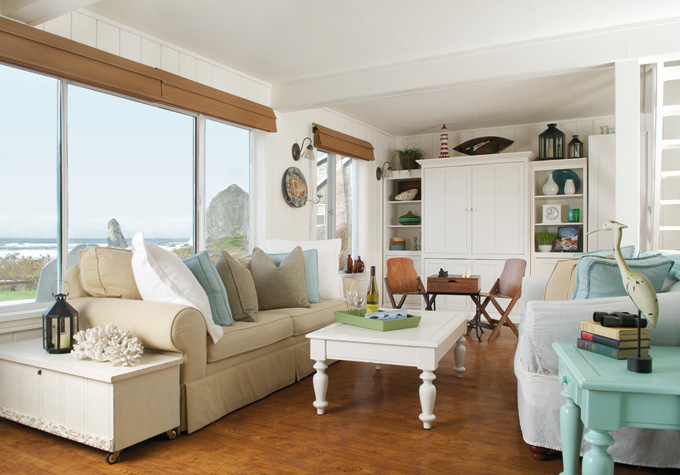 Some fall in love at first sight. Others require a second look. This Cannon Beach cottage caught the attention of two Portland couples looking for a vacation home and rental property. "The bones were good but everything was brown," says Sara Luccock. She, husband Andrew, and friends Joy and Scott Roberts wanted to spruce up Standing Stones cottage, and keep it practical for kids and tenants.              //PHOTOS BY ERIC NÄSLUND
CABINETRY: Against one wall was "a Murphy bed that was like a death trap." They replaced it with two bookshelves and one armoire, all in unfinished natural wood. Once the molding was replaced, the cabinets looked as if they'd been built on site. The wood-paneled walls were painted white for a fresh look.
OREGON-IZE IT: Natural Unfinished Furniture in Portland carries readymade furniture by Oregon manufacturers such as Rocky Butte and Whittier Wood, and also provides custom-work craftsmen.
TIP: If pre-made pieces don't fit the space, consider filling in gaps with molding for a custom look.
SLIPCOVERS: A sofa that came with the house was "a bone of contention." No one liked the upholstery but the comfortable couch was in high demand. They compromised with inexpensive and washable white slipcovers.
OREGON-IZE IT: Before N After Slipcovers in Brownsville offers online instructions on how to measure furniture for a custom fit. Good slipcovers can give furniture a completely different look. Quality, custom-fit slipcovers are about $550 starting for a two-cushion sofa.
TIP: Splurge on separate cushion covers for the best fit. Be practical and choose washable fabric.
DESIGN HELP: The homeowners had visions of a Southern Californian-style beach house but needed help in realizing it so they turned to Amanda Saunders of Amanda's Influence in Clackamas. Saunders chose warmer, creamier shades of the colors the homeowners first imagined, better suited to Oregon, and used Roman shades, throws and accessories to add texture and warmth. "The place was very chopped up," says Saunders. Replacing linoleum and carpet with low-maintenance wood-look vinyl flooring throughout "made everything flow."
OREGON-IZE IT: Rethink and repurpose. The height of a vintage dining table blocked a vent so they added length to the legs. Saunders shopped independent and resale stores and Craigslist for items such as vintage school chairs paired with the game table. Mismatched end tables were unified with paint. Color it Oregon: Miller Paint Co. began here in 1890, Rodda Paint dates to the 1930s and newer ones such as Yolo Colorhouse and Devine Color emphasize low or zero emissions.
TIP: Get over the fear of an interior designer breezing in to transform your home into his or her personal theme park. Many are interested in tailoring to clients' needs. The homeowners say Saunders saved them from making pricey mistakes.