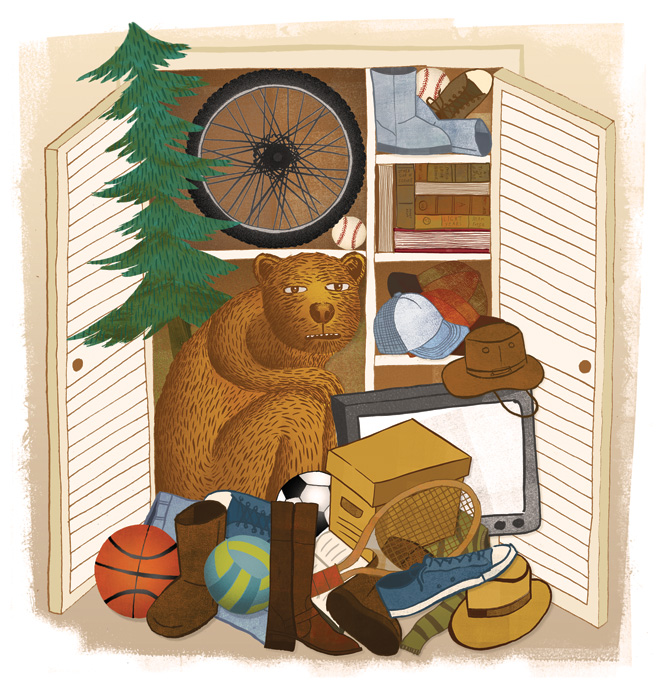 Illustration by Santiago Uceda
Adding square footage is a luxury but not always a possibility. 
"Space is almost always a premium," says Maureen McCafferty, an in-house architect and designer at Willco Painting and Construction in Portland. 
When clients can't build up or out, she suggests they claim the nooks and crannies hidden throughout the house. The gap between the studs of an interior wall can hold recessed shelves; the spot beneath the stairs can provide "dramatic stair-step bookshelves"; an odd-shaped area behind the low wall supporting a steep-pitched attic ceiling can be reclaimed for shelves or storage. Think of it as a zombie space. It exists, but it's dead. With some clever design, it can be brought back to life and made useful and even attractive. 
"Clients want to utilize that space," says McCafferty. "If it's only 4 inches deep, they can put in a spice cabinet." 
When a design-feasibility study nixed homeowners' plans to add a story, they had to think deep. They approached Cooper Designbuilders to turn 607 square feet of crawl space into four rooms. Company president and owner Lane Cooper saw the space limitations not as a liability but rather as a creative starting point. Every inch needed to do double, and in some cases triple, duty.
The laundry doubles as a kitchenette complete with refrigerator, dishwasher, microwave and built-in ironing board. The family/media/playroom has a window seat big enough to serve as a sleepover bunk and also provide storage beneath. The guest bedroom/entry/craft room features a Murphy bed that accommodates a pull-down desk. The bathroom radiator is also a heated towel rack. Even the utility room door, notes Cooper, doubles as a bookshelf. 
Of course, framing and finishing all nooks and crannies costs.
"Corners are typically expensive in construction, and you are creating more corners," says McCafferty. "The addition of the space negates the cost, I think. And a lot of clients feel that way, too."
---
Resurrecting the dead zones
Before claiming the hollow space between studs of interior walls, make sure you know where wiring and plumbing runs. A little bit of preplanning will prevent costly fixes.
For a dramatic look, create several small recessed spaces on a single wall to hold accessories and art.
The space beneath the stairs — where the young Harry Potter was forced to sleep — is quite generous for storage. Around the turn of the century, many homes had small closets under stairways. The space can also be left open but framed and finished to showcase a small credenza, or outfitted with shelves that follow the stair-step pattern. 
Build window seats with tops that lift for storage, or leave an opening on the floor for a small pet nook. Make the seat wide and long enough, with a firm cushion, to serve as a guest bed.
Instead of using a spacer to make kitchen cabinetry fit, consider a skinny but deep drawer.