BY MIKE LANDFAIR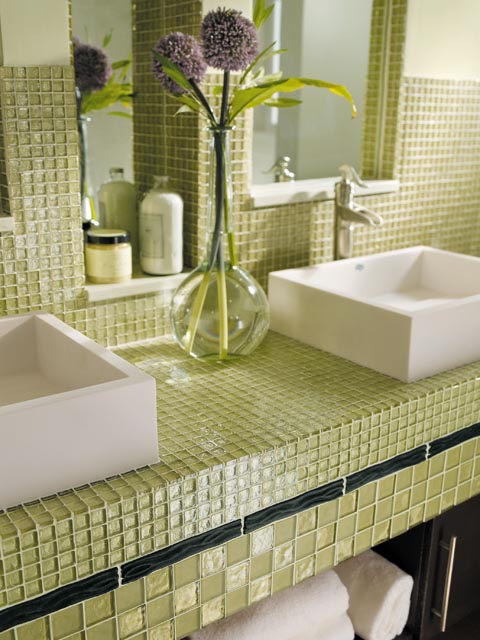 Each year, Bev and I sit down on our wedding anniversary and write down goals for the next few years. We've had some remarkable successes over the years. Things on our list include: housekeeper two times a month (1993), vacation in Europe (1994), own our own home (1995), garage in place of a carport (1999), road trip to Yellowstone (2002) and new siding (2009). This year marks 19 years, and I will propose remodeling our two bathrooms.
Bev's bathroom is currently painted silver above the wainscoting using a metallic paint from Ralph Lauren. Light yellow and white porcelain tiles surround the tub and shower combination and a see-through shower curtain hangs from the U-shaped brass rod. The floor is yellow, white and gray linoleum. It needs an upgrade, maybe a removal of the tub and a new tiled shower installed.
My bathroom is in the basement, which we remodeled five or so years ago. (It was on the list.) The walls are neutral dark beige and the corner shower has neutral beige tiles that go with the neutral tile floor. I didn't get involved with the decorating decisions, but now after vacationing in colorful Mexico for a number of years, I wish the walls and tile were more vibrant. I want some zing in the room when I shower.
I've read that there have been some major changes in tile technology. With the advent of high-quality digital scanners, porcelain tiles can now be printed to look like marble, slate, alligator leather, and fabric, even gold leaf. The big news is the hardness and ease of maintenance of porcelain tile compared to the softness of marble and slate. Thinner tiles may be important to you, because you can avoid tearing out the old tiles. You just install the thin tiles over the old.
Rex Ceramiche Artistiche, distributed in Portland by United Tile, is one of the leaders in this new technology. Their marble tiles look like the real stone. In addition, Rex scans all wood varieties to deliver tile that can be used on the floor in place of hardwoods. Imagine having tile floors that look like wood-grain hardwood floors, but could resist damage from our dog's nails when he does his psycho dance
Another popular item for bathrooms and kitchens is glass tile. Barbara Gilbert of Barbara Gilbert Interiors in Texas writes, "Glass was used in mosaics as early as 2500 B.C. The tiles come in countless sizes and have the ability to provide intense color and reflect light." Locally, Ann Sacks offers a number of glass tiles along with several that are eco-friendly. That is, they are made from recycled glass and then colors are hand selected and formed into glass tiles.
Remember mood rings? Moving Color has an innovative technology, which takes glass tiles to new heights in terms of interior design. The tiles are temperature sensitive and change color with the ambient, body or water temperature. Is that hot or what?
Texture can be important and the new technology is providing new textures. In Seattle, modularArts makes large panels, 32" by 32", that interlock and create relief (or bas relief) carvings and for a continuous sculpted surface.
Other great ideas for tile: stainless steel tiles, books on tiles to create a library wall. Then there are textured tiles, basket weaves and even gemstones.
I could fill a scrapbook with tile pictures and rooms decorated with the varieties of tile, so how do Bev and I move forward with this desire to remodel two bathrooms to a plan of action? For help I called Amy Bright at s'Tile. Amy has 30 years in the tile business. She sees people all the time who come to her store, or the "Vortex of Crazy" as she calls it. They are overwhelmed by the choices and don't know where to start.
Amy Bright starts with questions. Are you working with a designer or contractor now? Do you have a budget? What are the ground rules? Do you have something you want to incorporate in the design? Why are you thinking of doing the project now? Is the project necessary or are you just bored with the present design? Are you solving a problem? What's your favorite color? Who is the decision maker? Is the bathroom part of a bedroom whose colors must be considered? Then she may send the couple home with samples or suggest an interior designer.
Some people choose the DIY way, but depending on the scope of the project, may get overwhelmed by the logistics of scheduling contractors and inspectors.
I found a great resource that will help you with professional information. It is the National Kitchen & Bath Association website. On the NKBA site is "Dream," where you can see photos of the kitchen and bath design competition; and "Design" where you can find out why you should consider using a professional. Then NKBA will help you find a professional.
All I did was enter my zip code and 47 designers came up with links to their websites. The first one was Garrison Hullinger, who I know from NWSID and Hullinger has a blog. By reading his blog, you can get a good idea of his thinking, his designs and past work. Another blog I pulled up from this list of designers is Square Deal Remodeling. James Kreipe posts about another innovation. He calls it Maui In Your Bathroom? and uses low wattage electric heat mats, because tiles can be cold on the feet in Portland's winters.
I am sure I can make the case for inclusion of "remodel bathrooms" to the list. We will hire an interior designer who specializes in bathroom remodels. We may not have the money right now for the project, but we will set the goal in motion. No more "someday I'll remodel." Somedays never come.
Contributing writer Mike Landfair is a Portland freelancer with more than 10 years experience writing about the furniture, fabric and accessory business. You can reach him at [email protected]