Produced by the marketing department of Oregon Home
When Sharon and Bob Lewis come across wood destined for chipping or the fireplace, they often see wood destined for another purpose: to become finely crafted objects for the home, the kind of pieces passed down from generation to generation.
Their company, Heart of Wood, makes residential and commercial furniture from post-consumer and post-industrial wood, an idea that was born when a large Douglas fir tree fell in the Lewis' backyard.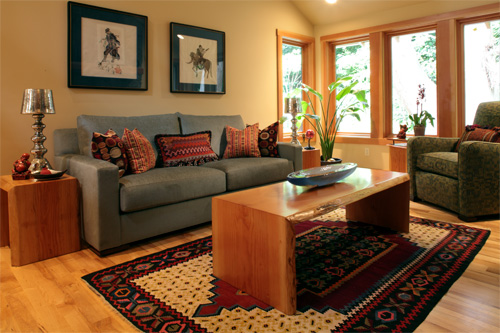 Beautiful Pacific Northwest Douglas fir coffee and side tables with live edges.
// Photos by Fred and Holly Stickley
"I realized the tree was precious, so we turned it into tables, benches, a cupboard, a bed frame and headboard," says Sharon, founder and CEO of Heart of Wood. "That tree made me want to extend the life of wood that otherwise would be wasted and thrown away."
Since its inception in 2011, Heart of Wood has crafted everything from polished end tables and sleek desks to boardroom tables and bar tops with distinctive raw edges for residential and commercial spaces.
Because the Lewises also own the Columbia Vista lumber mill in Vancouver, Wash., Heart of Wood is able to source prime pieces of reclaimed wood, including cuts of Douglas fir too short to be processed. Other times they source elsewhere — pieces of tropical Tigerwood came from an old deck. Many pieces of reclaimed wood have what some would consider aesthetic "defects," such as knots or striations.
At Heart of Wood, those distinctions create character in final pieces that celebrate the history of a tree that takes on a second life. "The wood tells you what it wants to become," says Sharon.
The process of creation for custom Heart of Wood projects begins with a simple dialogue about what the client wants, including the size, scope and feel of a potential piece. Eventually, the perfect piece of wood reveals itself.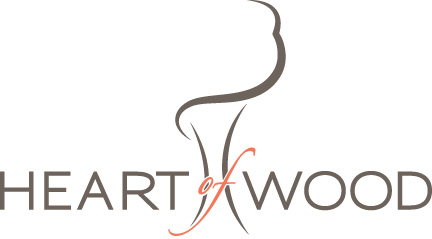 For more information about Heart of Wood, please call (360) 921-9547 or visit heartofwood.com. To see Heart of Wood creations in person, visit the company's booth at the Portland Fall Home and Garden Show in October, Booth #435.