Call it dreaming or name it for what it really is: The best place to get inspiration for your next home build or renovation project. Every year, the NW Natural Street of Dreams shows off some of the most interesting and innovative work of builders and designers around Oregon. This year was no different. Here are six things that stood out to us.
---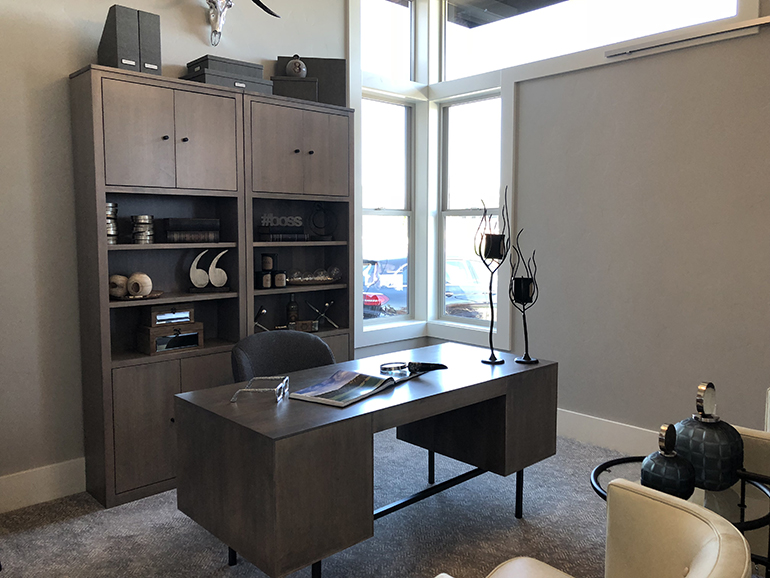 ---
1. The optimal home office
The offices on display at the Street of Dreams served to remind us that comfort in a home workspace doesn't just come from the things on and around your desk, but also from the emotional state that the personality of your space can create for you.
---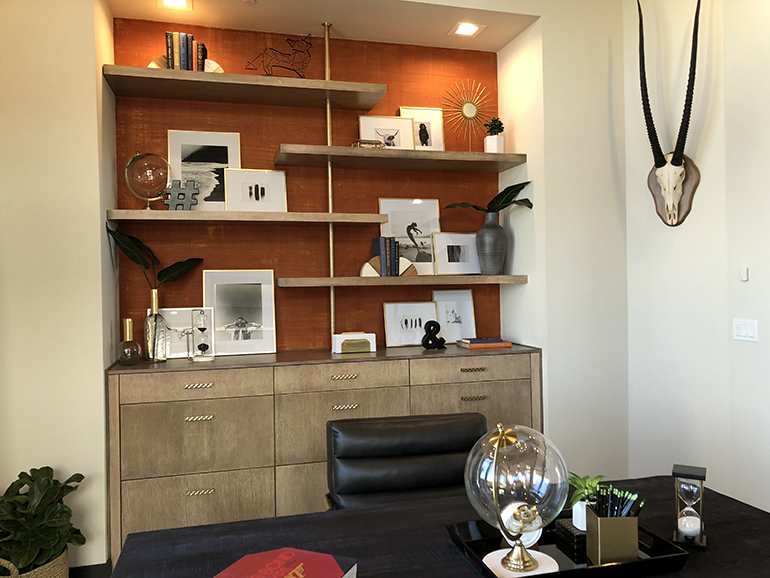 ---
What makes a good office is clear from the continuity in these spaces: A minimalist and work-focused desk, a space for extra storage, and a decorative shelving solution. Desks had clean lines and a light presence in the spaces. The storage utilized drawers that hide the necessary uglies that are required for office-work and productivity. Shelving was woven in to add personality and home design while luring eyes away from the more practical storage solutions.
---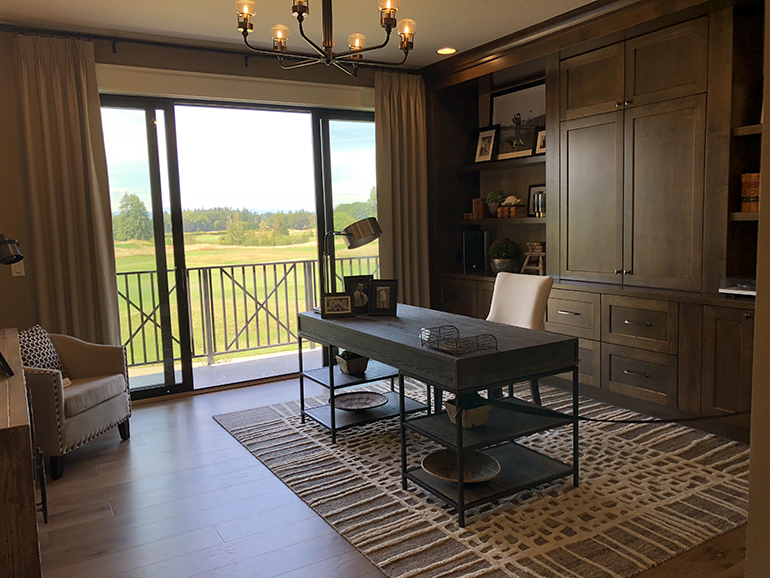 ---
STANDOUT:
House: Hearth & Home
Builder: Mike Harn | Anlon Construction
Why it stood out:
This office had a large built-in bookshelf that lined the back wall and added both storage and style, but didn't overwhelm, due to the light touch of the rest of the space. The open shelving on the desk takes an already roomy space and opens it up even more. But the piece de resistance is that balcony. Standing and stretching your legs is an important part of the work day, and with a balcony off of your office, you might be inclined to get up more often and breathe in the fresh air.
---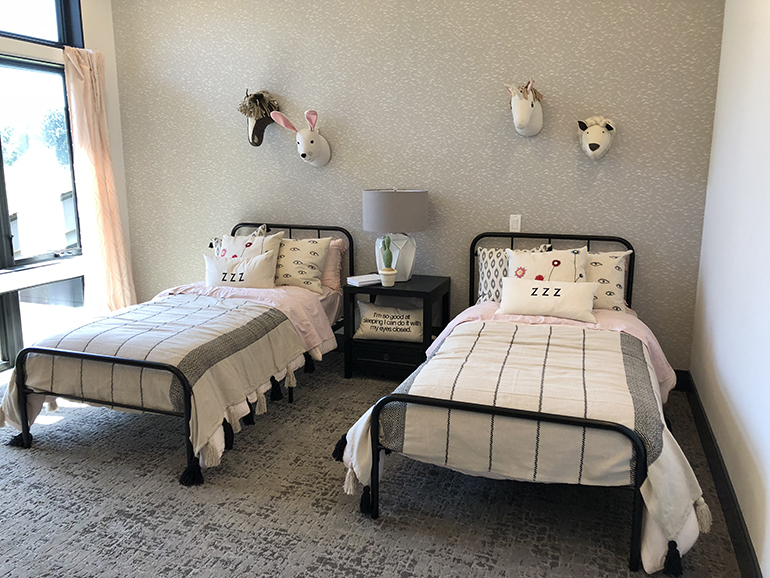 ---
2. Kid space rules
Many of us buy homes in order to grow our families. At the Street of Dreams, the designers and builders understand this truth and have taken careful consideration in designing homes that children can enjoy in meaningful ways alongside their parents.
---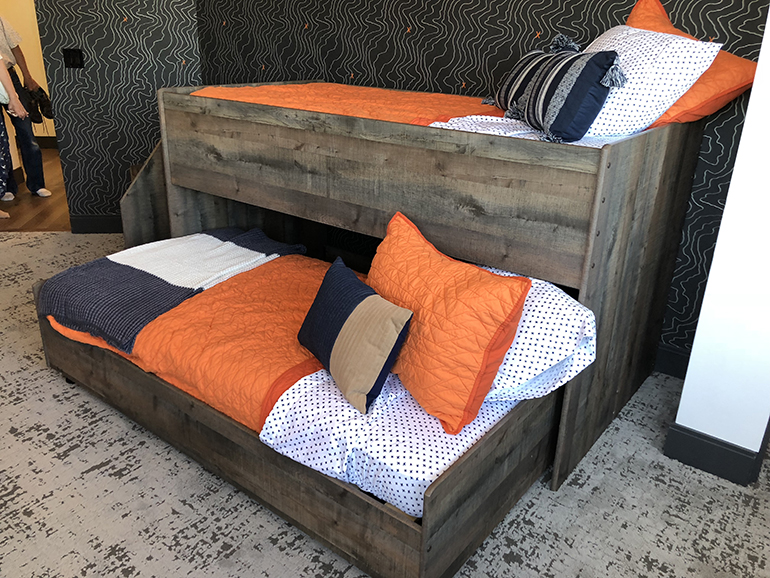 ---
All of the homes included separate bathrooms for the children to use exclusively. One home included a twin-sized bed with a slide-out bottom bunk that allowed for an attractive shared space that could expand or contract to fit the needs of a growing and changing family. Another broke its media room in half and added a large craft table and additional storage. This media room/game room concept keeps the kids occupied while the grown-ups watch a movie, but keeps them in plain sight.
---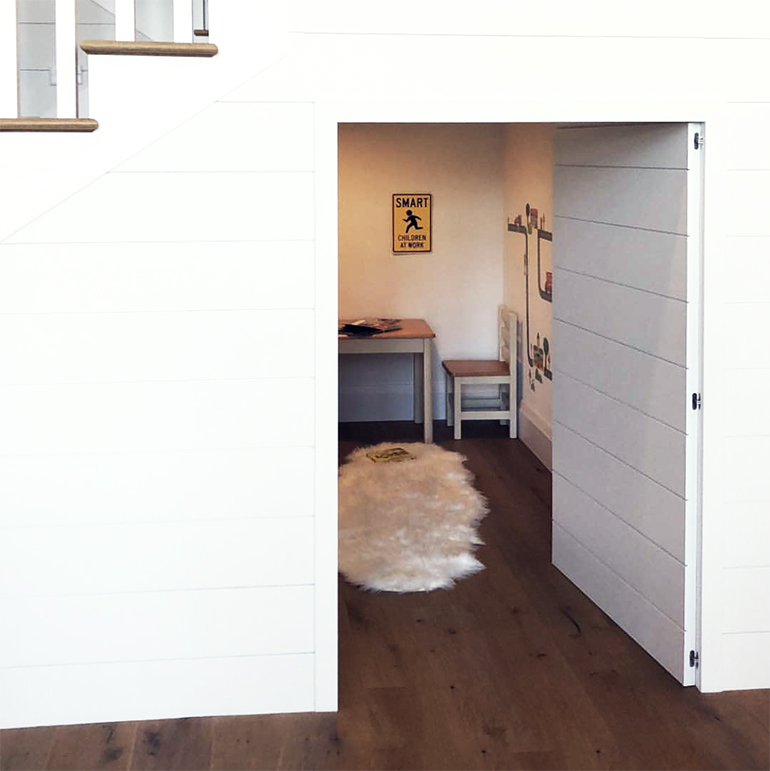 ---
STANDOUT:
House: Graceview
Builder: Phillip Pahlisch | Legacy Built NW
Why it stood out:
The most interesting design for kids, however, came in the form of a miniature door off of the open-concept main floor of one of the homes. The door sat under the stairwell and, when closed, would blend in flush with the wall pattern. But when opened, it revealed an entire hidden play space for the little ones, nestled in full-view of the kitchen. This genius architectural choice gets the kids out of your hair – while giving them the privacy to play – and allowing you to keep tabs on them.
---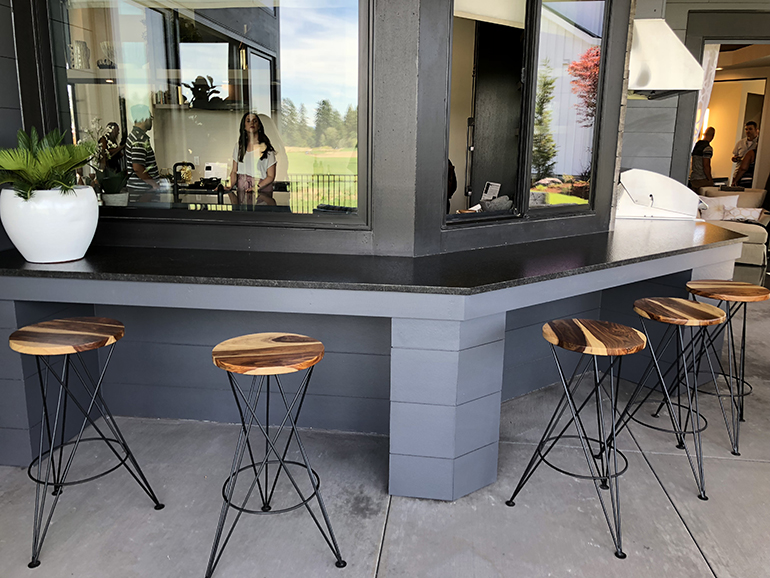 ---
3. Fun, fluid floorplans

Traditionally, defining a "room" in a house is a simple concept. Does it have a door? It's a room. At Street of Dreams, this wasn't always quite the case.
Street of Dreams homes use clever spatial traversal tricks to create privacy. Bedrooms often flow in and out of each other connected by bathrooms. Winding pathways would take you into new corners of the house, swing you around, and spit you back out on the other side. Each home made design choices to lead you through, keep you surprised, and utilize every inch of space available in an interesting way.
---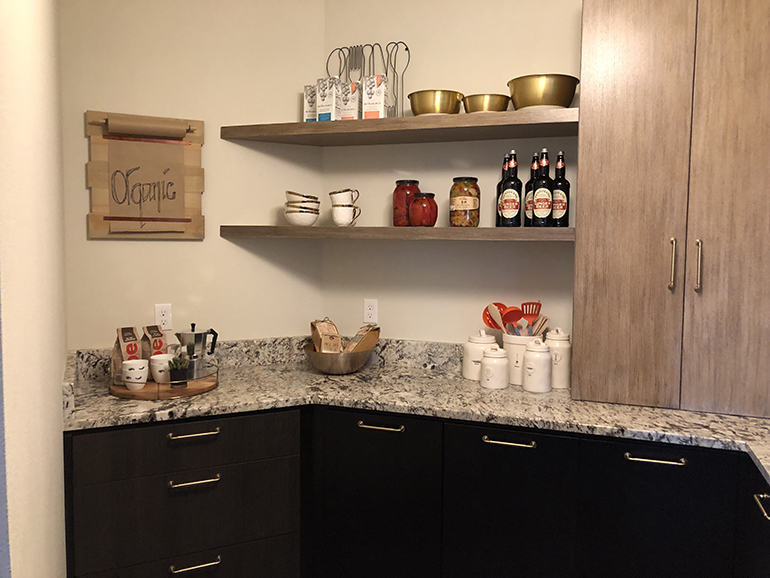 ---
Big trend for 2018: the hidden galley kitchen. Many of the kitchens, for example, had pathways hidden behind the main, viewable space which would allow you to hide some of the messier parts of entertaining in your open-concept home. These pathways would lead to second staging ovens, pantries with extra counter-tops and storage, and full prep areas with their own second sinks.
---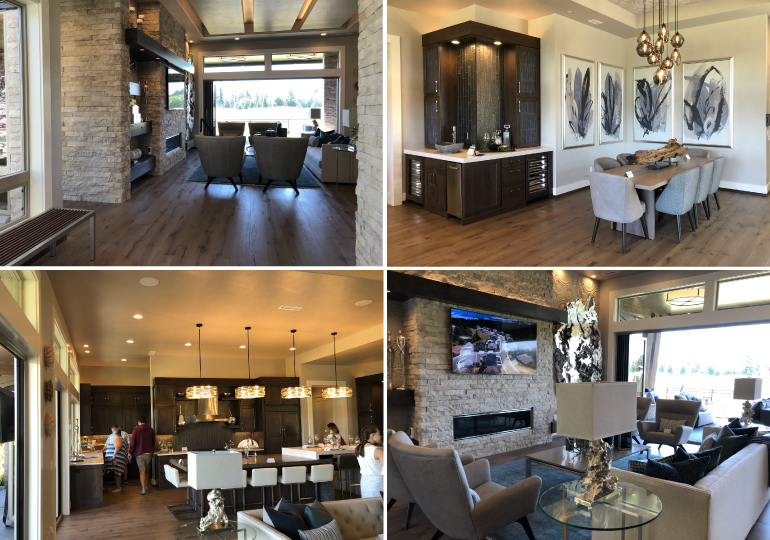 ---
STANDOUT:
Home: Serenity
Builder: Jeff Service | Palisch Homes
Why it stood out:
Serenity was the only house on the tour that had a single floor, but when you move around it, you don't realize it. The kitchen winds around to a hidden master suite. Bedrooms hang off of the main entrance and are woven together through the use of a serene courtyard or a garage. The kitchen wraps around, hiding storage appliances behind a wall and the rec room connects to the veranda which connects back to the open-concept main room and the master bedroom. Everything feels separate and private but connected at the same time, and you never miss that second story.
---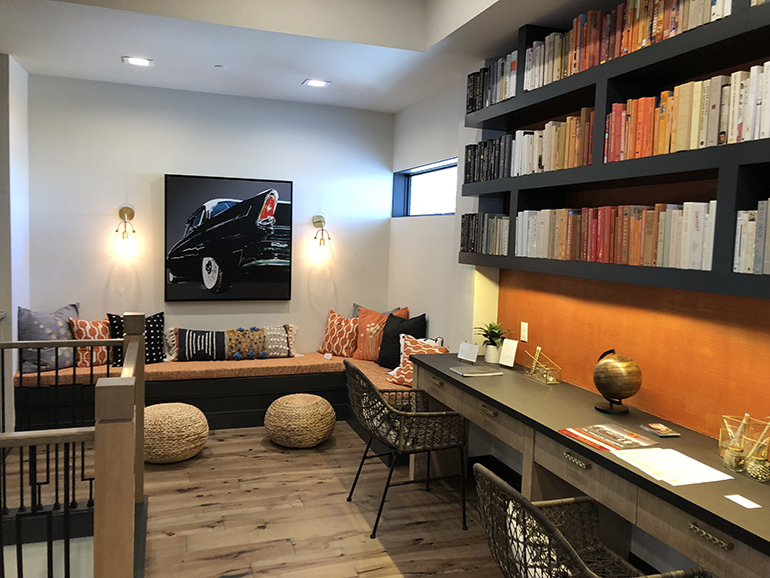 ---
4. Rooms with a view
Each one of the houses on display at the Street of Dreams had surprises we like to call rooms with unexpected views. Architects cut out corners of hallways, walkways, balconies, and landings in order to provide a place for designers to add working spaces, sitting spaces, or just spaces to pause at a window and take in a view. These moments add interesting wrinkles to the standard flow of a home and allow you to appreciate the breadth of the space you have without a commitment to closing yourself up inside one of a room. It made these homes feel more inviting and livable rather than a collection of rooms and doors.
STANDOUT:
Home: Graceview
Builder: Phillip Pahlisch | Legacy Built NW
Why it stood out:
One of the most clever uses of traversal space came in the form of an entire washer-dryer space built into a closet off of the upstairs hallway. Many of the homes dedicated a whole room to the laundry space, but Graceview relegated it to an otherwise unused and out of the way section of the upstairs hall, thus opening up space elsewhere for more .
---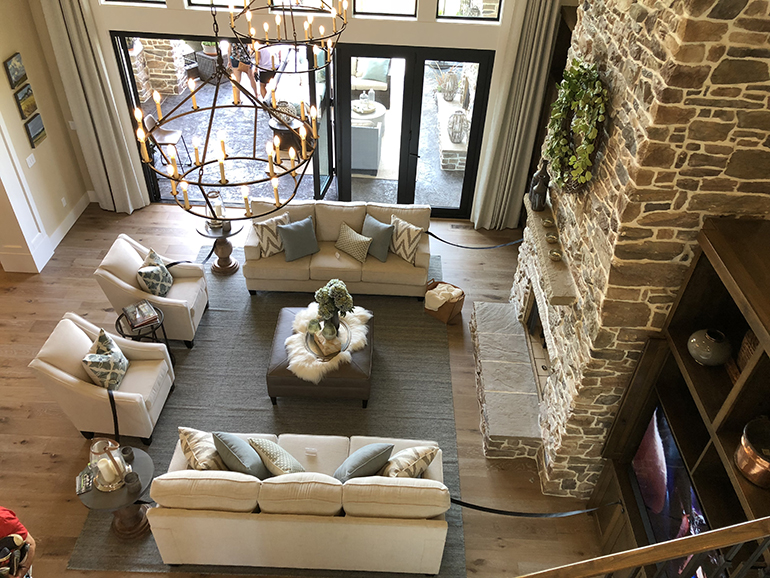 ---
5. Open concept wins
Open-concept design has been the go-to for a while now. It turns the entire main floor of your home into a wide-open living and entertaining space. And at the Street of Dreams, it has become the gold standard.
Each of the Street of Dreams homes found new and creative ways to squeeze relaxing, dining, and cooking into one enormous space, most of which also lead directly to an outside back patio. One home featured an outdoor bar-style seating area that ran across a window which opened into the kitchen so the person cooking could interact with their guests outdoors.
Many of them also organized the seating areas of their open-concept spaces as more of a gathering space than an entertainment space, hiding the television in a cabinet for use only for occasional background purposes.
---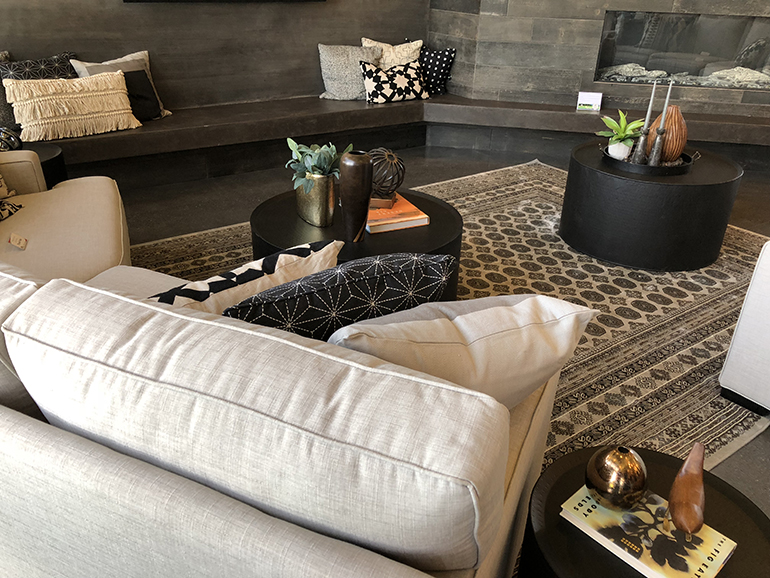 ---
STANDOUT:
Home: Private Reserve
Builder: Bill Winkenbach & Scott Bowles | BC Custom Construction
Why it stood out:
Private Reserve really thought through the open-concept space when it comes to transitioning from living to entertaining. In the seating area of the main floor, a bench ran from a fireplace along the wall below the television and wrapped around. The bench was decorated with pillows which invited guests to turn away from the TV and face each other for a more intimate conversation space.
---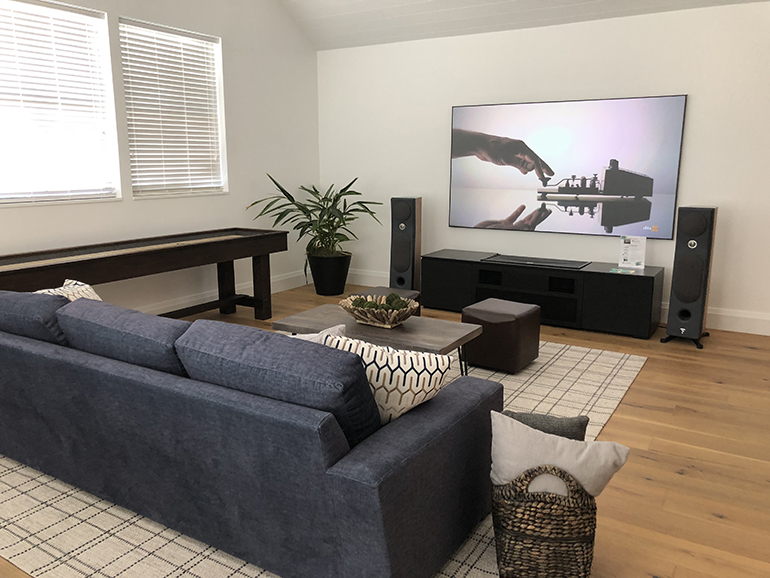 ---
6. The upstairs hangout
Many of the open-concept floor plans at the Street of Dreams opted for an entertaining space over an entertainment space on the main floor of the house. But what about those times that you just want to comfortably watch a movie?
The solution in almost every home was simple: move the TV upstairs. Each home had a dedicated media room with a more comfortable set up, larger television, and surround sound system to match. Often these would be paired with a game table for the kids or some other kind of fun activity. One home had shuffle board set up in the corner.
---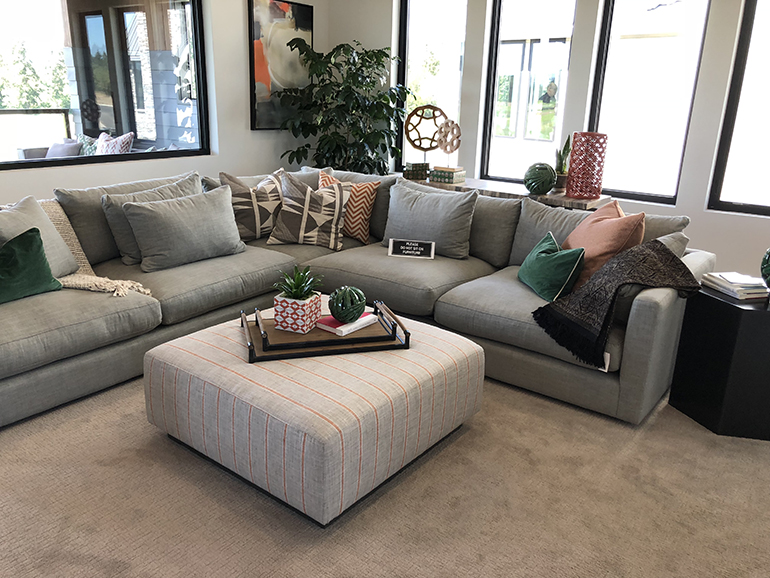 ---
Furniture designed for comfort and relaxing often has a different presence than furniture designed for visual flair and entertaining. Moving the TV room upstairs allows you to create two different sitting spaces: One that focuses on matching the style of your open-concept space without having to worry about sacrificing comfort, and one that can be stylish in service of its comfort in order to be an inviting space to consume media.
---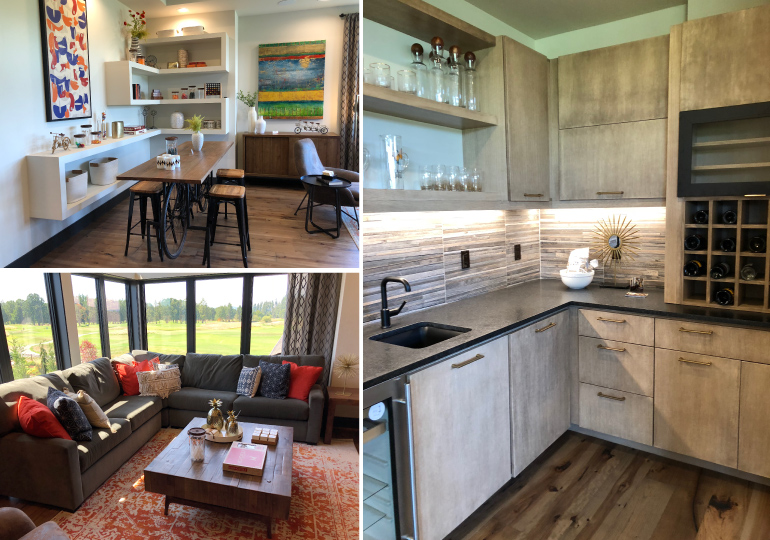 ---
STANDOUT:
Home: Private Reserve
Builder: Bill Winkenbach & Scott Bowles | BC Custom Construction
Why it stood out:
This media room had something for the whole family. When you first walked in, you saw a large game table surrounded by plenty of game storage – a place for the kids to sit and occupy themselves. The other half of the room was dedicated to a built-in media center and a large, cozy wrap around couch. But that's not all. Tucked away in the corner of the room was a mini bar space, with cabinets, a mini fridge, and a sink. A family could spend their whole lives in this one room and never be without something to do. And it all came together in a cohesive, uncrowded way.
—
Did you visit the 2018 NW Natural Street of Dreams? Let us know what stood out to you.