Photos by Matthew Eaton
When the pioneers loaded their belongings into covered wagons and made the harrowing journey to Oregon, many did so in pursuit of farmland. Once they arrived, they built barns on their land claims, shaping felled trees into lumber with hand tools and precariously placing boards without the aid of machinery.
"There's something extremely loveable about barns," says Peggy Moretti, executive director of the nonprofit Restore Oregon. Plenty of people agree, because barn- inspired designs and barnwood are extremely popular for modern homes.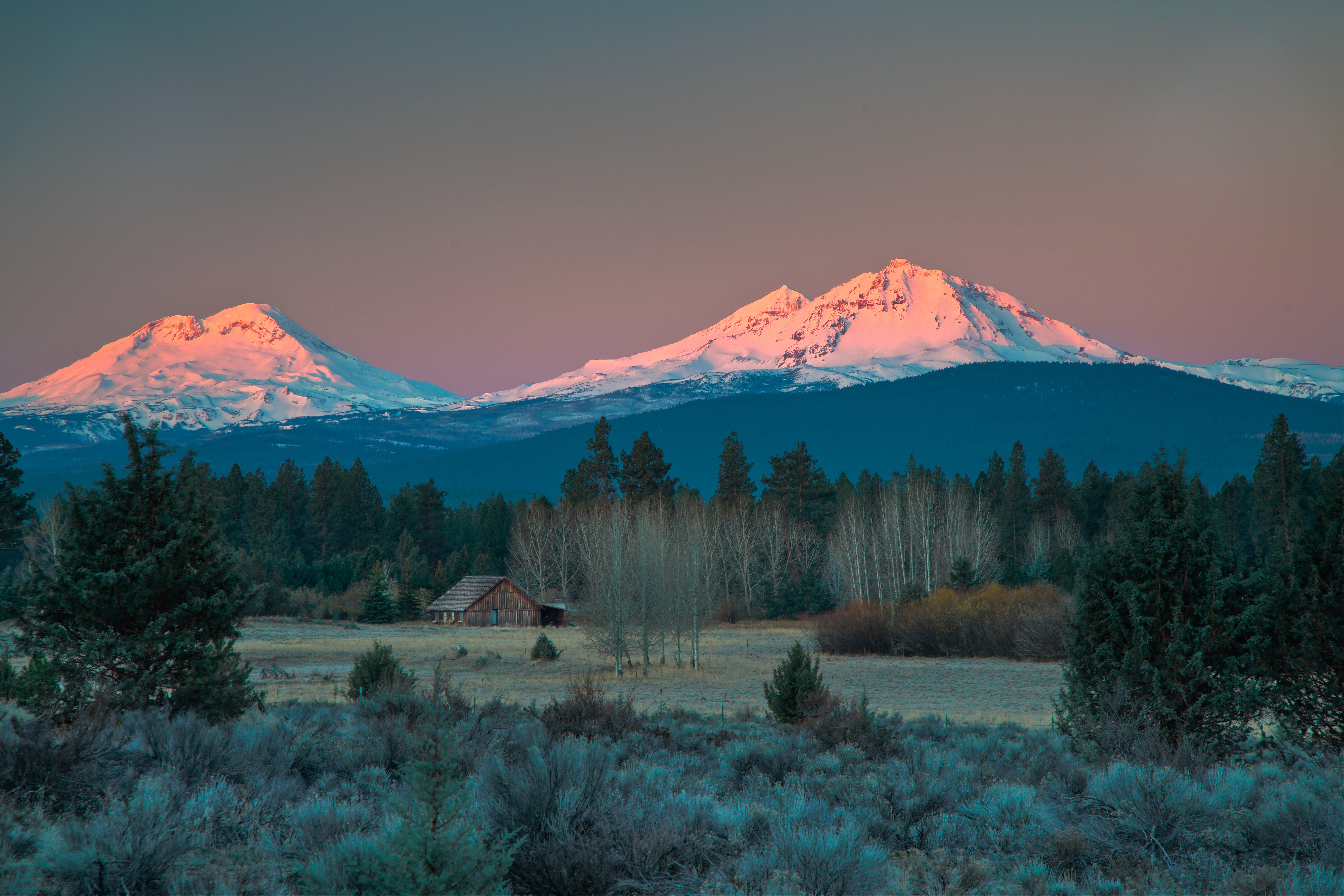 Part of Oregonians' fascination with barns has to do with the desire to return to a simpler way of life. "The more high tech we get in our society, the more there's this countering pull back to nature," Moretti says. "Barns are part of that connection with the land."
There are also many practical reasons to use barn- wood on walls, furniture, even whole homes. "Barn- wood is far more beautiful than new wood, and every piece is different," says Bruce Wadleigh with Barnwood Naturals in Salem. "Every time I put a board through a planer, it's like Christmas."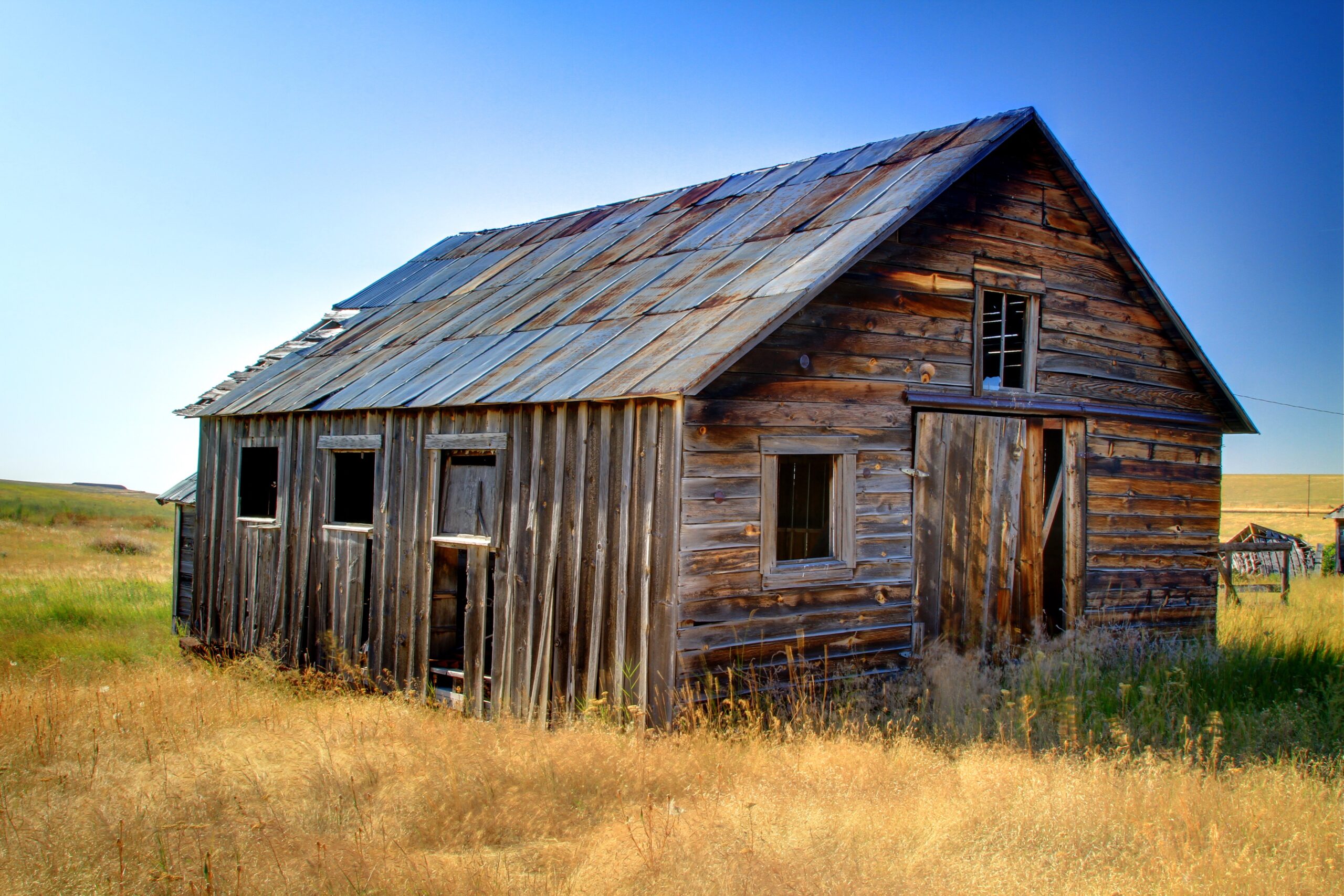 The quality of barnwood makes it an appealing choice. "Oregon's old-growth forests are in our barns and our houses," says Rachel Browning with Portland's Salvage Works. "This is clean, vertical-grain wood. It's the type of material you can't buy anymore."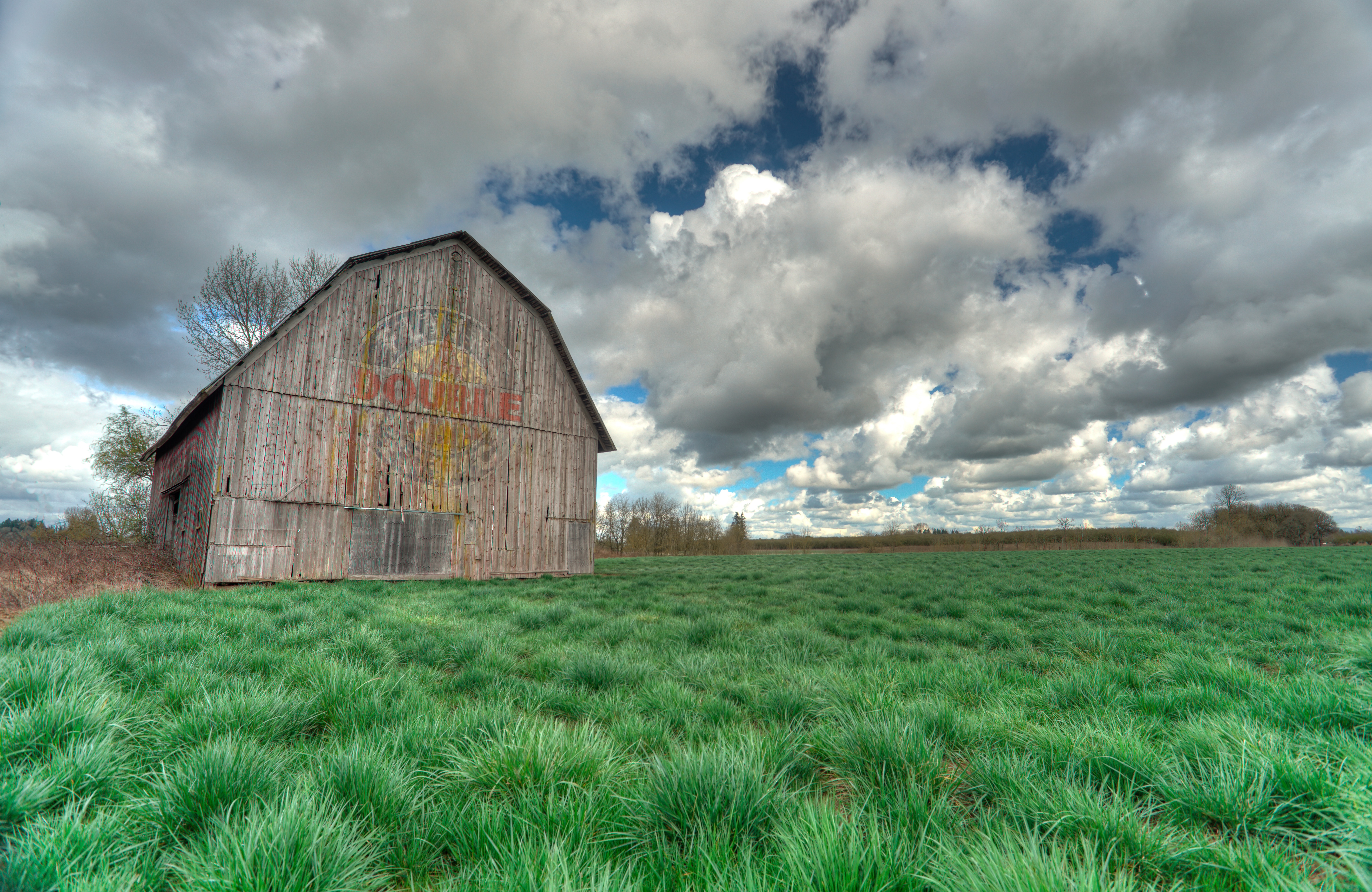 The environmental angle to utilizing reclaimed wood speaks to many Oregonians' values. "It's a real feel-good thing to reuse this material," Wadleigh says. "Otherwise, we burn it or it goes in the ground."
We hope you enjoy touring a few of Oregon's his- toric barns and seeing how modern homes can make an old material seem new again.
Using Barns as Venues
Boni and Dane Smith were delighted to honor their daughter's request to get married at Palouse Creek Ranch, the family's 54-acre farm in North Bend. When her friends began asking if they could get married on the farm too, they were happy to oblige them as well.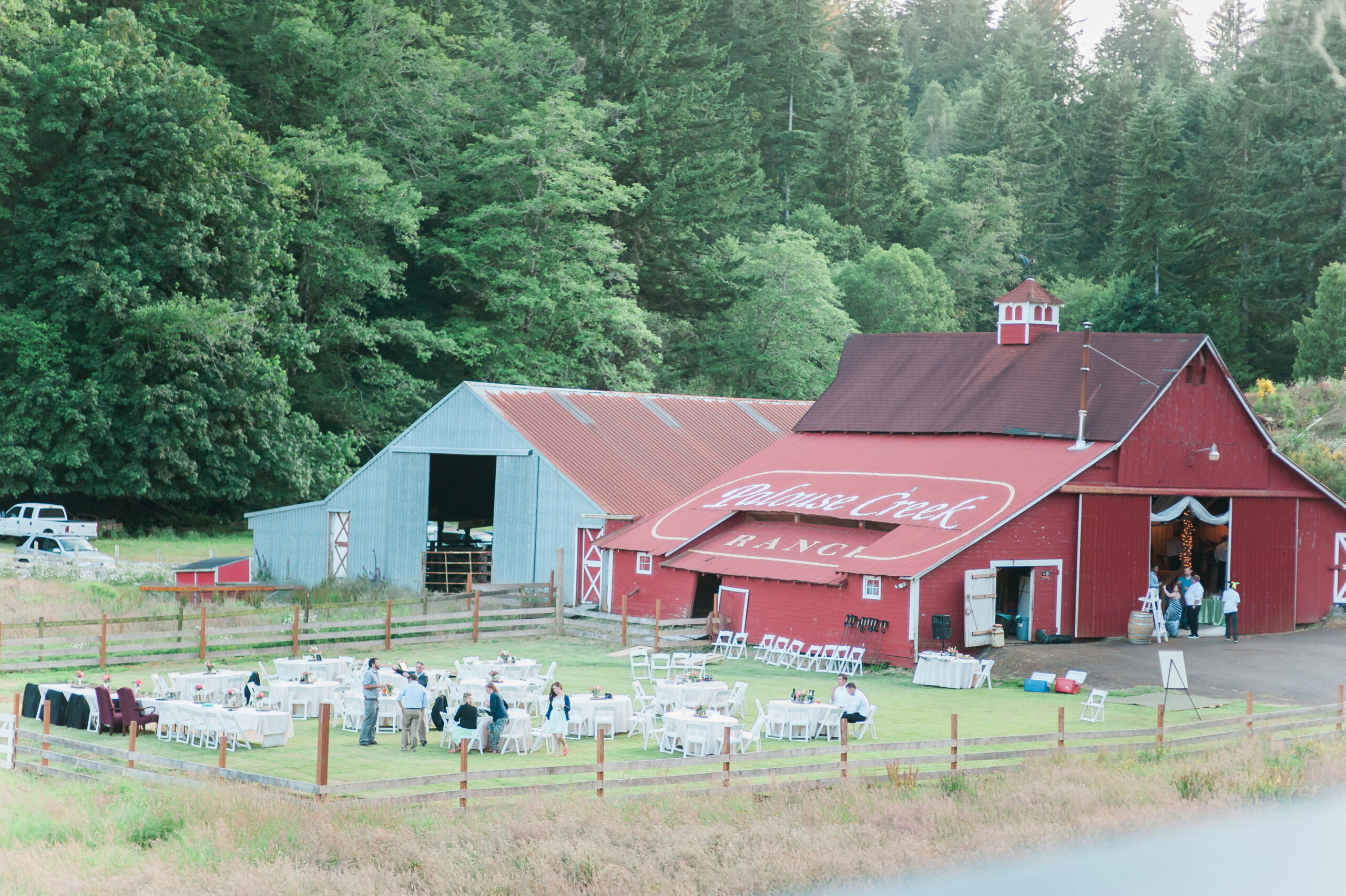 Just like that, a business was born. The Smiths began renting out their meadow for summertime events on a regular basis. "Then we realized when it rains here on the coast, people need an alternative if they want to move inside," Boni says.
The barn was the perfect answer. It was built with hand-hewn boards at the beginning of the 20th century. The original owners used it to house cows, as did the Smiths—until weddings became their primary focus. "We remodeled it approximately five years ago from an animal barn to a party barn," Boni says.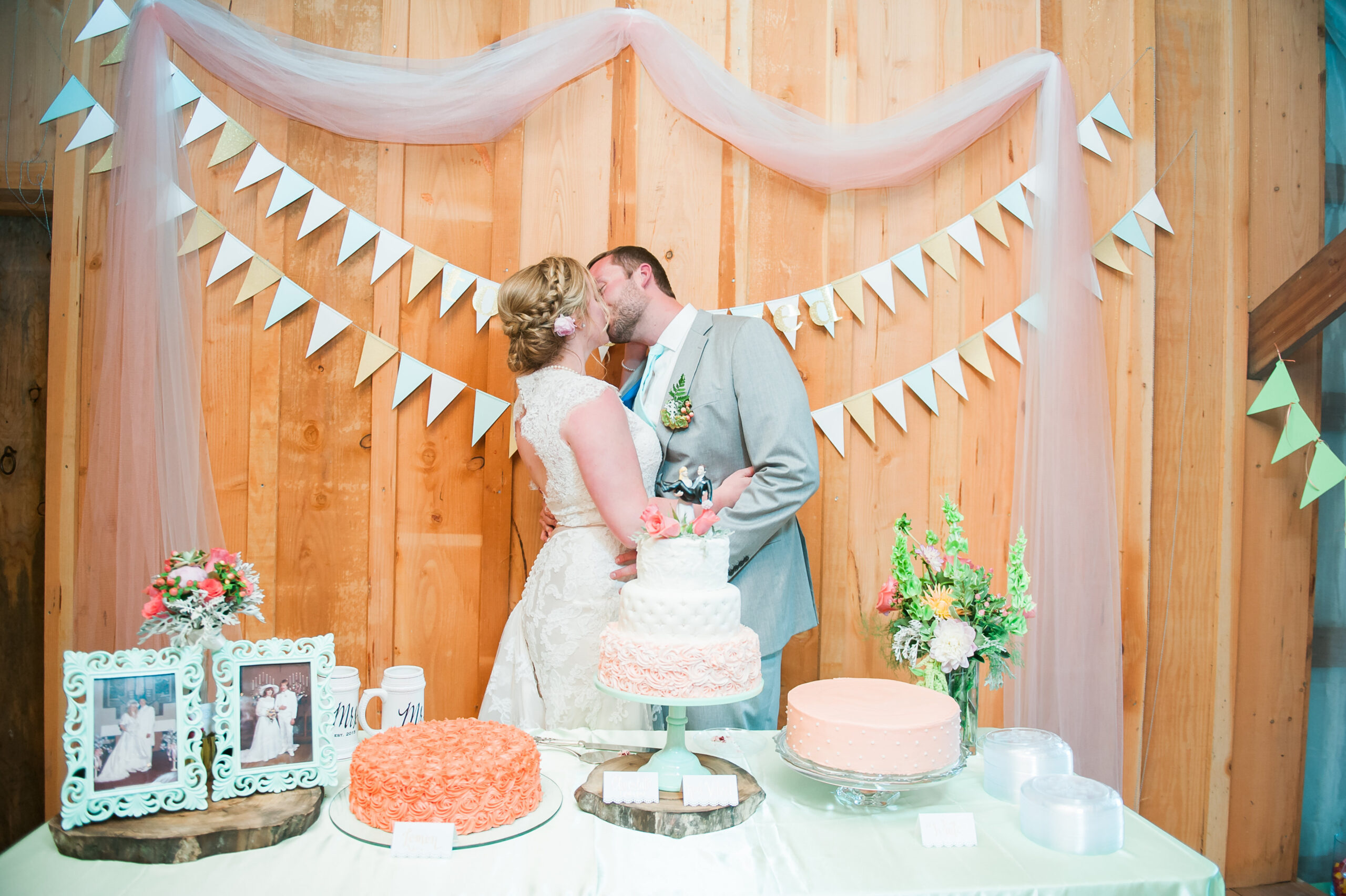 To get the barn ready, the Smiths repoured concrete floors, cleaned out the second-story hay loft to gain ad- ditional seating and did a good deep cleaning. Some of the timbers in the walls had to be replaced, but they reused the hand-hewn boards as much as possible.
The renovated structure can hold approximately 100 people. The Smiths also remodeled the property's 1914 farmhouse and rent it to guests—or anyone looking for a night in the country. "Everyone loves staying here and enjoying the peacefulness of the old homestead farm," Smith says. "We love being able to provide this special place for people to just be."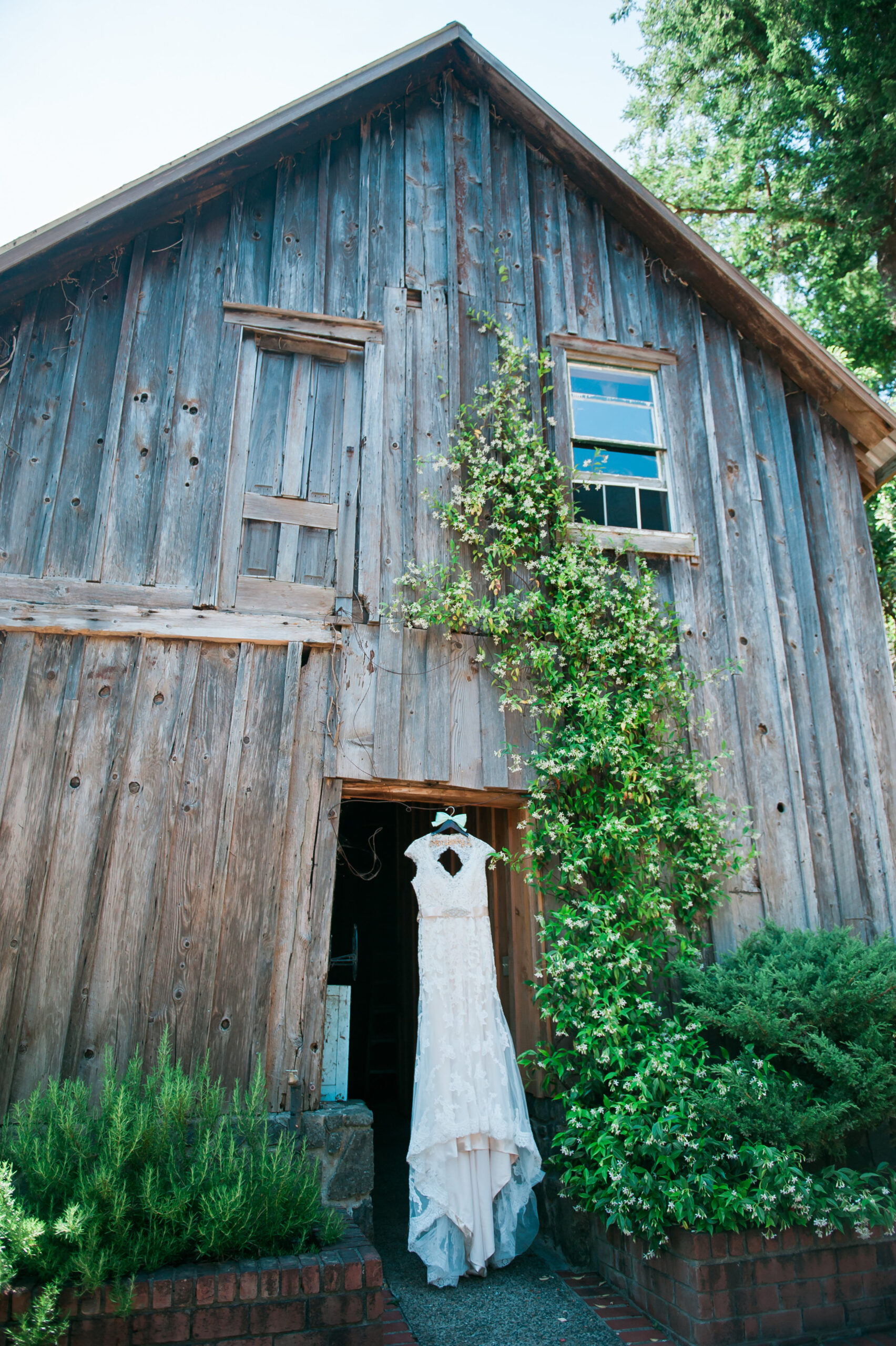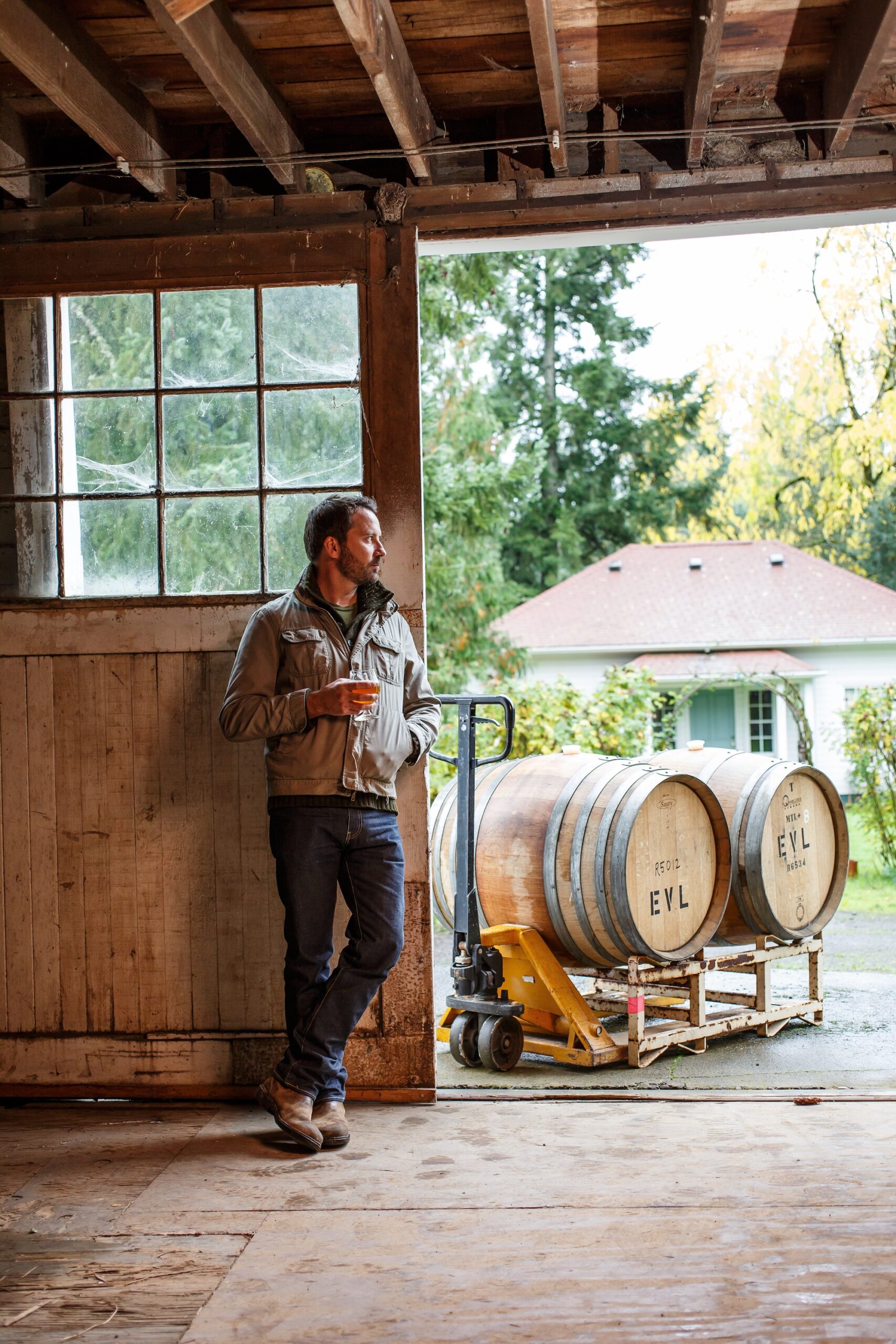 Post-college, Christian DeBenedetti spent a year traveling the world and studying traditional brew- ing techniques. He developed a deep appreciation for farmhouse ales on his voyage and wanted to bring those flavors back to his home state.
To create true farmhouse flavors, he needed a farmhouse… or a barn. Acquiring one was as simple as returning home. DeBenedetti grew up on Springbrook Farm outside of Newberg. The working hazelnut farm had a 7,000-square-foot barn that would make an ideal home for Wolves & People Farmhouse Brewery.
DeBenedetti grew up playing in the circa-1919 structure. As he researched his soon-to-be adult playground, he learned it had historically significant features such as dormered windows, which aren't typically found on barns. He also discovered the building had several challenges.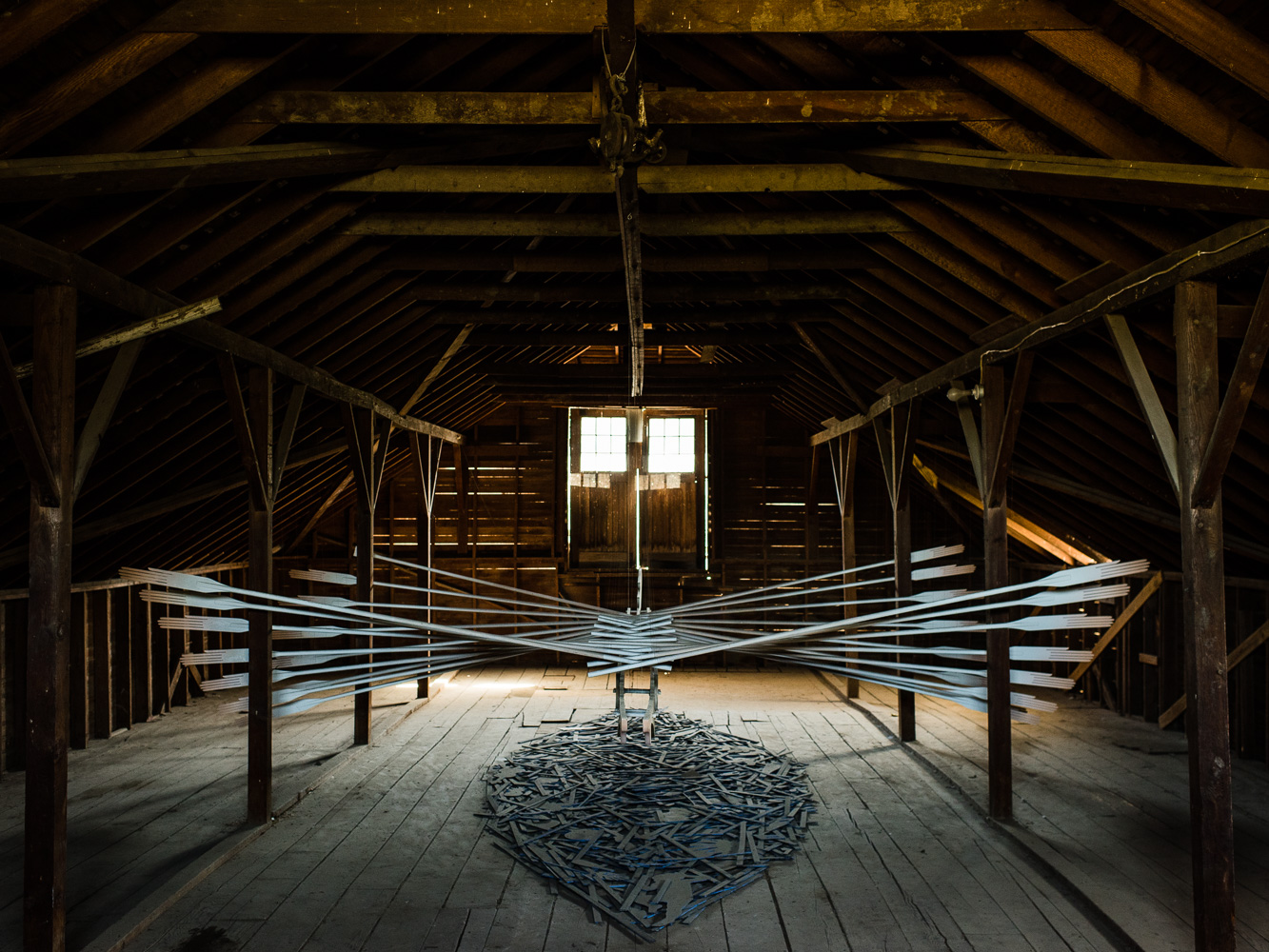 "When we moved in, the walls had rotting beams, failing insulation, uneven and cracked floors, and an outdated electrical panel," he recalls. "There was one well-water line, but no septic or gray-water lines, which are essential in a brewery. It's a beautiful barn, but it needed some TLC."
For two years, he and his team repoured floors, ran utility lines and made seismic upgrades. They added a door made with lumber salvaged from the Old Rainier Brewery in Washington, as well as picnic tables where drinkers can take in the relatively un- spoiled view of the Chehalem Mountains.
"Getting into the bones of this barn was the most exciting and intimidating project I've taken on in my life," DeBenedetti says. "It's been a labor of love. With our help, the barn might last another 100 or 500 years. That's something that gives my family and me a lot of pride."
Preserving Barns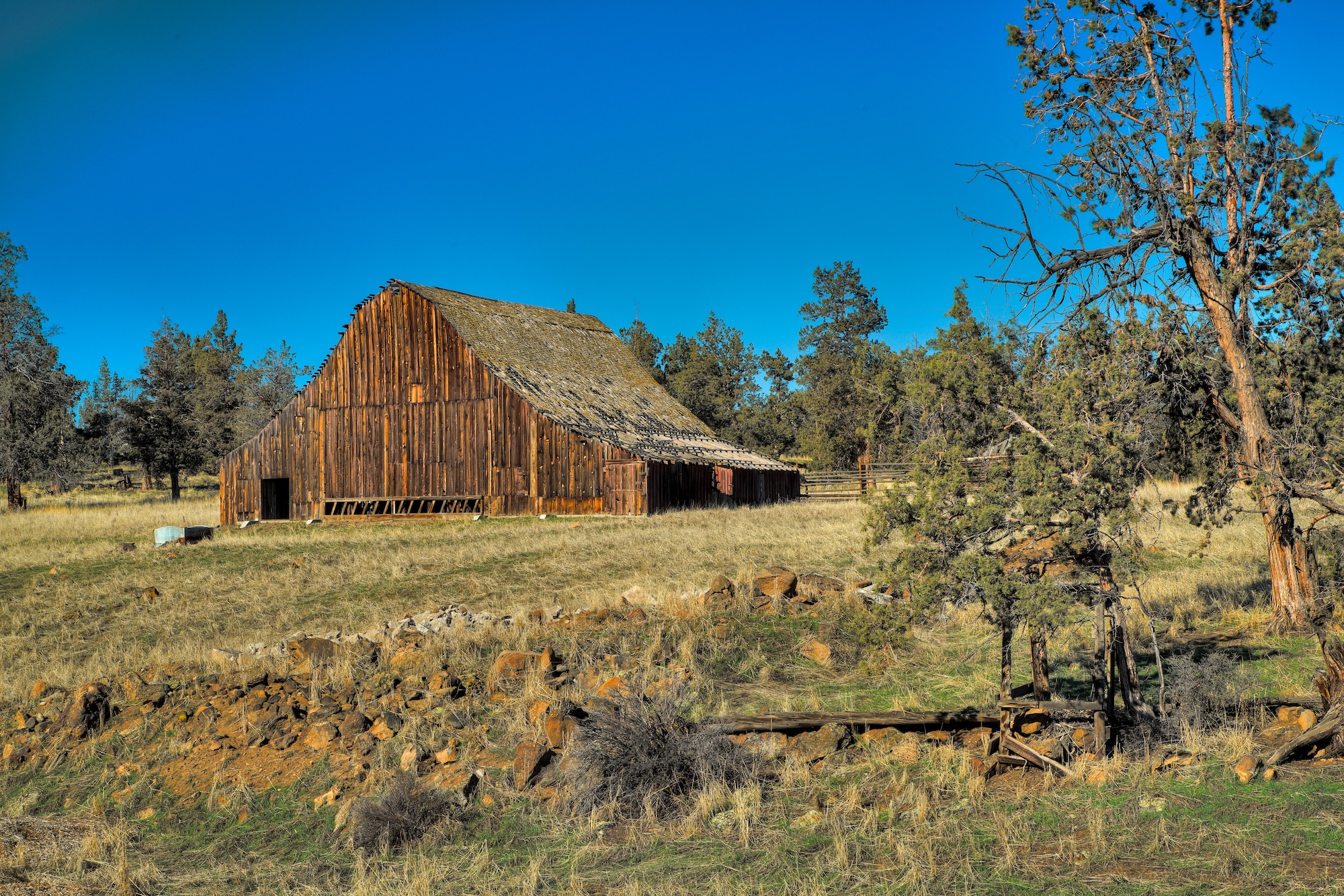 Pioneer-era barns are one of Oregon's most endangered species. The Heritage Barns Task Force at Restore Oregon estimates there were once 5,000 hand-hewn barns in the Willamette Valley. Today there are closer to 25.
Peggy Moretti, the organization's executive director, says there are several challenges to preserving barns. Most were built to hold farming equipment that's now obsolete. "If they don't work for current practices, farmers, being practical people, don't put a lot of money into preserving them," she says.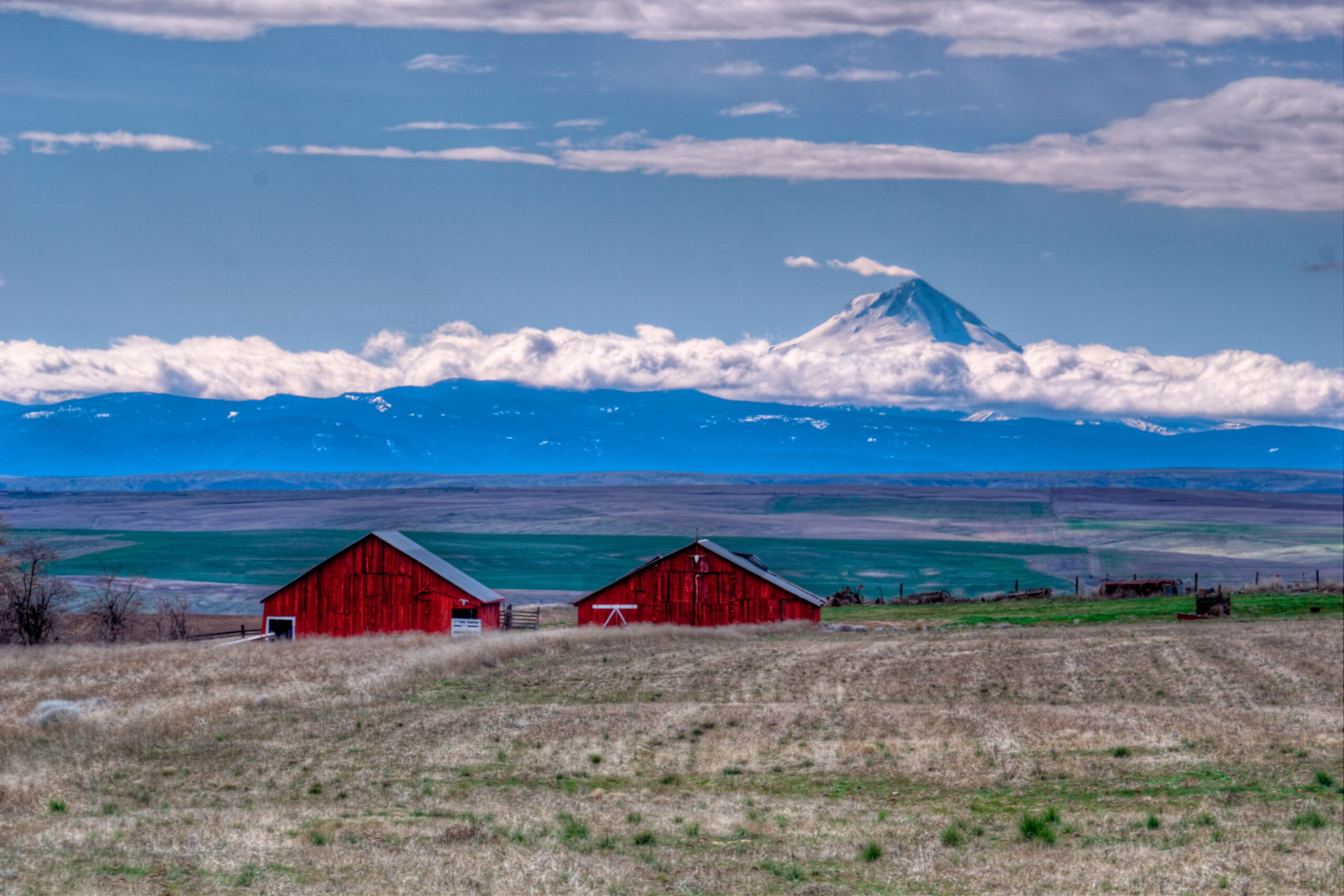 The trick, then, is finding new uses for old barns—but that has its own challenges. "Zoning restricts what you can do on certain types of land," Moretti says. If a barn sits on agricultural property, owners are limited in how they use their land.
The opportunity for conserving barns comes from people's growing interest in them. Restore Oregon offers several resources for people with old barns, including a guide called "So You Own an Old Barn."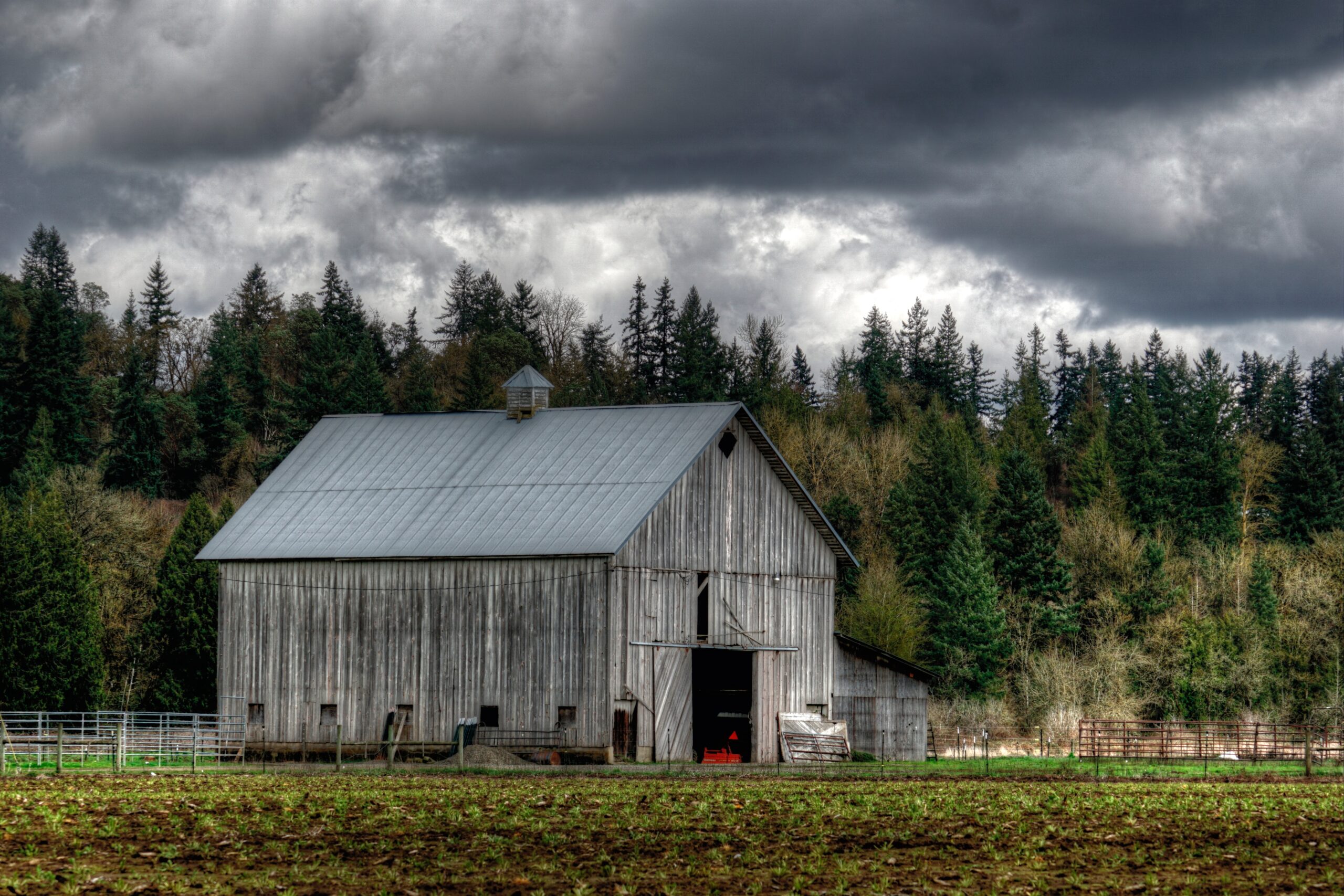 You can find more information at restoreoregon.org or (503) 243-1923.
Building with Barnwood 
Jeb Byrnes knows a lot about bringing old and new together. The furniture maker has a penchant for using second hand wood on projects to modern- ize his 1910 Bend home. "In the beginning, it was just because I was cheap," he says. "I'd find this stuff and use it because I had it. But I've been doing that for a while, so it's become a real look."
When it came time to tackle a 750-square-foot addition that nearly doubled the size of the house, using scavenged wood wasn't going to be an option. Byrnes turned to Chris Murray and Acme Lumber Company, which specializes in sourcing, curating and selling barnwood and other reclaimed lumber.
"I'd worked with Jeb before, so I had a pretty good feel for what he wanted," Murray says. He was able to translate Byrnes's concept for his addition into a ready-to-install package of barnwood.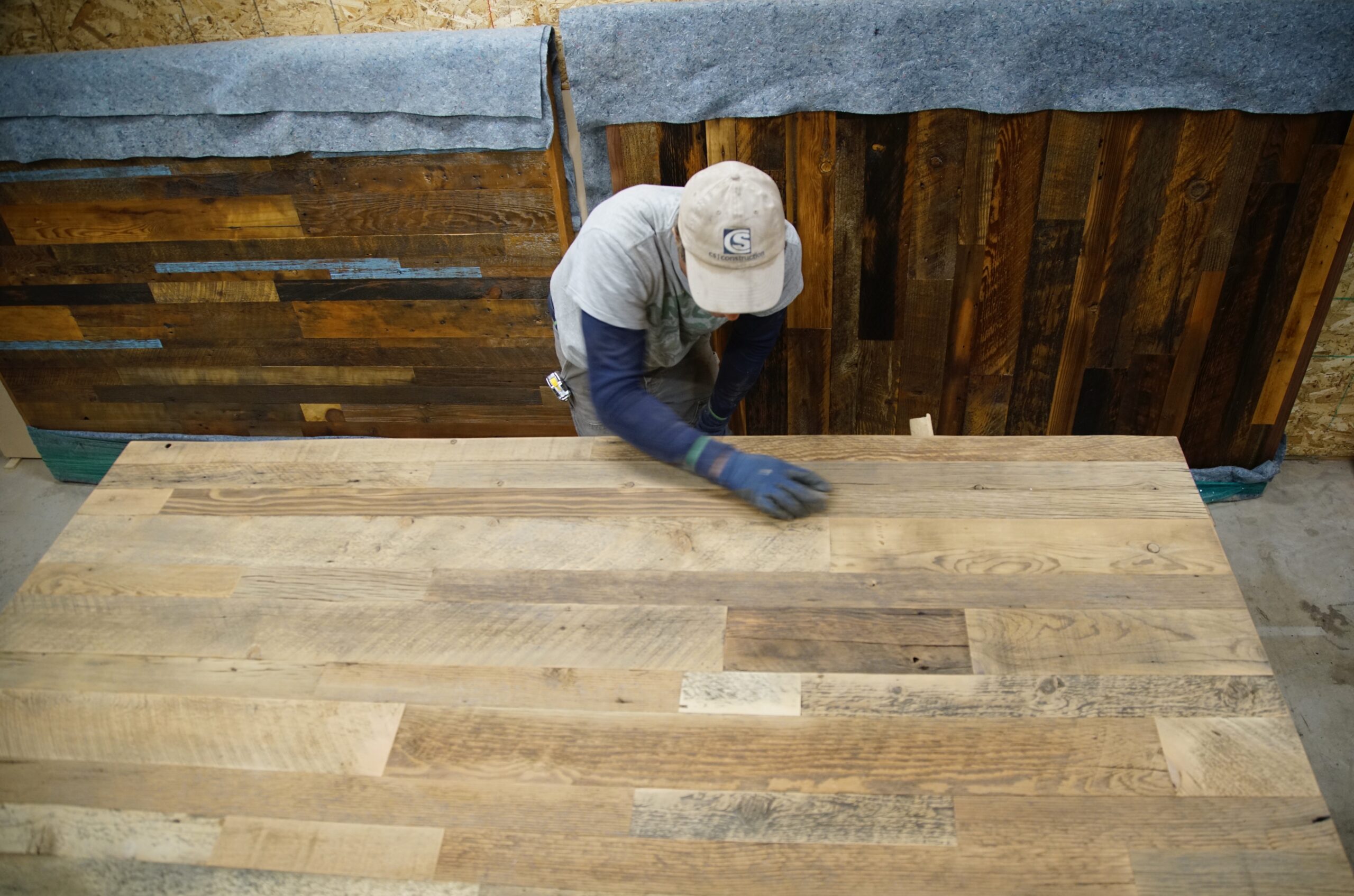 Byrnes compares buying one of Murray's bundles to putting down sod. "It's like when you've been look- ing at dirt for a while, and someone lays sod and it's like, 'Jeez, our yard is done,'" he says. "The wood is really quick and easy to work with."
That's a good thing, because barnwood is every- where in the addition. The ceiling is a blend of boards embellished with black metal beams and ceiling fans. Wood in two tones peeks out from under throw rugs on the floor. The rolling doors that cover entrances to the bathroom and living space are blue-tinged barn- wood. Byrnes even used the material to craft a cus- tom herringbone-style headboard for the room and assemble built-ins such as a window seat and desk.
The room's few sheetrocked walls are painted teal and lemon yellow. Byrnes attributes his choice of such eye-popping shades to "spending too much time in Mexico and falling in love with their love of color. All the sages and browns and earth tones we live with around here—it gets boring, so color was a must for us. When I wake up in the morning and the light comes in the windows, everything comes alive with color. It's fun. It makes me happy."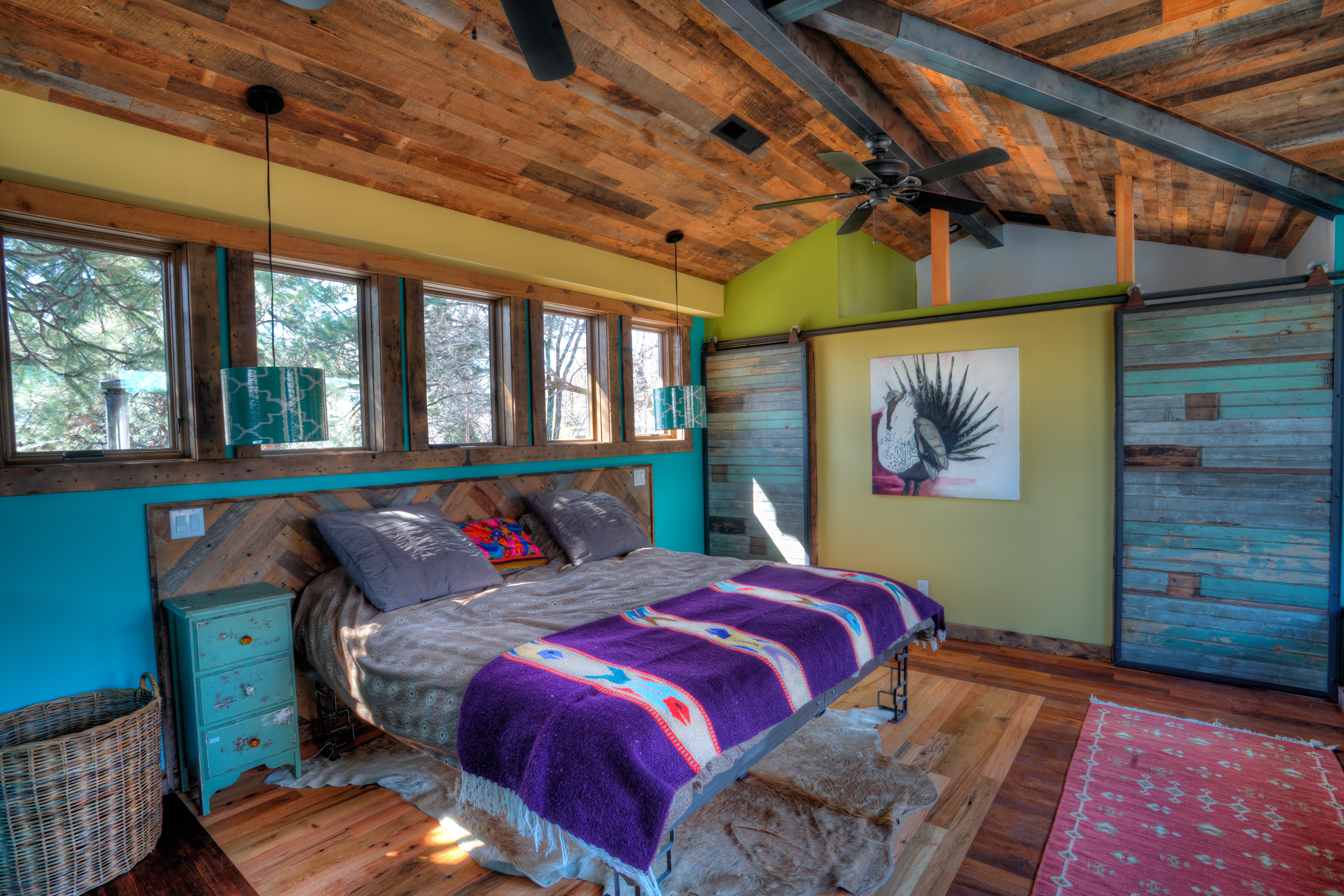 The project makes Murray pretty happy too. Although he enjoys incorporating barnwood into the rustic and Old West decorating schemes where people are accustomed to seeing it, one of his goals is to encourage people to think about how old wood can look great in modern settings.
"This project is the right mix of cowboy and tropi- cal beach," he says of Byrnes's home. "We don't want your home to look like a barn. We want it to pop."
Murray's career has spanned old and modern Oregon. Over the years, he's worked as a helicopter logger, globetrotting professional photographer and painting contractor. An injury forced him to take a break from the painting business, and that's when an old friend approached him and asked if he could use his logging contacts to source some live edge pine. When he delivered it, his friend had another order ready for him. The following request filled several semitrucks.
"Next thing you know, I was a lumber broker," Murray says. He started in a small warehouse, but the business has grown so fast in the last three years that he recently moved to a new location in Bend's Makers District.
Murray doesn't take barns apart, opting instead to work with trusted contractors who specialize in deconstruction. But when he knows a barn is coming down, he often travels to the community so he can research and document the building's history. He uses a combination of interviews, Internet research and his own photographs to document the history of the wood bound for a new home.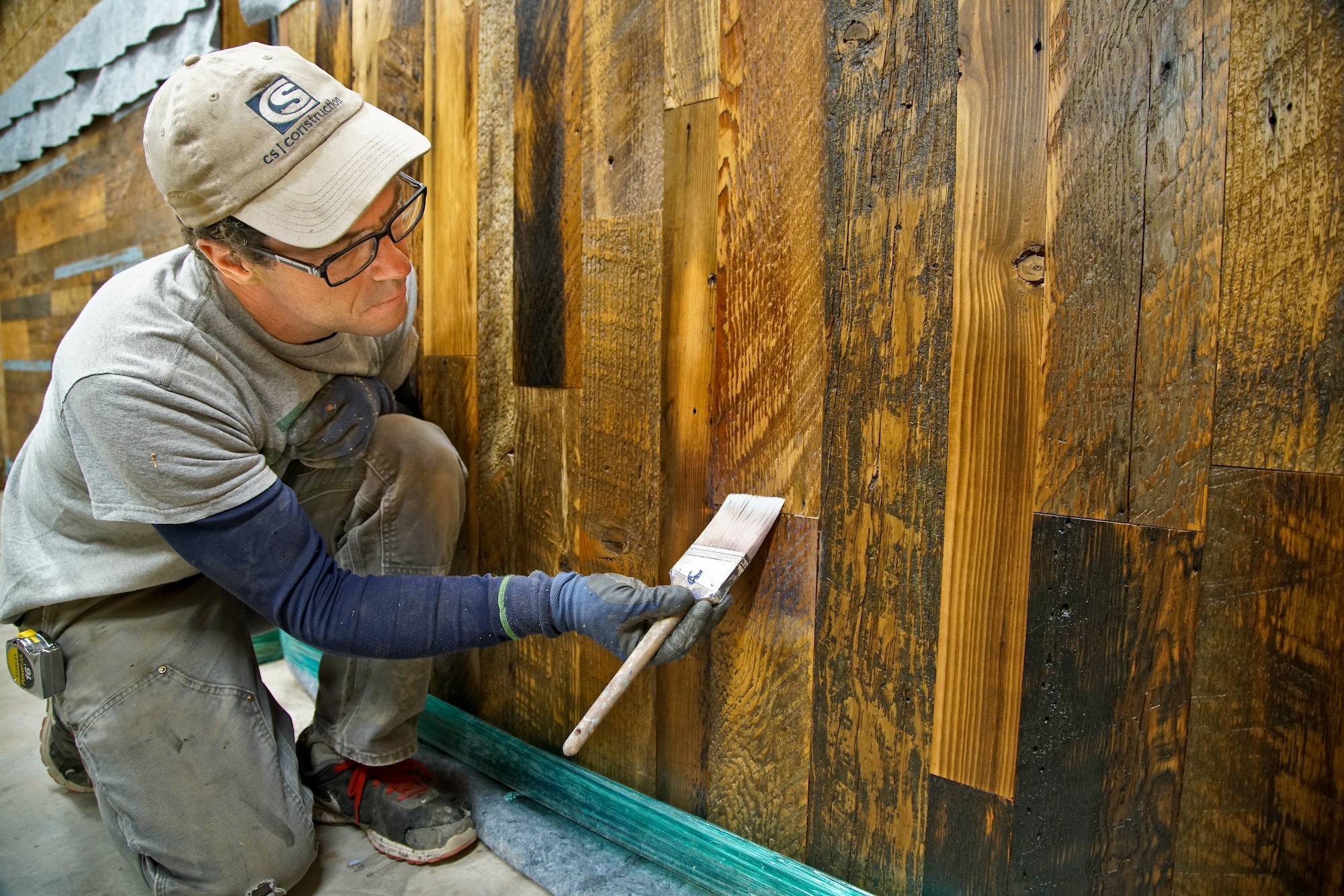 Once the wood arrives at his facility, he and his staff spend a lot of time sorting, cataloging, drying and reprocessing it. "There's also a creative process to determining where each and every piece goes and what it's going to be used for," Murray says. The patina of some boards makes them more appropri- ate for doors or furniture. Others may be best suited for floors, paneling or ceiling beams. It's no wonder homeowner Jeb Byrnes describes Murray as an artist.
Murray can assemble his ready-to-install lumber pack- ages according to an architect's design. What he really likes, though, is when someone comes to him with an idea and he can get creative. He likes the give and take of sharing samples and ideas, volleying pictures back and forth and eventually landing on the perfect concept. He takes a lot of joy in the looks on people's faces when they stand back from their finished products and smile.
He also appreciates the environmental aspect of his work. After spending so many years cutting down trees, it feels good to be one of the guys conserving them. "We're working really hard at being part of a movement that says yes to doing the right thing for the environment," he says.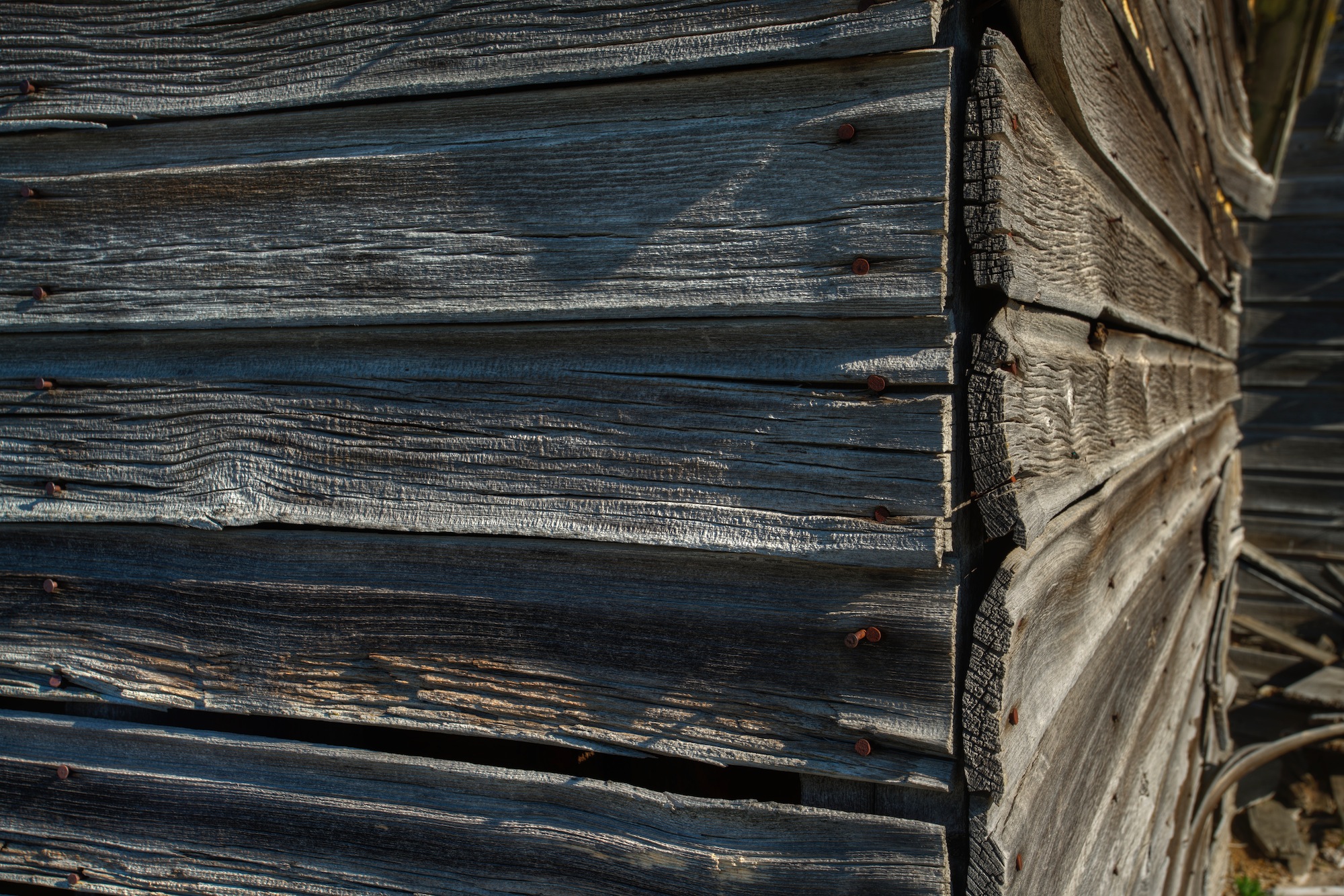 Murray has several pieces of advice for those interested in installing barnwood in older or contemporary homes. People often make the mistake of sourcing unprocessed reclaimed lumber themselves to save money. But they spend so much time making sense of it that they regret eschewing a profes- sional. That's why he recommends buying an install-ready package from a reputable lumber dealer.
Before putting up barnwood, paint the wall or other sub- strate black. That will help hide any holes from knots or nails. "Then use an 18-gauge brad nail and a glue like Liquid Nails to fasten the material to your wall," Murray says.
The wood should be completely dry before it's used. Also, Murray says it's important to have some flexibility with your project. Lay the wood out on the floor and make sure you find the placement of all the boards pleasing. Make any necessary adjustments to the layout before installing the wood. It's a good idea to buy some extra wood in case you want to substitute a few boards—or add them in new places not outlined in your original design.