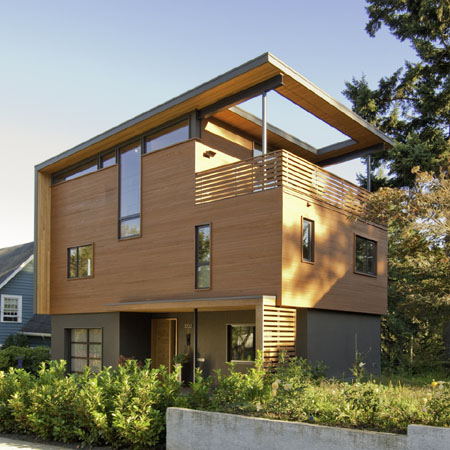 At the first house, I was mortified. I felt like a spy or a walking lie.  I was sure everyone knew we didn't belong. But my mom was beautiful and so smooth the way she breezed in and chatted politely with the workmen about progress on the kitchen before heading upstairs to check out the master suite that by the third house I actually began to believe we were the proud owners of one of these suburban wonders under construction and whined, as I imagined a rich brat might do, about whether the rec room could possibly accommodate all my fabulous friends because, if we were going to play imaginary games, I was, obviously, the most popular girl at my imaginary school.
That's about when someone asked us to leave.
Acting was never my forte.
But that unofficial home tour with my mother was the single most exciting adventure of my preadolescent years.  First, because it was like discovering my mom was Aunty Mame. But also because the houses themselves were mind-boggling.  This was the beginning of the era of  theme homes and the developer apparently needed to get it out of his system.  There was a Spanish hacienda with turned wrought iron railings, and a French country home with a massive kitchen for baking croissants and baguettes, and an Italian villa where I imagined the owners would automatically acquire an accent rivaling Pinochio's dad Gipetto.  It was like taking a madcap European vacation on a single block!
The great thing is that since then home tours have become an actual thing.  Builders have them to lure buyers. Historical societies host them to draw attention to preservation.  PTA volunteers organize them to raise school funds. You buy a ticket. You get a map.  You pick up some informative pamphlets and  —  bingo-bongo —  you're a creative person with a natural curiosity about dwellings and not just an undercover snoop.
For my job, I've already been on several home tours this year.  And they're pretty fun. But, I have to admit, I haven't been this excited about one since my preadolescent adventure. 
The Portland Architecture & Design Festival  offers a rare glimpse inside six architect-designed residences through the Design Matters Home Tour.  Some are historic. Some are cutting-edge. It includes a home designed by Pietro Belluschi in 1948 before he headed off to be the dean of the School of Architecture & Planning at MIT.  When he returned to Portland in 1973, he bought the house and lived there for the rest of his life. It's a rare chance to see the Willamette Heights home. It also includes the Tingley Fortin house, (pictured above) the Leedy house, the Ankeny Lofts, a Cape Cod house, Northwest Raleigh house  — all exceptional architecture worth a gander.
The Design Matters tour is just part of a month-long celebration of architecture in Portland. The local affiliate of the American Institute of Architecture  celebrates its 100th anniversary this year with several events planned including parties, design award ceremonies, film screenings and lectures.
October 1, 2011
$40