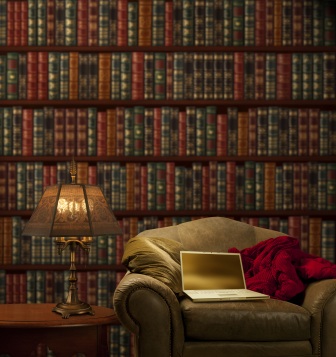 Onions make me cry. But The Onion makes me laugh. Last month the satirical site ran the following.
Great Books Of Western Civilization Used To Accent Den
BETHESDA, MD–Beautiful, hand-tooled, leather-bound copies of the greatest works of Western literature "really spiffed up" the den of Elaine Gadsen Monday. "I just love the way the gold embossing on The Great Gatsby balances out that plainer-looking Dickens book on the end," Gadsen said. "And the bright red spine on that one by Faust really looks great over the couch." Gadsen has instructed her housekeeper to dust the books monthly.
Just try doing that with a Kindle! Ha. Ha. Decorating with books! Hilarious, right?  The irony of reading The Onion on my laptop while surrounded by shelves of books just made it funnier.
Until it wasn't.
See, the built-in bookshelves in the home-office-formerly-known-as-den have become battle grounds for a bloodless conflict I've come to think of as "Treasured Tomes Verses Titles Powells Won't Buy."  In a family of four avid readers, the books come in, the books go out.  Some are borrowed from libraries, others from friends, but most are bought, read, held onto a few years and then sold back to secondhand books stores, passed along to friends, or donated. But there is an ever-growing number of books that at least one person in the household  can't/won't/refuses to part with because it is a beloved, rare, significant, signed, first edition.
Or just because. 
Because they remember the feel of a particular book, they recall getting lost in a story that was so perfect for what they were going through at that moment in life and, even though they probably won't ever read the book again, they aren't quite ready to let it go. 
Books turn some of the nicest people into Gollums.  (Third shelf on the East wall; an early 1980s silver spine, four-volume set of Lord of the Rings which includes the prequel The Hobbit. ) 
I started to feel as if we were living in a library with a drunk Dewey Decimal System. Three walls of floor-to-ceiling bookshelves and I could never find anything I wanted when I wanted it. Like the copy of China Men in which Maxine Hong Kingston personally corrected a typo in her "The Brother of Vietnam" essay. It means so much to me. And I  cannot find it. It's driving me crazy.  Authors with hyphenated names who write both fiction and non-fiction could be in one of four different places or, as it turns out, in none of the above.
So I was digging through random shelves when the dog barked to go out and I marked my place with my coffee mug and it just happened to be near a book a friend wrote about coffee.  Ironic, yes? A visual pun and a handy marker too. I felt inspired.
So I cleared space on the shelves by stacking short books on their sides and topping them with oddball curios and sentimental stuff to serve as "bookmarks." The kids' adorable baby shoes, ridiculously impractical silver rattle and porcelain Peter Rabbit mug  = children's books.  A red cast iron bank shaped like an English post box, an old tea tin with a smiling Queen Elizabeth, and a tiny framed picture of my father-in-law as a child  = British history.  A strange little wood bear I picked up decades earlier at thrift shop  = Russian novelists. 
And I just love the way the gold embossing on Anna Karenina plays off the peeling gilt paint on the bear's belly.
All the room needs to complete the look is a lovingly handcrafted natural woven basket filled with — what else — onions.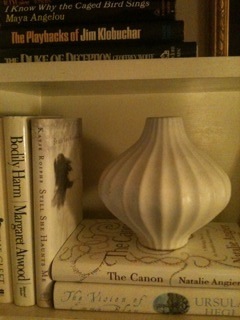 Vivian McInerny