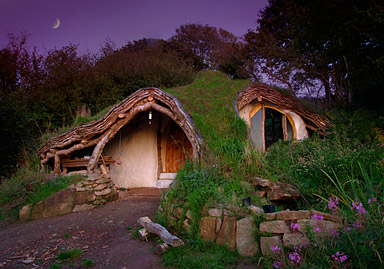 A man built a house in Wales entirely by hand. His low-impact Woodland Home might have inspired a blog about being good and green and resourceful but instead I'm way too excited about the fact that the place he created  looks  like a house for hobbit Bilbo Baggins. Theme decorating is my weakness. This obsession interest stems from a troubled childhood, troubled because I was sharing an orange and yellow bedroom with my sister while  my little brothers' room was outfitted with Charlie Brown and Snoopy bedspreads. The boys had a Peanuts theme. The girls had only a vague reference to citrus fruit.
I do not care to live in a Hobbit house.  The ceilings are low. The walls are subterranean. And I fear my feet might grow hairy. Plus, as a mushrooming Oregonian, I feel that if I'm going to live in a literary theme house, it ought to at least be Oregon literature.
There does exist a "Hank Stamper" house hanging precariously over a river. Or, at least, a house used in the 1971 film Sometimes a Great Notion.  (The fictional community of Wakonda, Ore., was filmed in various locations along the coast in Lincoln County.) But I'm thinking more theme, less literal interpretation.  What follows are my top three list of  suggestions.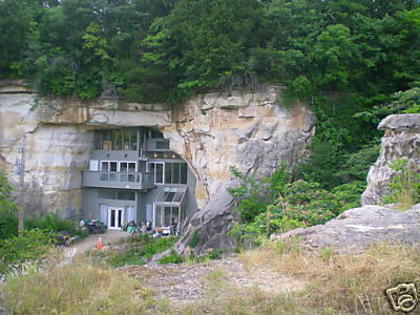 Clan of the Cave Bear: No need to go Neanderthal. This  cave about 30 miles from St. Louis, Mo., has all the modern conveniences. Plus, if the kids scribble on  the walls, you can rightly refer to them as original cave drawings. The couple bought the cave for their The Caveland House on eBay  — seriously — for just a few hundred thousand saber tooth skins. Or dollars. It had once been a popular venue for roller skating. Cavemen invented the wheel. The roller skate soon followed.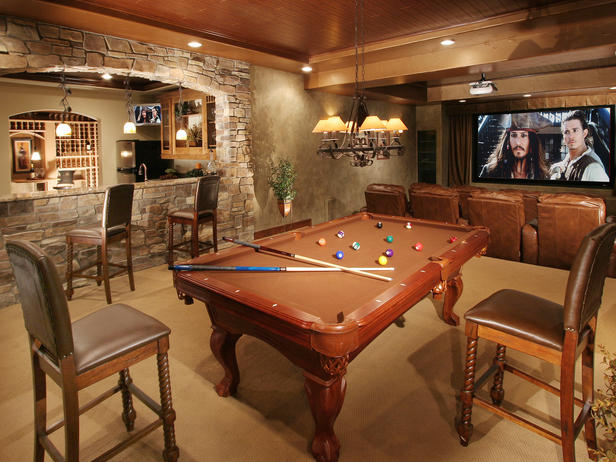 Let's call a den, a den. But Johnny Depp on the TV, seriously? HGTV image
Gentle Ben:  Today's "man cave" is yesterday's den.  Even though taxidermy is the trend that just won't die — no matter how many times it's shot, stuffed and mounted —  hanging a bear head on the wall is no homage to the lovable mammal immortalized by author Walt Morey.  A  den is, however, the perfect place to hibernate during the long Oregon winters to watch, preferably on an obscenely large high-def screen, those seemingly endless games in which men chase, bounce, kick, throw and hit balls.  Typically, your team wins or your team loses. Which one will it be? The suspense is almost unbearable.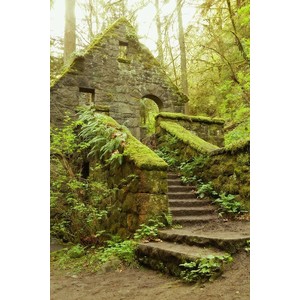 Wildwood: The new children's novel written by Colin Meloy, better known as a frontman for the Decemberists, and illustrated by Carson Ellis, is set partly in Portland and partly in a fantasy land where animals talk and sing and wear snazzy clothes.  That makes it sound like Chuck E. Cheese without pizza.  But a home that captures the earthy, green, overgrown, slightly wild consider this.
OK, so you can't legally live in it. But you can visit the Stone House in Forest Park in Portland and get some lovely pictures like this photographer did.