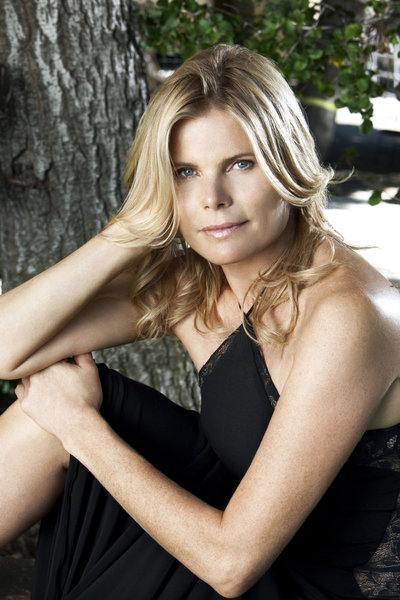 Mariel Hemingway and green building go together like . . . OK, maybe the connection isn't immediately obvious.  But to the actress, a longtime proponent of yoga, natural foods and holistic living, it feels to be a natural extension.
"I've been on a green journey a long time. I started with inner green," she says with a laugh, "turning to outer green."
After a chance meeting with a representative of a stone counter company, she became "involved with Cambria because it's quartz, food safe, with no off-gasses," she says. "And they care about the environment."
She'll be at the Neil Kelly Remodeling & Design Street Fair  on Sept. 15 in Portland.
"Home is such a huge part of our health," she says. "If you have a home that is beautiful, that speaks to your sensibilities, your love of whatever; a home that not only is beautiful and non-toxic . . . it nurtures you."
Hemingway is all about self nurturing. Her website is full of advice, recipes, blogs, video and links on holistic topics. She's about to release a new book and launch a web-based "mind, body, spirit" show with her boyfriend Bobby Williams. Both book and show are called The WillingWay.
"He's got the will and I've go the way," she says.
It's not a "one-size-fits-all-90-days-to-a-better-you" program, she says but rather an integrated take on health, wellness and spirit, exploring the connections of nature and food, home and community, offering guidance on living well. The brand-building endeavour sounds like a cross between later day Oprah, a young and bendier Jane Fonda,  with a smidge Martha Stewart.
"We want to inspire people to find their own blueprint," she says.
About Mariel Hemingway
• She made her film debut at age 10 in Lipstick playing the kid sister to a super model played by her actual sister, Margaux Hemingway.
• She was nominated for an Oscar for her performance at age 16 in Manhattan. In the film, she plays the 17-year-old girlfriend to Woody Allen's middle-age character.
• She grew up in Idaho. "I used to go to Oregon every summer when I was a kid," she says. "My godmother had a farm in Salem."
• She had leading roles in
Personal Best
and
Star 80
and television movies. She's worked steadily in film and television almost every year since 1976 according to her 
IMDB
biography.
• Her memoir
Finding My Balance
published in 1994 begins each chapter with a description of a yoga pose, relating it to personal reflections on seeking emotional equilibrium in an often chaotic family. Several relatives committed suicide, most notably grandfather Ernest Hemingway. Her sister
Margaux Hemingway
(aka Margot) born in Portland, OR., died of an overdose of sedatives in 1996.
• She read her grandfather's book The Old Man and the Sea at age 10, which makes her sound super smart. "I don't know about that," she laughs. "My grades didn't reflect it."
• She also wrote Mariel Hemingway's Healthy Living from the Inside Out: Every Woman's Guide to Real Beauty, Renewed Energy, and a Radiant Life, 2007;  Mariel's Kitchen: Simple Ingredients for a Delicious and Satisfying Life, 2009; The Willing Way; is not yet released but available on pre-order; 15 Minute Results Yoga is a Gaiam DVD.
"Everyone needs a place they can call their own, a sacred space," she says, "even if it's just a corner of your room. A place where you create your own sense of calm, whatever does that for you. It could be looking at a pile of rocks, or roses, or a picture of your child."
Neil Kelly Remodeling & Design Street Fair
The all-day event at the Neil Kelly showroom will include regional vendors, design presentations and product displays.
Saturday, Sept. 15, 10 a.m. to 4 p.m.
804 N. Alberta St., Portland
Vivian McInerny is the managing editor of Oregon Home.