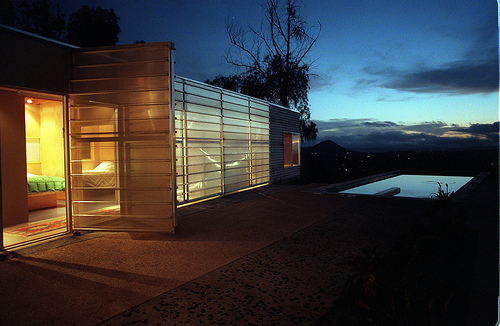 House in San Diego by Daly Genik
They say you are what you eat. I get that. But you also are where you live whether it be an ornate Victorian or a sparse glass box. Not that you're going to move into a Queen Anne and suddenly start speaking with a bad English accent, drink tea and develop peculiarly prudish morals in direct contrast to how you lived your life in the public eye for the previous 20 years, although that would explain a lot about Madonna.
The influence of place is more subtle than that but no less profound.
For example, a wall in my front entryway at home has a gentle curve to it. I liked it the first time I walked into the house. I like it still. I can't say exactly what it is about the curve that I find so appealing.  The kids didn't risk bumping their heads on sharp corners. That was a bonus. But it wasn't enough to love a wall. And I do sort of love this wall.  It embraces the stairs. It presents the living room with a flourish. And when I am stretched out on the sofa with a book or laptop, the wall stands there looking so darn elegant that I feel my prone position can rightfully be defined as luxuriating as opposed to the plain, old, ordinary, right-angle-wall-induced lazing.
That's the power of place.
Architects sometimes say how they don't design space, they create place. Getting to talk to people who think about the world this way makes me happier than a curved wall.
Next week the Department of Architecture at Portland State University presents the third lecture in its series called Placing. Architect Kevin Daly, principal and co-founder of Daly Genik Architects in Los Angeles is up next.  Daly Genik produces environmentally and socially responsive educational, residential and institutional projects — everything from a single-room artist's studio to an entire campus art center.
Daly also serves as a lecturer for the UCLA Architecture and Urban Design program so probably knows how to keep a room engaged while tackling, according to the lecture series information, "the ways in which the active processes of sitting, locating, positioning and placing things and people in the world are conceived and embodied in their work." There is no admission fee to attend the lecture, which starts at 6 p.m. I think this makes it the happy hour of thought-provoking conversation.
If you can't find a seat,  you can always stand in back and hold up a wall.
Placing Lecture Series
6pm, Thursday, Feb. 7,
PSU Shattuck Hall Annex (at SW Broadway and Hall Street), Portland
Vivian McInerny is managing editor of Oregon Home magazine.