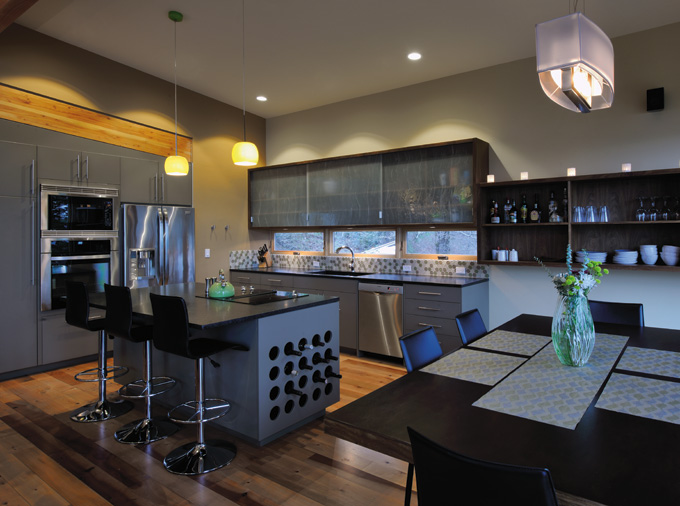 PHOTO BY  Stephen A. Miller/Builder Encircle Design and Build
If you strategize properly, you'll use less water, electricity and gas, which means your household utility bills will plummet. And you'll find yourself feeling more comfortable when you're in the kitchen itself. (Think warm and cozy on the darkest winter evenings, without making a pot roast.)
Even if you're motivated mostly by aesthetics — hey, there's only so long you can live with cheap 1970s cabinets and faux stone linoleum — make the most of a deep remodel by sourcing new materials with the environment in mind. Consider recycling unusable appliances, and upgrading windows and insulation. 
No matter how many meaningful changes you decide to implement, you'll be on your way to cooking and entertaining in a space that better honors your budget, sense of style and the planet.
Take a close look at your kitchen. Does the room reflect a respect for the environment and your resources? These days, being eco-friendly means more than just using organic cotton dishtowels and composting your coffee grounds. No matter what your budget or level of commitment, there are multiple ways to make deep, meaningful, earth-friendly changes in the kitchen.
---
The dabbler
You're interested in making the kind of quick changes that will drastically change the way your kitchen looks and functions, but won't break the bank or require hiring professionals.
1. Freshen up walls and cabinets with paints with zero volatile organic compounds (VOCs). Low-VOC paints are also great, but will off-gas a little. Painting is one of the best ways to give a kitchen a serious facelift, says designer Michelle Ruber of Encircle Design Build in Portland. She recommends Portland-based Yolo Colorhouse both for the quality of their zero-VOC paints and the reliable colors. 
2. She also recommends swapping out older hardware and hinges, another high visual-impact, low-budget fix. Instead of buying new hardware, shop for used and vintage hardware at places like Hippo Hardware, Old Portland Hardware & Architectural or online, at eBay.com.  
3. Joel Fraley, design consultant at Portland-based Neil Kelly, recommends taking a close look at items in other parts of your home that could be repurposed in the kitchen, such as shelving or CD racks that could become spice holders. "One of the best ways to be eco-friendly is to keep the kitchen you already have, and dress it up with old finds," he says.  
4. While it's been easy to dismiss compact fluorescent light bulbs (CFLs) as the producers of unflattering light, there's no longer a good excuse not to make the switch, says Lizzie Rubado, spokesperson at Energy Trust of Oregon. "CFLs come in every shape and style and are 75 percent more efficient than regular bulbs." 
5. Install low-flow kitchen faucets. If your current faucet was made before 1992, it was exempt from federal guidelines that mandated kitchen faucets to release no more than 2.2 gallons per minute. Or install a low-flow aerator on your existing faucet to restrict flows to less than 2 gallons a minute.
Before and after: The owners of a 1910 farmhouse in North Portland asked Neil Kelly designers to overhaul the kitchen with the environment in mind.
---
 The invested
You have time and money to green up your kitchen, but aren't ready for a down-to-the-studs remodel.
1. Install dimmer switches on every fixture in the room, Michelle Ruber recommends, especially because of the availability of new dimmable compact fluorescents. "It's great to be able to create ambience in the kitchen, especially if it's open to the dining room," she says. "Leave the dirty dishes and turn down the light."
2. If a simple coat of paint isn't enough to save old cabinets, consider resurfacing and rehanging them, Ruber says. Remember, reusing any type of material will be one of the most eco-friendly things you will do in your home.
3. Ruber often advises her clients to freshen up a kitchen's appearance by installing a new backsplash, which won't require new countertops or appliances if done strategically. Make the project eco by using recycled glass, or even better, she says, by purchasing locally made tiles, which will reduce the carbon footprint resulting from international shipping.
4. Switch out standard-sized appliances with Energy Star qualified ones, Joel Fraley recommends. "That way you won't have to demolish walls or resize countertops." Some Energy Star appliances qualify for tax credits and cash incentives from Energy Trust, and all of them will save you between 10 and 30 percent on operating costs.
5. Swap out your water heater with an updated, super efficient one. "Heating your water is typically the third-highest energy expense in your home," says Lizzie Rubado. Sure, the water heater isn't located in the kitchen and also affects the bathroom and laundry room, but consider the whole-house efficiency a bonus. 
Before and after: Neil Kelly designer Joel Fraley overhauled his own kitchen, choosing to keep existing cabinets and having new ones built locally to match.
---
The overachiever
You're ready to change the overall appearance of your kitchen through a full remodel, using sustainable materials and by creating full energy efficiency.
1. Go beyond compact fluorescent light bulbs (CFLs) by installing LED light bulbs, which are currently less available than CFLs but last up to 10 times longer and use remarkably less energy. On the production side, they don't require mercury in the manufacturing process.
2. Carefully source wood for new cabinets and flooring. Consider buying reclaimed wood from a local source or opt for Forest Stewardship Council (FSC)-certified wood, which is guaranteed to have come from sustainable sources. For example, Neil Kelly cabinets use FSC-certified woods that come with nontoxic finishes.
3. Add extra insulation and seal leaks. Even if you're only remodeling one room — kitchen or otherwise — anytime you take a room down to the studs, you should have someone seal all the leaks around pipes and vents before they install more insulation, says Lizzie Rubado. "Homes that are properly insulated will see a 20 percent reduction on total energy costs," she says.
4. The same strategy goes for replacing windows. While you might not have the budget to install matching energy-efficient windows throughout the whole house, start in the kitchen with new windows to start reducing your heating and cooling needs. Certain windows will qualify for tax credits. Still too much? Check out Portland-based Indow Windows, which makes thermal window inserts that prevent the need for double-pane windows.
5. Finally, dispose of all materials properly. Realistically, you're probably not going to be able to reuse everything in your existing kitchen, so plan for responsibly removing metals, wood, appliances and old insulation. Sell items on Craigslist, contact Energy Star of Oregon to take appliances, or donate items to local organization such as the ReBuilding Center in Portland.