I have a small house without much room for furniture. That's a bit weird because I see smaller houses all the time with MORE room for furniture than in my house. As an accountant you'd think I'd be able to explain that math. Here's the best explanation I can come up with: Open floor plan split into two floors. Lots of walls, not a lot of floor. And perhaps that's how I ended up with a sofa obsession.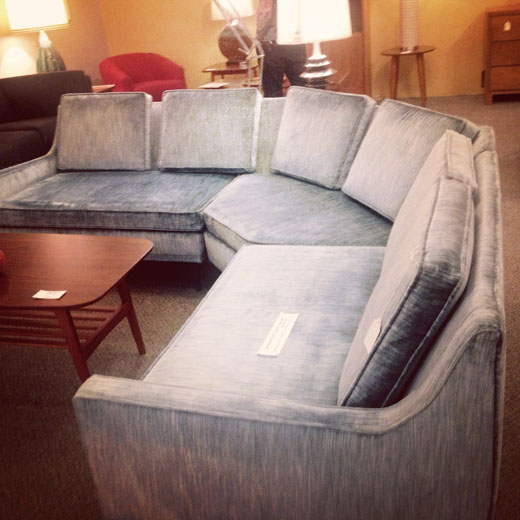 Or maybe it's because I'm a lazy SOB who spends a great majority of my life reclining on a lounge chair or sofa, depending on the season. In any case, I believe I've found one of the coolest sofas of all time, courtesy of Asylum on SE Hawthorne. Asylum sells both new and vintage goods, including the sofa in the pics above. This sweet vintage baby is moving to the top of my list. Yes, a list, or to be more exact, a Pinterest board for sofas, chairs, and daybeds. Because life comes in categories. Up until this little blue number at Asylum appeared, my fave sofa ever was probably this guy, which also come in a smaller size. I've never seen this sofa in real life, and in the way of the world, it's undoubtedly super uncomfortable. Nothing this pretty can be comfortable, right? And it's also super expensive. But that's OK, because I already have a cool sofa and a small house. No room for more sofas here. But, if perchance I come across this sofa used? I have given myself permission to consider the purchase.
Going forward, I'm trying to buy only used / antique / salvaged furniture. Given that I invested in some good stuff when I was working a lot, there won't be any couches purchased by moi anytime soon. Window shopping is possibly better than buying anyway – all the shopping with no commitment and no cash outlay. Which is why I'm also obsessed with chaises and day beds (even though there's no place to put one). What do you think of this Mies Van der Rohe daybed? I've been in love with this piece for many years — which is what the Pinterest board is for: A gathering place for all the things I love and will probably never get.
How about you? Do you need a sofa or a chair? Have you started a Pinterest board with images of the pieces you dream about owning? Have you started haunting local used or vintage furniture stores? Maybe it's time to start. If you're ready and in Portland, here's a string of tips and old posts to help you get moving.
Vintage stores on SE Hawthorne. My favorite antique malls.  Monticello Antiques. Aurora, south of Wilsonville, has nothing but antique stores and furniture. Midcentury furniture at Lounge Lizard and Rose City Modern.
You ready to shop? Start with window shopping. Take a lot of photos. Start a Pinterest board. The dreaming should never stop. Don't buy till you find the perfect vintage piece. It's out there just waiting to be discovered by you.