If you follow Portland design, you've probably heard of Schoolhouse Electric. From inside a century-old factory building in Northwest Portland, their local artisans create light fixtures, clocks, and other fabulous home goods with the belief that something worth owning is worth owning forever.
I recently had the chance to be one of the first to view Schoolhouse Electric & Supply Co.'s spring line at a Windermere event. After a bit of shopping and mingling with friends and other brokers, the event featured an insightful talk by Brian Faherty, Schoolhouse Electric founder.
---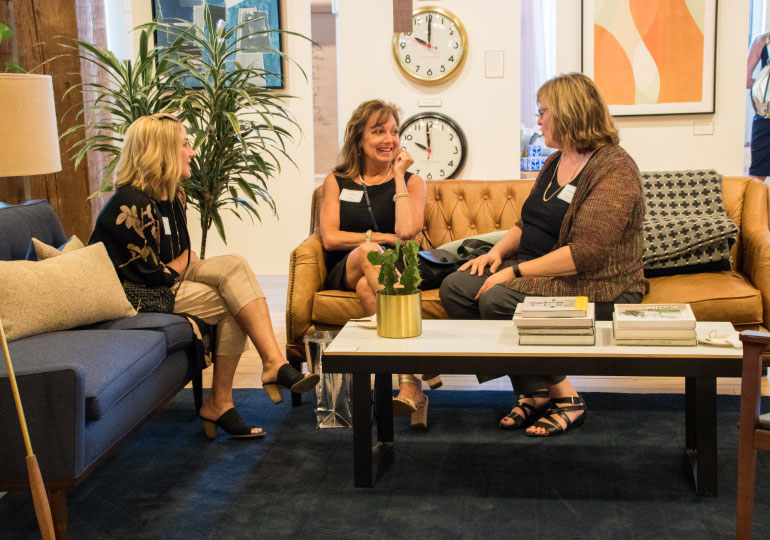 ---
LEARN FROM REJECTION AND DO WHAT YOU WANT TO DO
In his previous life, Brian worked as a realtor. That was during the "do-it-yourself" movement when rehabbing homes was popular and before real estate listings were carefully staged to showcase a home's features. Without staging, your eye was naturally drawn to a home's lighting and hardware. An opportunity existed to change out and enhance those elements.
In his view, there wasn't a lot of appreciation for the types of materials and eclectic style he liked. He wanted to see more of an authentic mixing and matching style that wasn't a reproduction of something else. This huge need for unique lighting and hardware prompted him to leave his successful real estate career, branch out into a completely new field, and launch Schoolhouse Electric.
---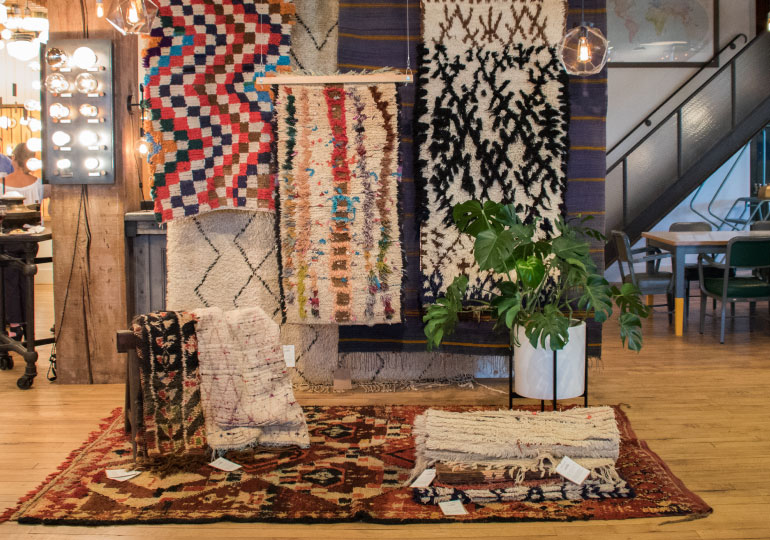 ---
His previous career prepared him well for this new life. "If you're in real estate, you are inherently entrepreneurial," Brian told the real estate brokers in the audience. While his real estate career was admittedly very good to him, he learned how to deal with rejection, which is a valuable lesson he still uses today. "It's how we pivot," he explained. "We all can maximize the opportunities people give us."
So how did Schoolhouse Electric come to inhabit such a respected position within the design world? Brian believes it's simply because they do what they want to do—aiming to be trend setters rather than trend followers.
---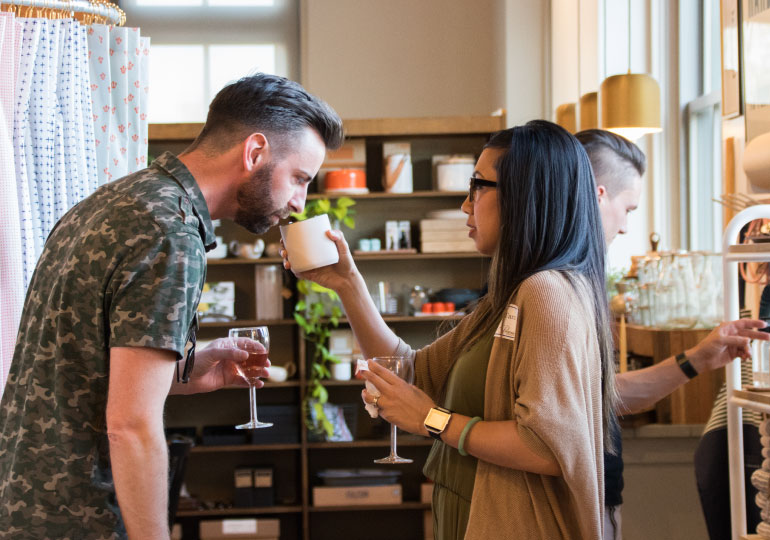 ---
EMOTIONAL ATTACHMENT AS THE NEW DESIGN GUIDE
After Brian's inspiring talk, he turned the evening over to Schoolhouse Electric VP, Sara Fritsch who shared more about the Schoolhouse design philosophy by reiterating Brian's view on staying ahead of popular trends.
"When we put together a new catalogue, we're not thinking this is a Spring 18 collection. Instead we want it to last, to be heirloom quality. We're staying value-based and using evergreen strategies that will resonate forever."
For Sara, the Schoolhouse Electric ethos rests in the idea that style should evoke an emotional attachment and the products they produce should reflect their values of lasting quality.
By making thoughtful design choices, consumers have the opportunity to make every day beautiful. "Does your home reflect who you are and what you care about? We want you to decorate with things you already have and love, adding products with a filter of heirloom quality. Home is where we have control in a crazy chaotic world. It's the backdrop for how you are making your memories," Sara said.
---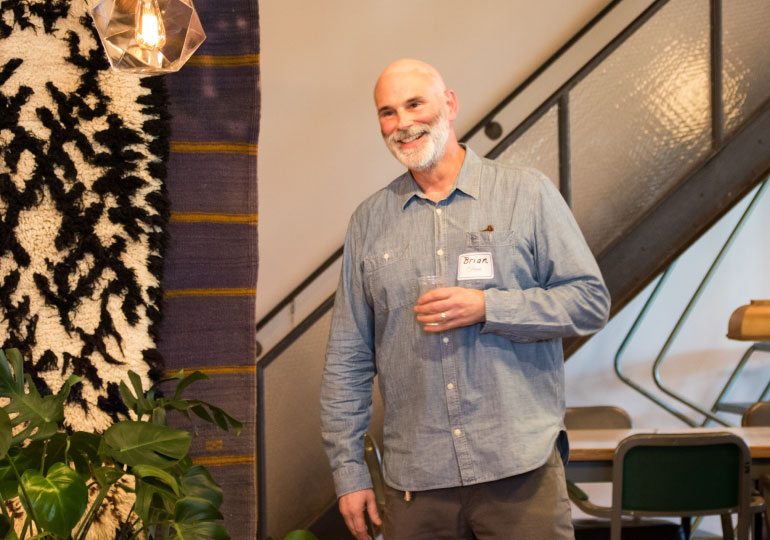 ---
A FORMULA FOR SUCCESS
Now with 185 employees, retail locations in Portland (2181 NW Nicolai), New York and one coming in Pittsburgh, along with a significant online presence, it's clear the Schoolhouse Electric approach to lasting design resonates with consumers. And the brokers participating in Windermere's Premier Properties program for luxury homes benefited from Brian and Sara's valuable insight into the philosophy underlying all their great success.
---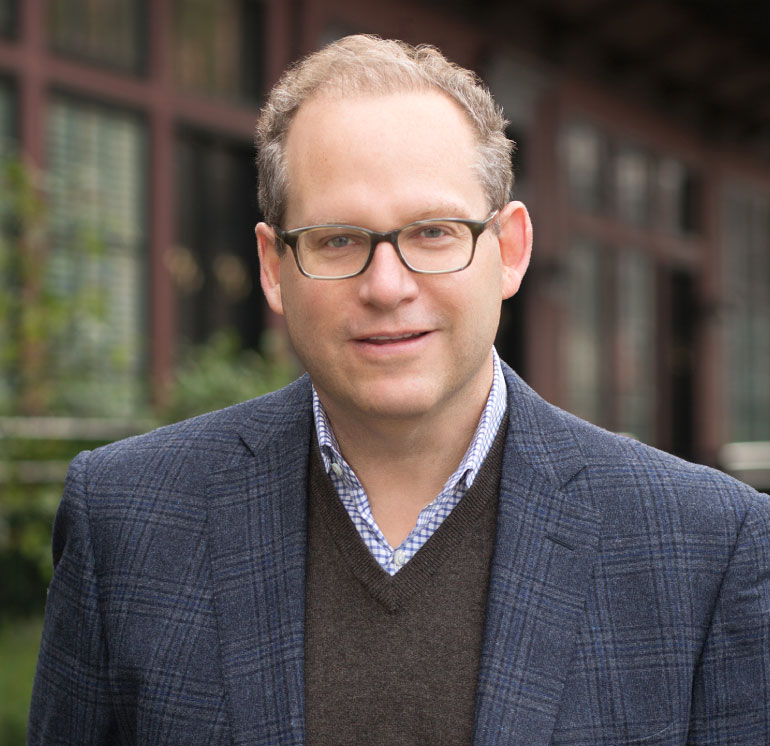 ---
Todd Prendergast is the Co-Owner and Co-President of Windermere Realty Trust