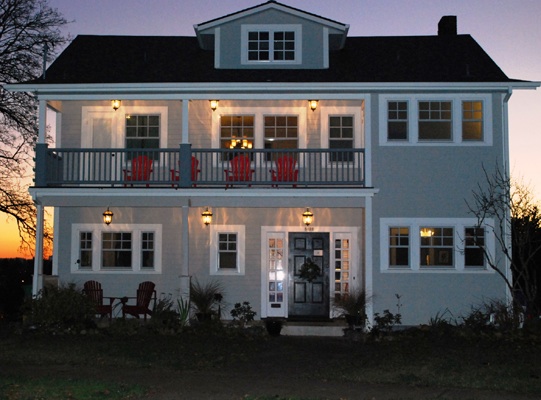 Here is how it feels to face a big remodel project: See below.
Yep,  it's a big, white, empty space.  It's the proverbial blank sheet of paper, or blank computer screen,  that  you, the homeowner, have the opportunity to fill! That sounds double exclamation point exciting!!
The trouble is, there are so many available words to choose from and endless ways in which to arrange them, that it can be a bit overwhelming. And even if you do manage to put words to paper, metaphorically speaking, you will find that in real life, the delete button doesn't work so hot. Trust me on that.
That's why the Tour of Remodeled Homes is helpful. Instead of getting lost in an infinite exploration of  virtual remodel sites, you can walk through actual remodeled houses.  You can search-and-pin all the inspirational images you want but it's not the same as stepping onto that radiant heat floor to feel the warmth,  or running a palm over a granite counter top to sense the smooth finish, or walking through a doorway to really understand the placement of a wall. Think of it as flesh-and-blood Sims.
Just don't get too hands-on glommy about it. I once was on a home tour where a woman opened up the fridge and stood staring at the shelves with a disappointed look on her face as though searching for a fine cheese that somehow failed to materialize.
 The Tour of Remodeled Homes includes an Old World wine cellar and bar in a Tualatin house complete with salvaged stained glass window and Oregon black walnut wood used for the mantel and countertops by Iron Mountain Construction; and Rhonda Divers Interiors, four houses in Lake Oswego, including a whole house remodel by Cascade Restoration and Remodeling that turned the 1935 waterfront cottage into a family refuge for a multiple generations and homes by Metke Remodeling & Woodworking;  Stanley Home Renovation and Design; and Ovation Design Build. A Beaverton home by T.H.E. Remodel Group with custom cabinetry, travertine, and stacked stone fireplace  to reflect the owners Greek roots. and homes in downtown, Northeast, Northwest and Southwest Portland by Olsen Homes & Renovations, Portland Remodel. Cascade Custom Remodel and Construction; Rebuild LLC.  and Arciform. Also on the tour is the remodeled Cordero House  by the Janus Youth Group. It was remodeled by the Home Builders Foundation, the charitable branch of the Home Builders Association of Metropolitan Portland and the Professional Remodelers Organization.
Never mind that my heart's desires and my budget's allowance are more out of step than a three-legged dog trying to dance the polka. The bigger issue is that that blank canvas is staring back.
Tour of Remodeled Homes
What:  The Professional Remodelers Organization and the Home Builders Association of Metropolitan Portland produce this inspirational tour of homes to show off the latest in remodeling trends, sustainabilty and design.
When: 10 a.m. to 5 p.m.; March 10 & 11, 2012
Where:   The homes are scattered throughout the greater Portland area. The ticket price includes a map to homes in Portland, Beaverton, Lake Oswego and Tualatin open for the two-day tour.
Tickets: $17.50 good for both days available at Tour of Remodeled Homes or Tickets Oregon.  
Vivian McInerny is the managing editor of Oregon Home.