When I cook for eight, it's an event. I don't do it often.  One reason is because I consider myself an elevator cook — I have my ups and downs. A Thanksgiving dinner guest once declared my dressing the best he'd ever tasted.  He wasn't being polite. It was flipping amazing. But another dinner guest at another Thanksgiving dinner once suggested that my turkey made him physically ill.  He wasn't being rude. It was flipping awful.
Ups, downs and health concerns aside,  I remain eternally optimistic in my attempts at entertaining. Although chances of the meal tasting delicious are slim, the odds of the night being memorable are very high indeed.
But after seeing the fantastic dining room creations this weekend at  Serving Up Style I feel the need to up the ante in the decor department.
Several Oregon designers transformed bland empty space into fantasy dining room environments for the event.  Each of the 12 design teams created an imaginative vignette in a designated spot at the Portland Expo Center  during the Portland Fall Home and Garden Show.  One created what looked like an urban night spot with garage door and graffiti. Another made a rich, mossy, green and woods space,  the kind of place where wood nymphs might share a meal with lumberjacks. A third included a life-size baby giraffe sculpture snacking on a chandelier.
In short, these are the kinds of dining rooms that could distract guests from the burnt rice or runny mousse.
The annual Serving Up Style exhibit, dinner and auction, established in 2009, is a fund raiser for Molly's Fund – Fighting Lupus which serves to educate the public — and the medical community — about lupus.  Good causes are rarely this creative. 
Below are links to the designers who participated in the Serving Up Style 2011  show and competition. Judges, including Oregon Home magazine editor-in-chief Robin Doussard, selected their favorites. So did people attending the show.
THE ENVELOPE PLEASE. AND THE AWARDS GO TO:
Creativity Award: "Metamorphosis" by Jason Ball Interiors
Best Table Top Award: "Mort au Chocolat" by Art Institute of Portland
Molly's Fund Award: "DECOdence" by Garrison Hullinger
Designers Award: "Feeding Time" by Wendy O'Brien Interior Design
People's Choice Award: "Feeding Time" by Wendy O'Brien Interior Design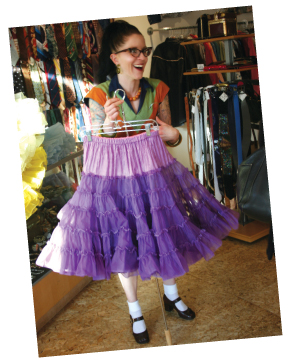 Photo: Kimberlee Jaynes
Vivian McInerny; Oregon Home Magazine; [email protected]; 503-445-8820