Members of the American Society of Interior Designers (ASID) work to create transformative experiences for clients.
---
Whether you're embarking on a remodeling project, building a home from the ground up, or launching a new business, a professional interior designer can elevate your project from so-so to sensational.
"Interior design goes beyond having a good eye," says Cindy Garretón, president of the Oregon chapter of the American Society of Interior Designers (ASID), a professional organization for interior designers, interior design industry representatives, educators and students.
"'Design Impacts Lives'—ASID's pillar—speaks to the many ways that design affects our lives. It has an impact physically, mentally and emotionally," says Garretón. "Our design goal is always to create the best possible human experience for our clients."
ASID-affiliated interior designers have completed a four- or five-year program in interior design at an accredited school, affluent in the industry, and educated to coordinate with all members of the design team; architects, engineers and the construction team.
ASID member and designer Maryann Ewing of Beech Hill Studios draws on her knowledge of environmental psychology when starting any project. Creating an inviting workplace that inspired collaboration and communication was the goal when Ewing began designing the Atlanta offices of QAD, Inc. To achieve this, she paid close attention to subtle details such as orientation to the outdoors and ergonomics to make the space feel serene and grounded.
"When our user group moved into the space, they were saying it's wonderful and calming to be in the space, that there was something different about it," says Ewing.
Designing with people in mind is also how ASID member Kevin Twitty, of Kevin Twitty Interiors, approaches each project.
"I'm more than an interior designer. I'm a home therapist," laughs Twitty. "I think about how this is impacting a person's life and how they use the space."
For a recent project, Twitty was tasked with updating and opening up a kitchen, but says what he was really asked to do was create community.
---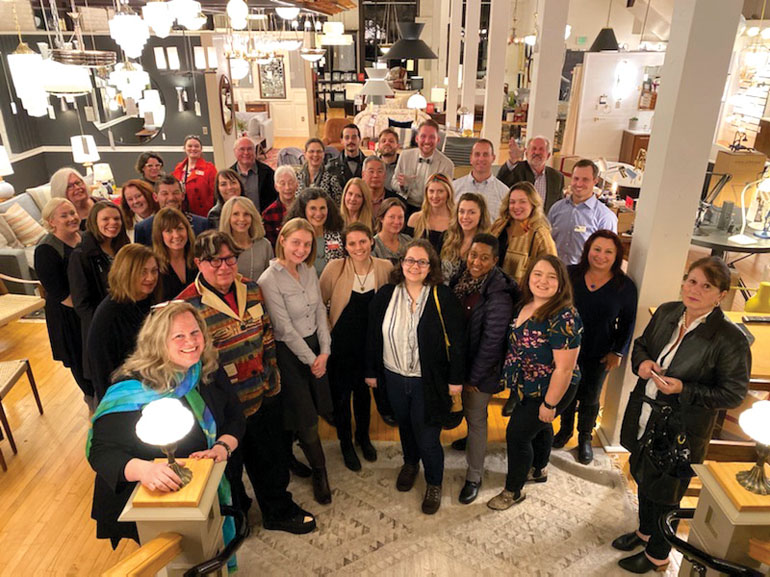 In November, members of Oregon's chapter of the American Society of Interior Designers gathered at the Portland showroom of Rejuvenation Hardware for the fifth annual Design Excellence Awards. The competition surveys commercial, hospitality, residential and corporate design projects completed by Oregon's ASID members.
"Winners are recognized for design skills, creativity and sustainability, as judged by national ASID interior designers/jurors and acknowledged by interior design industry peers," says Oregon ASID chapter president Cindy Garretón.
---
2019 Design Excellence Award, Residential Interior Design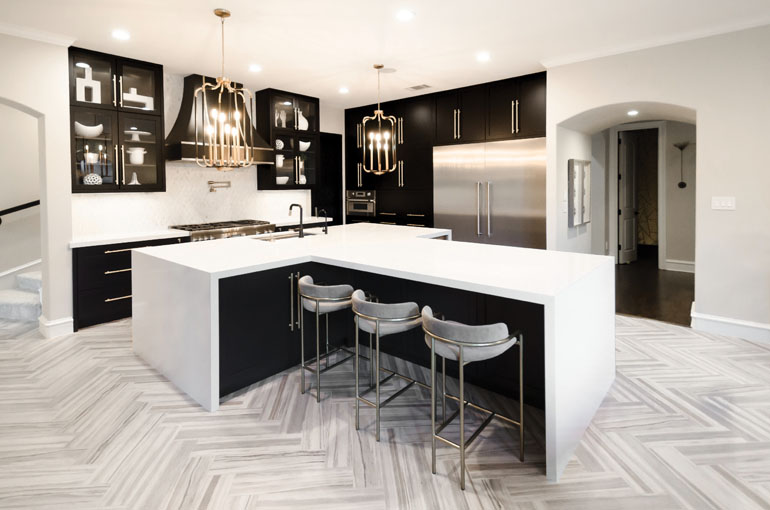 Kevin Twitty, ASID
Kevin Twitty Interiors
Residential kitchen remodel
A modern and elegant kitchen remodel, executed in a dramatic black-and-white color scheme. The centerpiece of the project is a large, T-shaped island with waterfall edges that provides abundant and flexible seating suitable for both relaxed family gatherings and entertaining. Finishes are modern yet classic, blending seamlessly with the traditional home.
---
2019 Design Excellence Award, Commercial Interior Design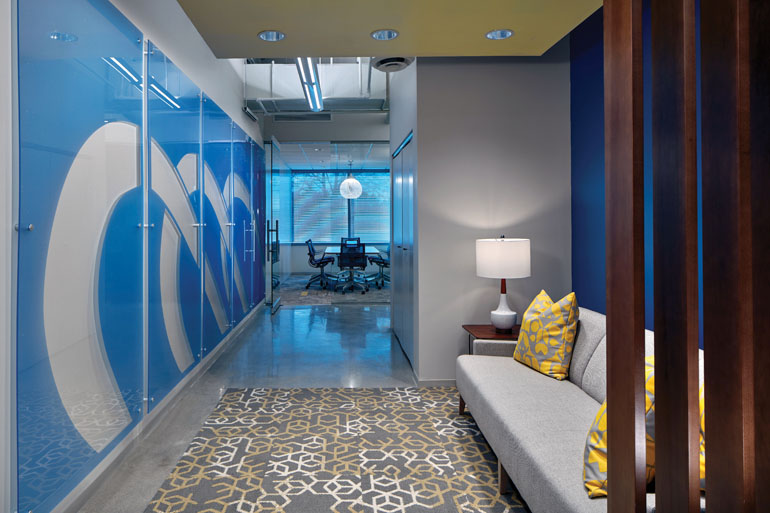 Maryann Ewing, ASID
Beech Hill Studios, LLC
Atlanta office for tech firm QAD, Inc.
QAD, Inc.'s Atlanta-based Research & Development office was Ewing's third project for the firm. Ewing built on the design standards she previously developed for QAD, Inc.'s other corporate offices, with furnishings and finishes reflecting a commitment to sustainability. Ewing drew further inspiration from historic homes in the Atlanta area, subtly incorporating brick, columns, crown molding and paned windows into the project.
---
For more info about ASID, or to find an ASID affiliated designer in your area, visit: OR.ASID.org or call Cindy Garretón at 971-801-8173.