Timberline Lodge had been run down, closed up and even slated for demolition. But what nearly killed it was changing fashions. As its handcrafted furnishings began to show their age, they were replaced with then-stylish shag rugs, plaid curtains and factory furniture.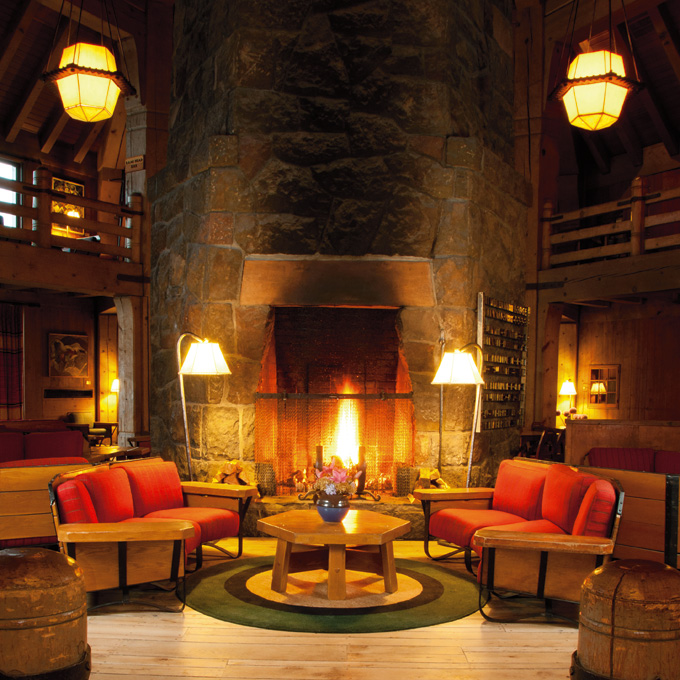 Thank goodness for friends. In 1975, lodge manager Dick Kohnstamm welcomed the newfound Friends of Timberline with a vision for authentic restoration by regional craftsmen. "It's rustic," says historian Sarah Munroe, "in the arts and crafts tradition." Read on to find out how to capture that casual charm at home.
---
WOOD CARVING: Doorways and newel posts feature decorative carving.

REAL DEAL: John Zipprich, who lives near Maupin, carved several pieces at Timberline. "My clients usually have an idea they want to pursue. I make sketches and we come to an agreement." Sizes and prices vary widely, but one particularly complex design is about $450 a square foot.

DEAL: Pineapple finial from invitinghome.com, about $55, or get lucky at the Rebuilding Center in Portland. Their furniture and household items made of repurposed goods capture the Timberline spirit.

IRONWORK: Repurposed trolley rails serve as fireplace grates; old snow chains became hearth screens.

REAL DEAL: Darryl Nelson of Meridian Forge Blacksmithing in Eatonville,Wash., made many of the iron pieces; his fireplace tools are sold at the lodge gift shop. Custom-work at $65 an hour. The bear's head takes about 90 minutes.

DEAL: Gunmetal fireplace door by Pleasant, $349; Lowe's Home Improvement

FURNITURE: Rustic end tables made to be used, sofa and chair arms are wide enough to rest a mug of hot chocolate, a hardback book and a couple of elbows.

REAL DEAL: Copy original furniture blueprints from the John Wilson Special Collections at the Multnomah County Library main branch in Portland.

DEAL: Oregon Log Furniture end table, about $300; oregonlogfurniture.com.

RUGS: The original hand-hooked rugs now hang behind glass, replaced by machine-made ones for the floor.

REAL DEAL: Hand-hooked floral rugs from cheticamphookedrugs.com, $70 per square foot.

DEAL: Crafty types can buy a rug pattern, hand-drawn on linen, by Eugene artist Marijo Taylor, starting at $40, at Rug Arts and Supply in Hillsboro. Estimate one yard of yarn for each square inch of a rug.