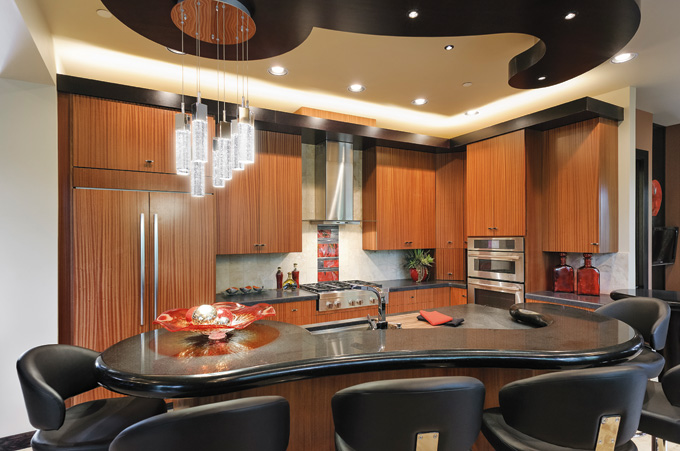 The mix of natural stone and dark wood gives this kitchen a "kind of Northwest, organic, modern lodge look," says Tammy Lefever, president of Interior Motives. Selecting finishes and furnishings for the Mystic Ridge house, built for this year's NW Natural Street of Dreams, meant working closely with builders J.T. Smith Companies so the 4,000-square-foot space would flow together effortlessly and look coordinated without becoming monotonous. (Photo by Aaron Ziltener Photography)
"Interior design has changed, like fashion has changed," says Lefever. "It's not about getting everything to match. It's about getting things that don't necessarily go together, to go together. It's not easy, but it's great when it works."
Lefever broke down some of the design elements of the kitchen.
DREAM KITCHEN: The cabinetry in this kitchen has a sapele-wood veneer that appears iridescent in certain light. Northwood Cabinets (northwoodcabinets.com) used what they call a "book matching" technique to align the stripes for dramatic effect. The meticulous labor adds about 25 percent to the cost of cabinetry. Black-melamine interiors create a sophisticated backdrop for colorful dishes. Countertops of both honed black granite and sleek man-made stone create a striking juxtaposition of matte and shine.

WAKE-UP CALL: Striped cabinetry requires a substantial financial commitment. Instead, give walls a graphic element with the linear-pattern wallpaper from Graham & Brown (grahambrown.com). The vertical bar-code stripe has iridescent highlights and comes in a choice of four colors for about $85 per roll. Consider giving existing cabinet interiors a coat of blood red or sophisticated black paint for drama. "I'm not above painting anything," Lefever says. She also suggests giving moderately priced door handles a sense of importance by installing them horizontally to create strong lines.

 
 

DREAM KITCHEN: The Fizz 9-Light Flush Mount ceiling light fixture, $798 at Globe Lighting (globelighting.com), is arresting, but the large scale would overwhelm a small kitchen, and the price tag keeps it out of reach.

WAKE-UP CALL: Add some small-scale sparkle with a single crystal cube, $53, at Lowe's. Group three together at varying heights as a design element.

DREAM KITCHEN: Black swivel stools, $348 at Interior Motives (interior-motives.com).

WAKE-UP CALL: The Webster adjustable barstool, $180 at JCPenney, in black or brown vinyl, has a similar low back and footrest.

 
 

DREAM KITCHEN: Historically, during economic downturns, dull colors gain popularity, says Lefever. But in today's market, people crave energizing colors such as molten oranges and fiery reds. A blown-glass art bowl, $244 from Interior Motives, and a custom-made fused-glass backsplash by Icings (icingsglass.com) bring heat to the kitchen.

WAKE-UP CALL: "Color is like a string of pearls running through the house," says Lefever. "You need something for the eye to follow." It can be as simple and inexpensive as filling clear glass jars with orange lentils or red beans. And when you want a change in color, you can eat the old. The dedicated DIY person could learn the basics at a fused-glass class, $100, at Bullseye Glass Co. in Portland; bullseyeglass.com.

CLARIFICATION: Interior Motives offers discount prices on many of its products; the prices listed in this story on products from Interior Motives are full retail prices, and do not reflect any discounts.