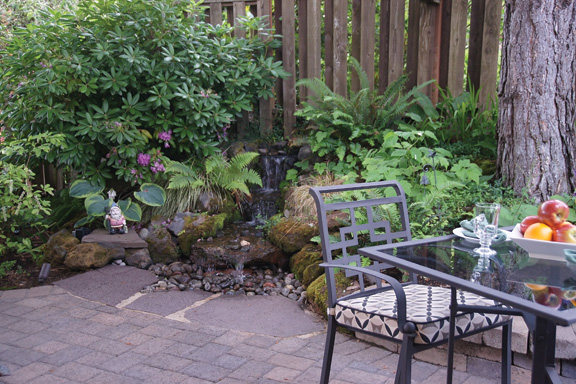 BY DEBBIE BROOKS
When I first met with my clients, I was drawn to their unique style and taste of design. The newly remodeled interior of their '70s ranch home in Northwest Portland featured the clean lines of wood and glass, and incorporated modern materials like stainless steel, granite and slate with traditional features like a country kitchen island.
The homeowners' needs for an outdoor space began with a necessity—a larger space to entertain—and expanded to include covered cook area and a patio with a fireplace. The health-conscious couple also needed a place to grow vegetables.  
The site presented several challenges. A narrow deck separated the yard from the house and a built-in hot tub claimed much of the space on the concrete patio. A big surprise lay underground. The previous owners had buried a swimming pool beneath the lawn. Its exact location remained a mystery.  
To accommodate the outdoor kitchen, my design extended the deck three feet from the house. Railings on either end were removed to open up access to the rest of the yard. Wide stairs now lead from the deck to a large patio and fireplace below. While the size of the vegetable garden had to be reduced after the crew ran into remnants of the old swimming pool, a modest-sized space with raised beds and gravel paths is tucked neatly behind the fireplace.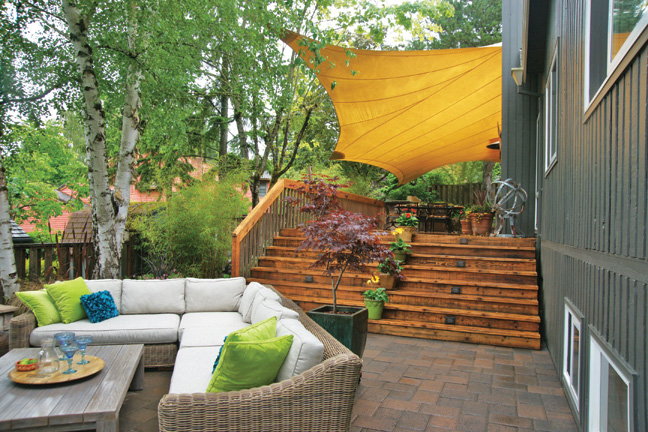 The most challenging piece of this design puzzle was to how to cover the dining area and outdoor kitchen. I brought in Guildworks to design a custom 20 x 35 foot fabric structure that allows ample light into the house while keeping guests out of the elements. The structure is anchored with posts set into the garden or attached to the large trees.
The repetition of like materials unifies the space and the choice of stone, paving and plant materials makes this an inviting space for guests to linger. The unique architectural elements like the fabric structure lets allows the homeowners' style shine through. 
---
Creative Garden Spaces is a landscape design company in Portland, OR. For more information, contact [email protected] or visit here.