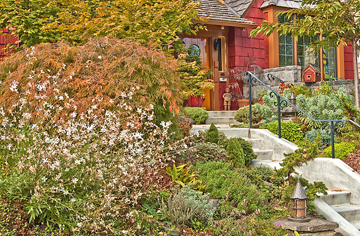 Coming up on Saturday, June 18, 2011 from 10AM -­ 4PM:
The Association of Northwest Landscape Designers presents their 8th annual Behind-the-scenes Garden Tour, so you can get an inside look at professionally designed gardens in the Portland Metro and Lake Oswego areas. Meet with each landscape designer to see how they come up with their ideas for breathtaking outdoor spaces.
Check out everything from a custom built chicken coop to colorful ways to attract wildlife.
Tickets:
For Early Bird ticket sales ($15) check out http://www.anld.com/
Tickets ($20) will also be for sale beginning May 1st at these local nurseries:
Dennis' 7 Dees Garden Centers, SE Portland, Cedar Hills, Lake Oswego locations
Magnolia Manor, 599 A Ave., Lake Oswego
Garden Fever!, NE 24th Ave. & Fremont, NE Portland
Portland Nursery, Stark Street and SE Portland locations
Cornell Farm, 8212 SW Barnes Rd. Portland