©2019 By Danielle Centoni. All rights reserved. Excerpted from Fried Rice: 50 Ways to Stir Up the World's Favorite Grain by permission of Sasquatch Books.
---
Burmese Fried Rice with Chicken, Herbs, and Crispy Shallots
Bursting with big handfuls of chopped fresh herbs and crispy-crunchy fried shallots, Burmese chicken salad is the perfect summertime dish. It's also a great way to use up leftover roast chicken. Or just poach a couple of chicken breasts. Gently simmered with a couple of smashed garlic cloves, a bay leaf, a big splash of white wine, salt, pepper, and enough water to cover by an inch, and they'll be ready in 10 to 15 minutes.
---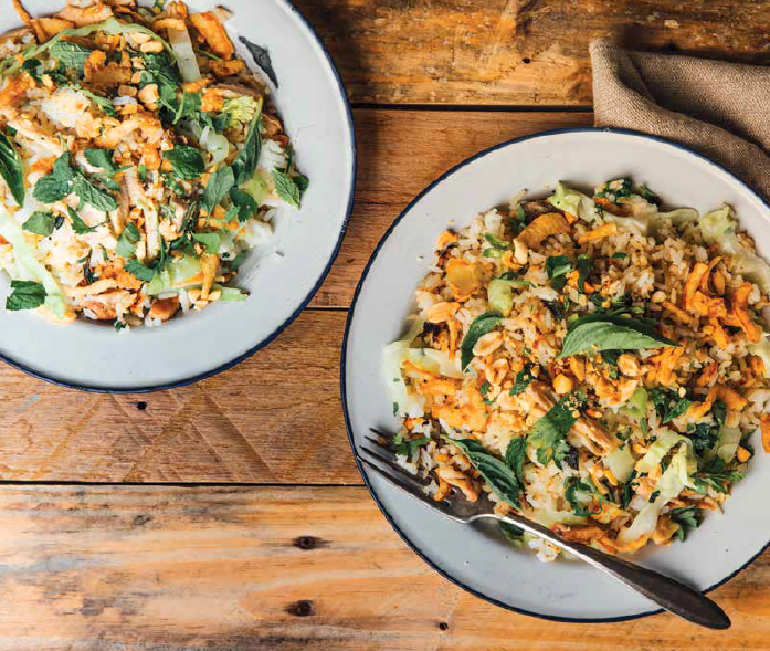 ---
MAKES 4 SERVINGS
½ cup vegetable or peanut oil
3 shallots, thinly sliced (about 2 cups) Kosher salt
4 cups cold cooked rice
3 cups chopped or shredded cooked chicken
⅓ cup fresh lime juice
2 tablespoons fish sauce
1 ¼ cups chopped fresh cilantro
1 ¼ cups chopped fresh mint
1 ¼ cups chopped fresh basil
2 Thai chilies, finely minced (or 1 serrano; see note)
½ head napa cabbage, thinly sliced cross- wise (about 3 cups)
½ cup roasted unsalted peanuts, chopped
1. Heat the oil in a medium saucepan over medium heat. Add the shallots and fry until golden, about 10 minutes. Remove with a slotted spoon and drain on
a paper-towel-lined plate. Sprinkle with a pinch of salt. Strain the cooking oil through a fine-mesh sieve into a small bowl. (The oil will be infused with shallot flavor; reserve the extra to use in other dishes.)
2. Heat 1 tablespoon of the shallot cooking oil in a large sauté pan over medium-high heat. Add the rice and sauté until warmed through and softened, then continue sautéing until the rice seems firm again, about 3 minutes. Add the chicken and sauté until heated through. In a small bowl, mix the lime juice and fish sauce together, then pour the mixture over the rice. Sauté until well combined and the liquid is absorbed.
3. Remove from heat and stir in the herbs, chilies, and cabbage. Divide among plates and garnish with peanuts and shallots.
NOTE: Even if you don't like a lot of spicy heat, don't skip the chilies. They're not too hot, and they're essential to balancing the flavors of the dish.
---
Puffed-Rice PB & J Bars
Homemade puffed rice is so much more ricey flavored than crisped rice cereal, and these fast and easy peanut-buttery treats are a great way to show it off. Instead of the usual corn syrup, I use Lyle's Golden Syrup, which has a far richer, almost toffee-like flavor. It's easy to get online, at World Market, or at well-stocked grocery stores. To add fruity-jammy notes while preserving the crunch factor, I fold in crispy freeze-dried berries. Look for them in the snack aisle; even Target has them.
---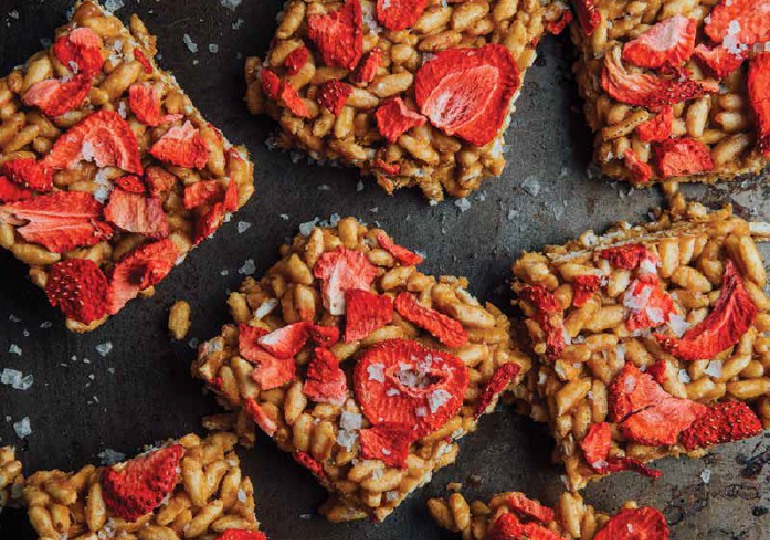 ---
MAKES ABOUT 16 (2-INCH) SQUARES
Unsalted butter, for greasing dish
½ cup packed dark brown sugar
½ cup Lyle's Golden Syrup
½ cup smooth peanut butter
2 teaspoons pure vanilla extract
1 teaspoon kosher salt, plus more to taste
4 cups Puffed Rice (page 47)
1 ounce (1 ½ cups) freeze-dried strawberries or raspberries (or other freeze-dried fruit, such as bananas), divided
Sea salt, for garnish
1. Butter an 8-inch square baking dish. Heat the sugar and syrup in a medium saucepan set over medium heat, stirring until mixture is melted and sugar is dissolved, about 2 minutes. Remove from heat and stir in the peanut butter, vanilla, and salt until smooth and combined. Stir in the puffed rice and half the freeze-dried fruit.
2. Press into the prepared baking dish in an even layer, then press the remaining fruit on top. Sprinkle with sea salt. Allow to sit until firm, about 1 hour, before cutting into 2-inch squares. Squares will keep in an airtight container for several days.
---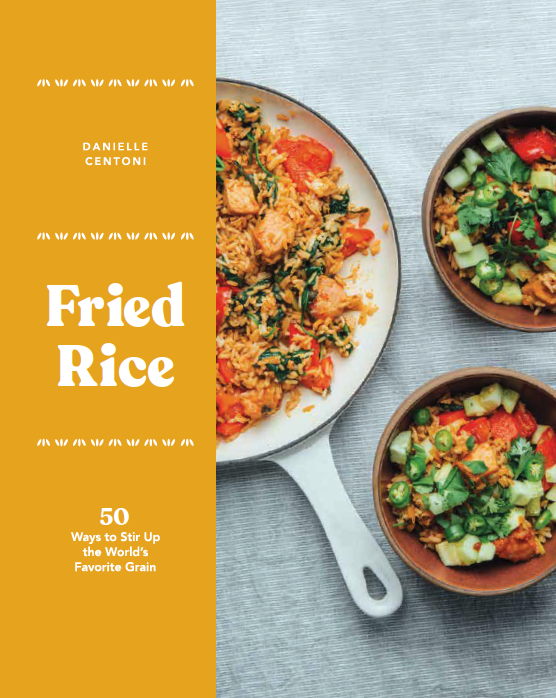 ---
Danielle Centoni is a James Beard Award-winning food editor and writer. She was the food editor for the Oakland Tribune before moving to Portland where she covered food for The Oregonian. She was also the senior editor for Imbibe magazine and editor of Eater Portland. She develops recipes for brands and national publications including Weber, Better Homes and Gardens, and is a regular freelance writer for The Kitchn, Rachael Ray Every Day magazine, EatingWell, and Bon Appetit. She is the coauthor of Mother's Best: Comfort Food That Takes You Home Again (Taunton, 2009); The Sugar Cube: 50 Deliciously Twisted Treats from the Sweetest Little Food Cart on the Planet (Chronicle, 2012); and the author of Portland Cooks: Recipes from the City's Best Restaurants and Bars (Figure 1, 2017).