If you're lucky enough to land on one of the many text-chain dinner invites from Noah Cable and Kate McMillen, co-owners of the specialty food store Wellspent Market, you know exactly what awaits you. The couple's casual parties are legendary — meticulously planned but executed as if on the fly. McMillen researches the recipes while Cable puts together the drink list, all while incorporating some of the couple's favorite things from the iconic gourmet grocery. "Making dinner is one of our favorite hobbies," says Cable. "The store acts like a pantry that you have super-easy access to as well as a place of discovery." We asked the couple to re-create one of their favorite menus in their home kitchen in Portland's Mt. Tabor neighborhood. 
---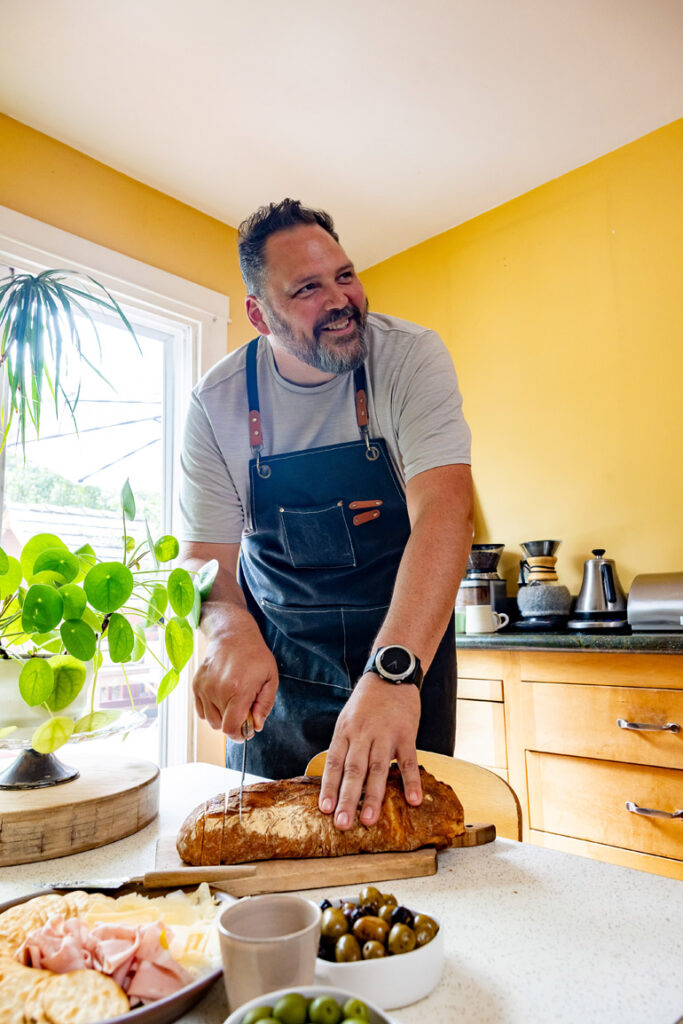 ---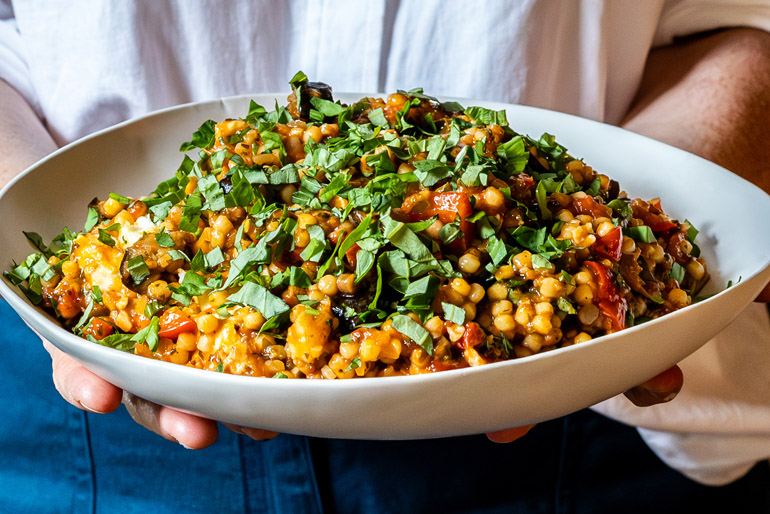 ---
Toasted Fregola alla Norma
Ingredients:
• 1 eggplant, cubed
• ¼ cup olive oil
• 2 large shallots, finely chopped (¾ cup)
• 3 large cloves garlic, minced
• 1 serrano pepper, deseeded and minced
• ½ cup chopped parsley
• 8 oz. cherry tomatoes, halved
• 1 bell pepper, chopped
• Salt and pepper
• 28-oz. can chopped tomatoes
• 2¼ cups water
• 1 cup toasted fregola
• ½ oz. grated pecorino
• ½ cup chopped basil, plus more for garnish 
• 8 oz. fresh mozzarella, torn into chunks

Preparation:
1. Heat oven to 425◦, drizzle the cubed eggplant with a healthy dose of olive oil and season with salt. Roast on a sheet pan for 25 to 30 minutes until tender and browned. Toss halfway through baking for even browning. 
2. In Dutch oven or similar deep pot, saute shallot in olive oil for 3 minutes until soft.
3. Add prepared garlic, serrano pepper and parsley. Saute 2 minutes, stirring often.
4. Add cherry tomatoes and chopped bell pepper. Add about a teaspoon of salt and several grinds of black pepper. Saute until the tomatoes have burst, about 5 minutes.
5. Add the can of tomatoes and their juices, and let simmer for 10 minutes until thickened up a bit.
6. Add the water and the fregola. Simmer for about 15 minutes until the fregola is al dente.
7. Turn off the heat and let stand 5 to 10 minutes while the fregola soaks up the sauce and thickens a bit. Add the eggplant, stir in the grated pecorino, basil and the torn-up mozzarella. Add salt and pepper, and garnish with more basil.
---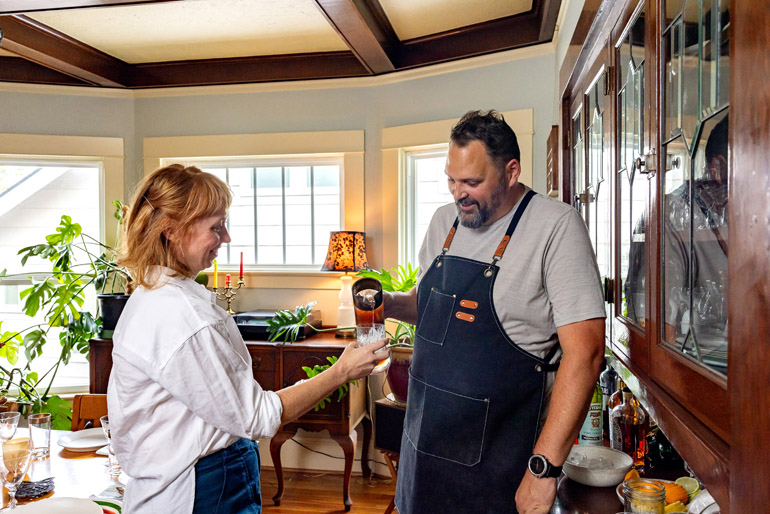 ---
Cocktail: The Tinto Verano
• 2 oz. red wine 
• ¾ oz. sweet red vermouth 
• 1 oz. simple syrup
• 3 oz. fizzy water
• Juice of half a lemon
• Citrus wheel for garnish
---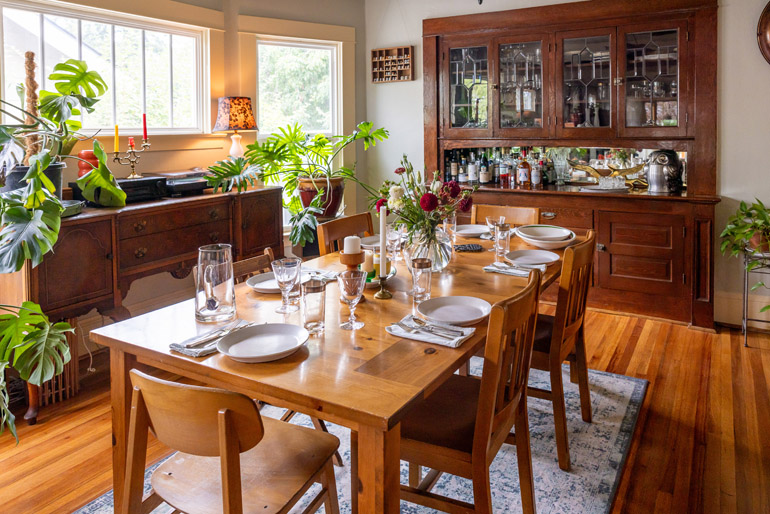 ---
Butter Lettuce Salad
1. Wash 1 to 2 heads butter lettuce, spin dry and put back in fridge to crisp.
2. In a small bowl combine:
• 2 tsp Dijon mustard
• 2 tsp honey
• 1 tsp dried oregano
• 1 clove grated garlic 
• 2 T white wine vinegar
• ½ tsp salt
3. Add ¼ cup olive oil, whisking the entire time to incorporate.
4. Toss lettuce with dressing.
5. Toss with lots of grated pecorino all over the leaves.
6. Transfer to serving bowl or platter and scatter with lots of big green briny olives, and sprinkle with toasted walnuts.