Above: Chris Costello explains the newest in showerheads to me // Photo by Alexandra Shyshkina
It's time to tackle my New Year's resolution to gut my bathroom. It's the last man standing after spending nine years rehabbing every other inch of our once-ramshackle 1970s ranch. I think I deserve the good wife of the century award for living with this little monster for almost a decade. The cold water in the sink doesn't work. The vanity doors are painted shut. The tile floor is a hideous black-and-white checkerboard. And, ugh, the shower and sink are stained beyond cleaning; the glass shower doors are so bad I can't even see out of them. 
I feel like I am in a bus stop in Amarillo every time I go in there.
But now I am a kid in a cupcake factory. I get to pick out new everything, but where to begin? For a little help in getting my brain around the project (really, it is only a 5×8 bathroom; you'd think I was redoing the Taj Majal), I visited the showroom at Ferguson Bath, Kitchen & Lighting Gallery in Portland. What is the first thing I see? My object of desire: the Vir Stil By Laura Kirar 1.0 vanity, which starts at $4,560. Dang. That is so not going to happen. My trusty guide, Chris Costello, tried to ease the pain by showing me other options, but really. What price true love? I will find out when the hub and I discuss the budget for this project. 
This one-bite-at-a-time approach to remodeling is how many of us tackle our homes. It's a little easier to dribble out the money, and find the time, going room by room. To help out, we're launching a new regular feature called, fittingly, Remodel. In this issue, we look at the trend of homeowners taking out their bathtubs and installing showers. There are no tubs in our house. In my bathroom, there isn't room for one, and John pulled his out when his bathroom got a swanky redo nine years ago. Whenever I need some advantage, I remind him he has a great bathroom and I am using a Greyhound pit stop. I realize I will lose this in the remodel, but it will be so worth it.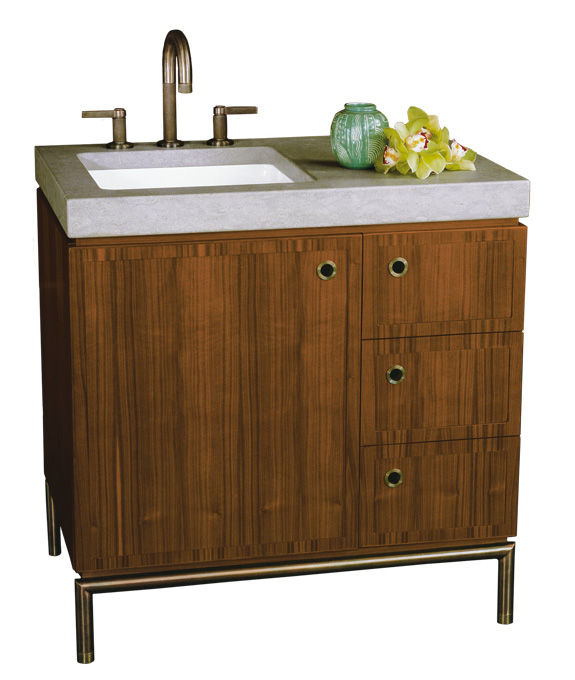 My object of desire.
Robin Doussard