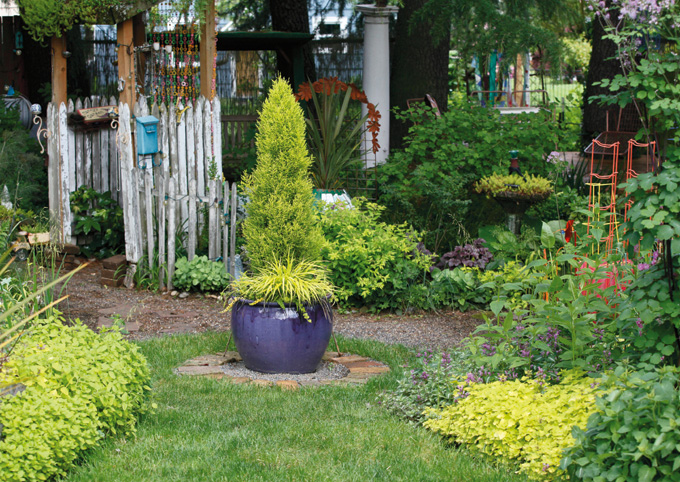 Cupressus "Wilma Goldcrest," rising out of a glazed blue container, is the pivot in a swirl of chartreuse-yellow. (NE Portland garden by Nancy Goldman.) // Photo by Joshua McCullough
I am a pothead. No, not someone who smokes weed but a gardener who over the years has grown everything from herbs and vegetables to tropicals and carnivorous plants in containers.
Early in my gardening career plant lust compelled me to purchase lots of plants that weren't hardy in our climate zone. They ended up in pots that lined our front entry and with no greenhouse were laboriously trundled to the basement or garage with the onset of winter. We now are down to three containers that need winter protection; practicing zonal denial isn't easy for aging gardeners and their spouses.
Since those early days experience has taught me how to integrate containers into the overall design of a garden so they blend seamlessly into their surroundings and enhance and reinforce the style of the space. Pots are major structural and architectural components that create visual interest throughout the year, whether they contain plants, water, funky objets d'art or are just interestingly shaped or colored empty vessels.
---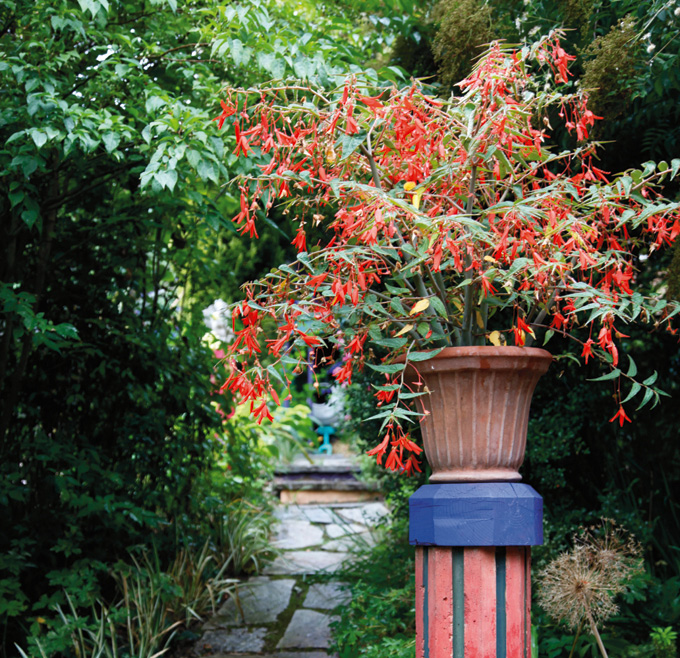 A tropical looking begonia perched on top of a painted pillar creates an orange echo in the midst of a sea of green. (Seattle garden design and pillar by Daniel Sparler and Jeff Schouten.) // Photo by Joshua McCullough
In my ever-changing personal Eden, I view containers as ornaments that augment the rest of our outdoor furnishings. Clipped, round boxwood in terracotta pots salute the vivid colors of Fred's Folly while rectangular containers stuffed with annuals act as hedges to direct folks to a step leading to the lawn. Cascading plants hover over the terrace attached to the porch railing in my urban interpretation of the Hanging Gardens of Babylon. In another space, an old urn filled with colorful metal curlicues delineates the end of a sight line in a swirl of color. Hollow logs and stumps planted with ferns and other shade lovers populate a corner on the north side of the house.
Every garden has an awkward corner or space where nothing seems to work. That space becomes part of the garden when staged as a vignette with a motif that plays to the rest of the garden. Configuring a group of pots along the edge of a deck or terrace creates a transition between hard surfaces and the softer feel of the lawn and garden beyond. An array of containers can be situated to provide privacy and intimacy, screening outdoor living areas from direct view.
Pots perched on pillars and plinths punctuate the horizontal lines of the garden, creating a rhythmic relationship between the vertical elements in the garden such as grade changes, trees, walls, built structures and buildings. A pot resting on an unusual support injects a bit of  unexpected humor and surprise.
A small tree in a strategically placed pot on a west-facing terrace can diffuse the rays of the late afternoon sun.
A pair of dramatic pots featuring upright conifers or broad-leafed evergreens can frame a view or move the eye from one garden room to the next.
---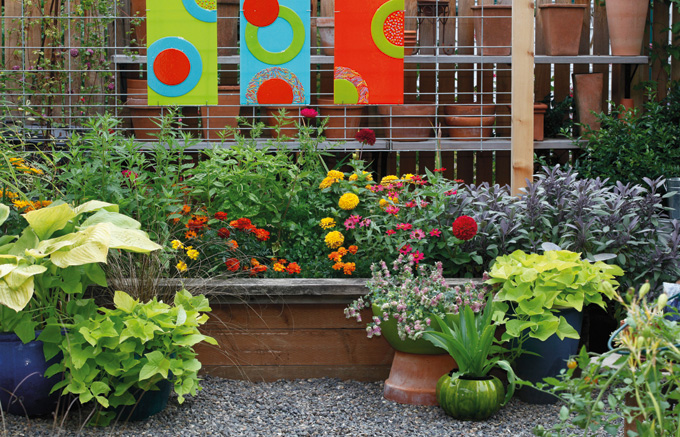 Glass panels floating above a raised bed enhance the zinnias and marigolds below.(NE Portland garden and glass work by Linda Ernst.) // Photo by Joshua McCullough
Raised beds function as containers and can be constructed out of wood, Core-ten steel, stone, concrete block or composite products. Although we usually think of raised beds as being used to grow vegetables, they are perfect for cane berries, herbs, annuals and perennials. A simple arbor or screen creates a support for vines or a framework for displaying art.
For gardeners who live in apartments, townhouses and condominiums, container gardens are the answer. Even the smallest balcony is transformed into a lush and abundant garden with ingenuity and planning and is easily maintained and managed by just about everyone from curious children to retirees freed from the rigors of maintaining lawn and garden.
Colorful foliage and contrasting textures and forms are the ingredients for planting sumptuous containers that reflect the overall design of the garden. Viewing a container composition as a self-contained garden helps focus on scale, dimension and contrast.
---
SIZE MATTERS in container gardening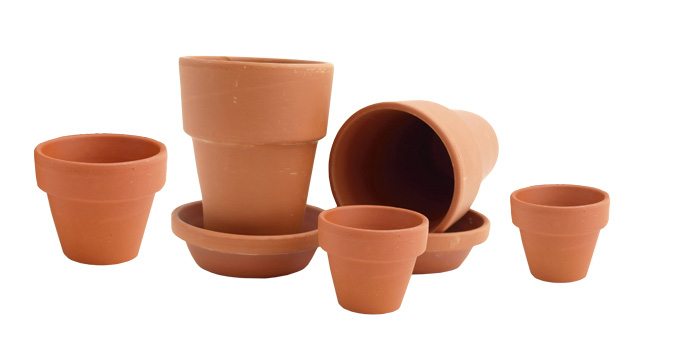 -Pots smaller than 12-14 inches in diameter dry out quickly, requiring watering once or twice a day during hot weather.
-Soil in smaller containers heats up, damaging root systems.
-Consider size of the root ball when selecting pots. Small trees and large shrubs perform better if there is room for their root balls to develop.
-Drip irrigation is the most efficient way to water pots with little waste or evaporation.
-Don't be afraid to cram and jam roots of annuals and perennials together.
-Soilless potting mixes provide the optimum environment for root growth.
-Work organic fertilizer into potting mix before planting so that it's available to root systems.
-Dampen potting soil before you begin planting.
-Bucket-soak plants before placing them in a container.
-Deadheading spent blooms is essential to prolong flower production for annuals and perennials.
-Remove dead or diseased foliage to prevent the spread of disease or insect infestations.