When summer stretches the days long and lazy and the river settles low on its banks, Erika and Jake Kocon raise a glass — and the front wall of their floating home. With the push of a button, the divided glass wall rises, like a gussied-up garage door, leaving nothing between them and the river.
Kayakers paddle past. Ducks glide by. Across the Columbia River slough, a yacht turns seaward.
"I love sitting in the living room and on the deck watching the huge, enormous ocean-going vessels," says Erika, a quality assurance manager at the Coca-Cola Company, from their Tomahawk Island home. "We have beavers and otters. All the ducks come around and they peck the algae off the sides of the logs."
Other days, the Kocons hop in the boat tied just feet from their front door to play, or motor downriver to nearby restaurants.
On a floating home, say residents, you don't simply watch nature, you are a part of it.
About 30 floating-home moorages dot the Columbia, Columbia slough and Willamette River in the Portland area, each with approximately 20-50 homes. The moorages are as distinct as any dry-land neighborhoods. Some are fancy gated communities with meticulously maintained ramps and docks and active homeowners-associations. Others feel more Huck Finn friendly. Some sit on busy waterways with bridge and city views. Others, tucked back on sleepy channels, face protected lands. The houses also vary in size and style from modest vintage cottages to grand 3,000-square-foot floating McMansions. Most residents are childless or have grown children but all share a passion for being on — or in — the water.
---
Erika grew up on a lake in Wisconsin that froze several months each winter, so she revels in the river year round. Until temperatures hit the 50s on their river thermometer, she sports a wet suit to go wake boarding or river surfing. That's right, surfing.
"It's as legitimate as surfing the ocean," she says describing how they intentionally weight the boat to create a wake on one side. "You have a rope to get up and then you let go and actually surf on the wake."
And it's all within her floating neighborhood.
| | |
| --- | --- |
| | |
| The prep-and-eat island can be rolled against a wall to further open up the kitchen/living space. // Photo by Lincoln Barbour | Insulation between the corrugated ceiing and roof keeps the house warm and quiets the winter rains while emphasizing an industrial modern look. // Photo by Lincoln Barbour |
---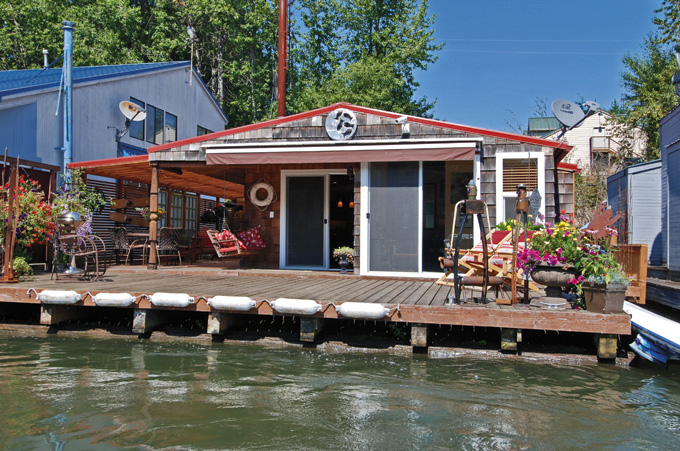 Above: Wood beams and log floats are traditional and homeowners often add foam for buoyancy.
A covered walkway at the left of the house makes rainy days easier.
Below: A strategically hung mirror in the living room doubles the river view. // Photos by Lincoln Barbour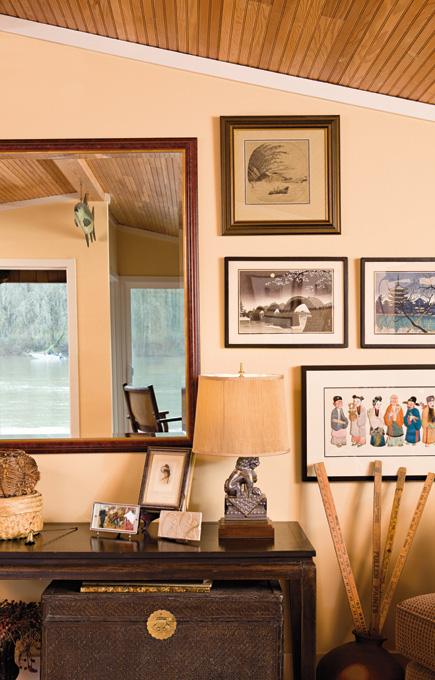 Deep beneath the water, crayfish skitter. Sturgeon lurk near the muddy bottom like prehistoric beasts stubbornly determined to avoid evolution.
"I had a house guest who caught a huge sturgeon off the deck," says Jan Hansen. "When she caught that thing, she started screaming."
Jan jumped into action and onto the back of a boat tied to the dock to help wrestle the three-foot-long fish onto the dock.
"They have spiky things along their backs," she says.
Jan sold her Portland Heights home 12 years ago and made plans for an extended trip to Europe. A friend living on Sauvie Island urged her to check out floating homes on her return.
"He kept saying how great it was out there," says Jan. "But I felt like it was too far out."
Jan eventually tested the waters and was immediately hooked sure as a fish on a line. A self-described "water baby," she loves to kayak, wakeboard and boat on the river. Her house was one of the originals dating back to the late 1800s and came with a checkered past. Originally, the structure had six separate entrances to six separate rooms, each with its own fireplace. One theory is that it was a floating boarding house.
The other?
"A floating bordello," says Jan. "I was told that they used to haul them up to the mills for the workers."
She's rewired and remodeled the whole place, raised the ceiling, put in sheetrock and granite kitchen counters. The fir floorboards now gleam.
Her husband Don works in Arizona and they ski winters in Idaho, so her floating home has since become their summer vacation spot.
---
"Do I have more friends in the summer?" she asks laughing. "Yes! At one point we had eight sleeping bags rolled out on the living room floor."
Her young grandkids, all avid swimmers, wear life jackets for safety. Visitors learn to hang tight to car keys and sunglasses. One plus: No one spends precious leisure time on yardwork. Jan plants pots of flowers for color and has watering cans attached to poles for river dipping. Some year-round residents maintain floating vegetable beds with mesh-screen bottoms allowing plants to draw what they need directly from the river.
Getting stuff up and down the ramps and docks can be a long haul. Many moorages have communal wheelbarrows, and people tend to invest in personal carts for groceries. Jan's initial fear that the moorage was too remote drifted off on the first current. Downtown Portland is only a 20-minute drive away. But she prefers shopping hyper-local, picking up fresh, organic produce, eggs and meat direct from Sauvie Island farmers, and is rarely tempted to leave the river.
"It's not like looking at the same thing all the time," she says. "The water is always changing."
| | |
| --- | --- |
| | |
| A gas stove saves hauling wood down the docks. Old-growth fir floors and beadboard ceiling make a homey space for dog Jackson and an antique wood salmon. The Hanson's home is on the market — they're looking to buy a bigger one  — and it's listed with Graham Marden who has a specialty in buying and selling floating homes..  // Photo by Lincoln Barbour | Don Hansen in the covered walkway that widens to allow furniture. // Photo by Lincoln Barbour |
---
Soaring ceilings, an open floor plan and two walls of windows frame miles of river view. Scarlet seat cushions, a cobalt-blue stove and blown glass pendant lights add crayon color pops in the kitchen. When a big boat passes by, those lights hanging over the breakfast bar sway gently.
"That's the only way you can tell you're moving," says Duane Dominguez of the 2,400-square-foot contemporary home he owns with wife Jody.
"These are regular homes but built on floating foundations."
In the mid-1800s, when Oregonians first took to living on water to avoid property taxes, the ramshackle structures built on lashed-together logs were little more than floating shacks. They creaked and rocked. Doors and windows jammed. By 1909 houseboats were already considered charming enough to entice a Portland dentist and his incipient Bohemian wife, writer Louise Bryant, to river life. Bryant later married radical John Reed, traveled to Russia in 1917 to report on the revolution, and was immortalized Hollywood-style by Diane Keaton in the movie Reds.
Houseboats, which didn't quite qualify as either house or boat, went mostly unregulated by building codes until 1990. That's also about when the descriptive term "floating home" took hold. They're as strictly regulated today as any structure on land with an additional unique criterion: They must float.
The homes' foundations or floats consist of logs, foam or hollow concrete made buoyant with foam. Stringers or beams go on top of the floats.
The houses are built on top of the stringers leaving space between the floor and the water allowing air to circulate, similar to a crawl space in land homes. For that reason, floating homes are not, as some might expect, damp.
| | |
| --- | --- |
| | |
| Duane and Jody Dominguez, and Sheila, enjoy the rhythms of the river. // Photo by Lincoln Barbour | The Dominguezes home sits at the end of one dock. The Columbia Ridge Marina docks run perpendicular rather than parallel to the river bank. // Photo by Lincoln Barbour |
---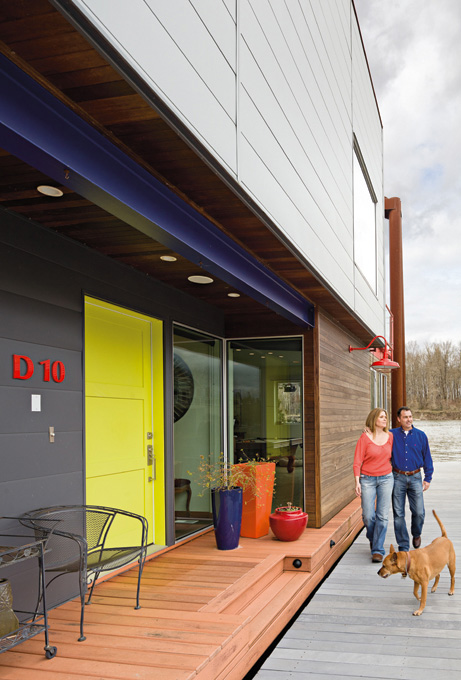 Above: The Dominguezes outside their bright entrance. For fitness, they walk the length of the wide docks.
Below: Floor-to-ceiling windows in the living/kitchen area provide stunning views. Steel cable was used for the deck fence to allow an unobstructed view of the river. // Photos by Lincoln Barbour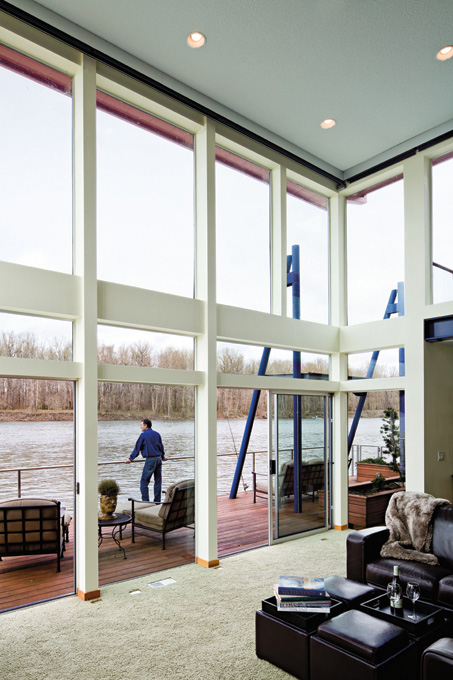 In the past, homes were chained or roped to wood pilings that looked like telephone poles in water. These days they're attached to two steel pilings that allow them to rise and fall an average of 14 feet a year with the changing river.
The Dominguez's three-story, four-bedroom, three-bath home — complete with a pool table room — designed by Valeant Architecture and built by Even Construction would not look out of place in a suburban street.
"It's a floating subdivision," says Duane,who developed subdivisions on land before taking on his first watery endeavor with the Columbia Ridge Marina five years ago. He wasn't specifically looking for a moorage at the time but "I fell in love with the spot. It's kind of rare lifestyle, and it's really cool."
Most moorages have some weekend and vacation homes but the majority of residents live on the water year round.
"We look forward to summer and we enjoy the heck out of it," says Duane, comparing it living at a resort. "But we also love when school starts in the fall. All the people who live here kind of celebrate because, yay, we get the river back."
That's when it reverts back to a "regular" neighborhood, albeit a liquid one.
"The sense of the community is probably the best part of the whole thing," says Duane. "We all have that sense of adventure and love the water. It's hard to get us off the marina."
---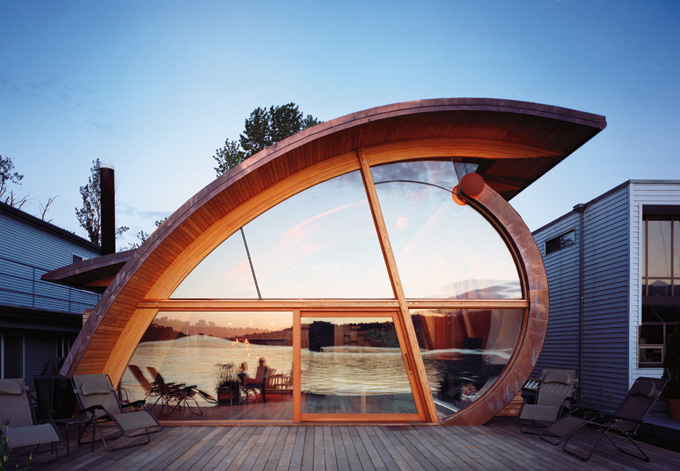 Photo by Cameron Neilson
It's unlike any other house on the river. Yet it looks perfectly at home on water.  The slight seashell shape, the way one wall flows to form the roof and another ebbs to support it; even the mastlike beam angling through the floor-to-ceiling windows suggests water. 
Portland architect Robert Oshatz designed unique residential and commercial buildings, but until Randy and Kazuyo Tojo Fennell approached him, he'd never designed a floating home.
"The main difference is the poetry of the site," says Oshatz. "I wanted to design a structure that felt like it belonged to the water, was part of the water. I wanted to capture the rippling, moving effect of the river."
The ceiling curves like the hull of a boat. Visitors to the Fennells' house have said they feel as if they are inside the arc of a breaking wave.
"I try to design a structure that is at peace with its environment and that site," says Oshatz, "so that people would be at peace within."
Designing a floating home didn't present new challenges so much as new solutions.
"Every structure, even on land, is in constant motion. You have expansion and contraction," Oshatz says. "I think there is more adjustment from the builder's standpoint in that he has to throw away his level."
The Tigard-based Even Construction company, which specializes in floating homes, also had to accommodate moorage rules by building the house elsewhere and tugging it to its place on the Willamette. Another peculiarity was that heavy items such as a grand piano or granite countertops might require additional floats beneath that side of the house for balance. But movement in the Fennell's home, like most newly constructed floating homes, is rarely perceptible.
Even before its completion in 2006, this dramatic floating home attracted new clients who wanted Oshatz to design copies.
"It's not that you're reinventing the wheel each time," says Oshatz. "But I'm not interested in building the same thing."