Harvest Swoon
An expert householder's bountiful garden
Each spring, Harriet Fasenfest inventories her preserves to determine what to make again. "If something wasn't eaten, I make something different," she says. "This year, yellow jams weren't a hit with my family, and some experiments, such as nectarine chutney, I won't make again, but experimenting is part of the process."
Fasenfest, the author of A Householder's Guide to the Universe, transformed her Northeast Portland backyard into a producing garden over seven years ago. She had her "aha" moment when she wondered why she let her pears just fall to the ground. "I was in despair over the global economy, and I knew there had to be other ways to do things," she says. "When the pear dropped, I thought, why don't I put that up?"  After learning how to can, Fasenfest began to research and develop her own theories about how to use food.
For Fasenfest, producing and sourcing your own food is a resource management system, or what she calls householding. "I'm a preservation gardener," she says. "I grow with an eye toward canning and storing. What I don't grow, I provision. I buy meat from a farmer, and I buy in bulk to create my own stores." In her home, freezers hold fruit, cuts of meat and homemade sausage. Containers store grains, nuts and beans. The refrigerator's condiment shelf supplies homemade ketchup and relishes.
Successful householding requires preparation, and Fasenfest has learned how to use her space and what she produces. "While I do grow greens, I have more than three beds devoted to onions, and I grow a lot of garlic and carrots," she says. "Those store well through the winter, and if you have those three things, it's easy to make a meal."
While not everyone can garden at this level, Fasenfest, who also does consultations, stresses that planning is important in using provisions. "You need to have a plan," she says. "If I make applesauce and don't use it, I've wasted the effort. But, if I eat it as a dessert or use it in a cake, it becomes a food resource."
---
Harriet Fasenfest says thinking systematically about your garden and how you'll use it helps you get the most out of all your hours of enjoyable, but hard, work.
Plant perennial vegetables, such as kale and asparagus, which reseed themselves year after year.
Create a garden hit list of the fruits and vegetables you can't live without and always make space for those in your garden.
Learn to prepare and cook what you provision. Not only will you save money, you'll also get a good education in regional foods and flavors.
---
Modern homestead
Where the chickens and rabbits and goats are part of the family
When Amy Manning has food scraps, she feeds them to her family's four goats. "One of the reasons we moved someplace with more land was so we could have animals," she says. "We milk one of the goats, and I've used the milk to make chevre, yogurt and mozzarella."
Just over three years ago, Amy, her husband, Ed, and their 4-year-old son, Guy, lived in Southeast Portland. As the economy collapsed, so did some investments. "I knew we wouldn't run out of money, but I was concerned," she says. "I looked at what we spent on food and couldn't believe how much it was, so I tore out the front and back yards, planted edibles and got some chickens."
Eighteen months ago, they moved to Beavercreek. "I used to be a real estate agent, so I knew how to look for property," says Amy. "We wanted a small house with land, and now we have two-and-a-half acres."
After taking out the front yard, clearing about half the land and amending the soil, Amy and Ed added edible gardens, fruit trees and animals. In addition to the goats, they have Red Bourbon turkeys, egg-laying chickens, ducklings for a small pond and American Chinchilla rabbits.
Ed, who works in facilities management, takes care of the animals and built or revamped existing structures for enclosures. "When you see something you made put to use, it's a huge sense of accomplishment," he says. "The animals are part of our family. They and all their food are from local sources, so we're also helping out our community."
For the Mannings, their new home has created a better family rhythm. "When we moved into the country, I was amazed at how quiet things were," says Ed. "We could see the stars that are blocked by city light. Having more space gives us a sense of satisfaction. Our son plays safely outside. Amy selects seeds and reads up on the best animals for our setting. We come together by being more connected to our environment."
---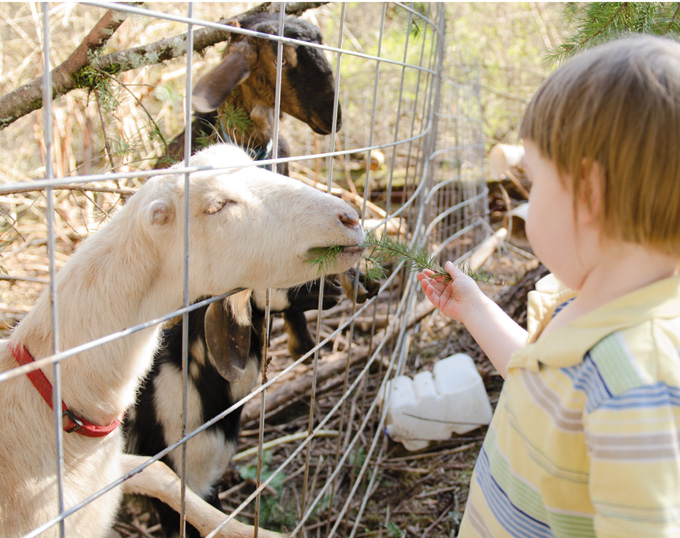 Whether you're raising animals for food or breeding, say the Mannings, cared-for animals make a happy homestead.
Set up an automatic watering system to help with feeding.
Livestock animals often feel threatened by young children, so keep a fence between the animals and your children.
Rework existing features of your property for animal shelters. For example, old dog runs make excellent chicken yards.
"The animals are an extension of our family because they are incorporated into our daily routines," says Amy. She and husband Ed are expecting another child later this year. // Photos by Jon Jensen

 
---
Coop Scoop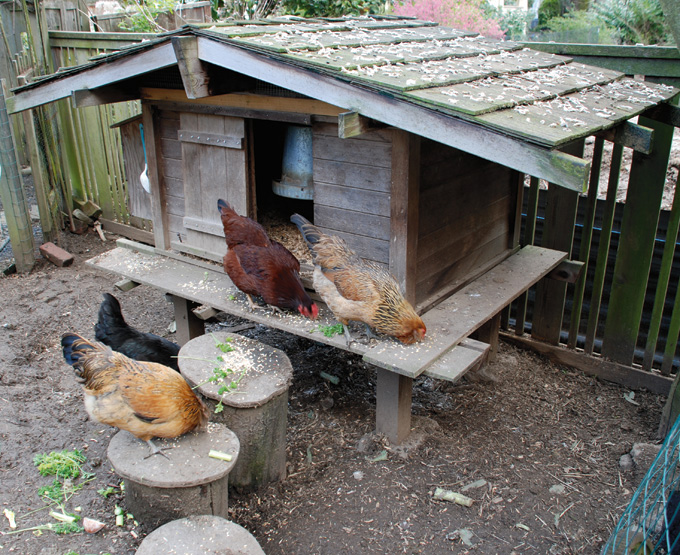 The rage for urban chickens continues. Keep these tips in mind and your chickens will have a beautiful and functional coop to call home.
Make it architectural. "Your coop can be in almost any style," says Portland woodworker and chicken coop designer Toby Hardman, who built his family's Asian-inspired coop that rests on stilts. "Our coop also reflects our Craftsman home with its overhanging eaves and shingled roof, and the chickens can go under the eaves or under the coop when it rains or it's too sunny."
Make it safe. Raccoons are city chicken predators. If your coop, like Hardman's, is unenclosed, be sure it has a lock. "A coop without a locked run works if you don't have a lot of space or don't want it to dominate the view," says Hardman. "But you need to lock it every night and have someone do it for you when you're gone."
Make it multipurpose. A modular coop can do more than house chickens. "I've built coops with an attached compost bin, so the chickens can dig around and add their manure," says Jon Bake, who with his wife, Cindy, designs Bake's Binster chicken coops. "I've also added green roofs and even a rain gutter and rain barrel with a dripper to water the chickens."
---
Wild in the yard
Adding a garden and a safe environment for wildlife
Even in winter, Martha Gioia and Jim Allen have a backyard full of birds. Rather than put in flowerbeds or a large patio, they turned their backyard into a wildlife habitat. "There's always activity," says Allen. "We've seen grosbeaks, sparrows, jays, flickers, finches, juncos, chickadees and birds just migrating through."
Gioia and Allen, retired high school teachers, bought their Southeast Portland home on a corner lot in 2000 when they were living in California. After moving to Portland in 2004, they spent the first couple years remodeling the home and clearing out the yard before creating the habitat.
Their yard, which is certified by the National Wildlife Federation, creates a safe environment for wildlife to flourish. The yard has ground cover, trees, bushes, brush piles, birdbaths and feeders. "We watch how the birds use the yard," says Gioia. "We see imprints where birds take dust baths. Sometimes, I'll leave out pieces of yarn for nests, and the birds are welcome to use or eat whatever they find."
Gioia and Allen, who are Master Gardeners, wanted to add a garden without harming the habitat. At a home show two years ago, Gioia met Karen Wolfgang of Portland-based Independence Gardens and hired her to design an edible garden. Because the backyard was off-limits, Wolfgang turned part of the side yard into a 20-foot-by-25-foot terraced organic garden, where Allen and Gioia grow a range of vegetables that changes each year. "Part of having the garden is figuring out how we're going to use it," says Gioia. "Last year, we planted too many collard greens, but we also had enough eggplant to make a meal for 14 people. We give vegetables away to friends, and I freeze roasted tomatoes to use throughout the year."
In addition to the garden and habitat, Allen and Gioia have started worm composting for fertilizer. "Even though we have a standard city lot, we've made our yard as productive as possible," says Allen. "From watching the birds to eating from our garden, we've created our own ecological system."
---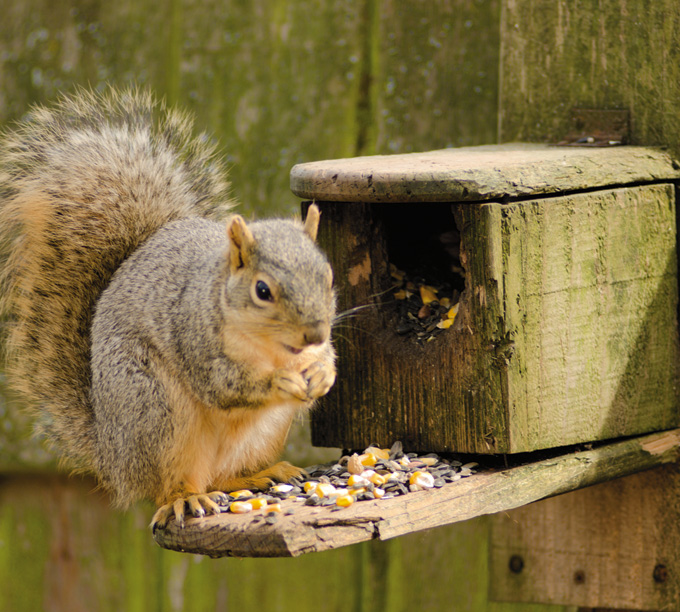 Lessons from Allen and Gioia on transforming your backyard into a welcoming and safe green space.
Provide an array of food sources, such as native plants, berries and seeds, for easy foraging.
 Provide water, such as birdbaths, and shelters, such as vegetation or rock piles, as a safe haven for young birds and animals.
 Provide a chemical-free environment by gardening sustainably and using organic compost and mulch.
| | |
| --- | --- |
| | Left: Allen grows ferns in the unused brick fireplace. Below: Potatoes are grown in old coffee sacks, which are sliced open when the potatoes are ripe. Thistle socks hanging from a rhododendron bush feed birds. // Photos by Jon Jensen |