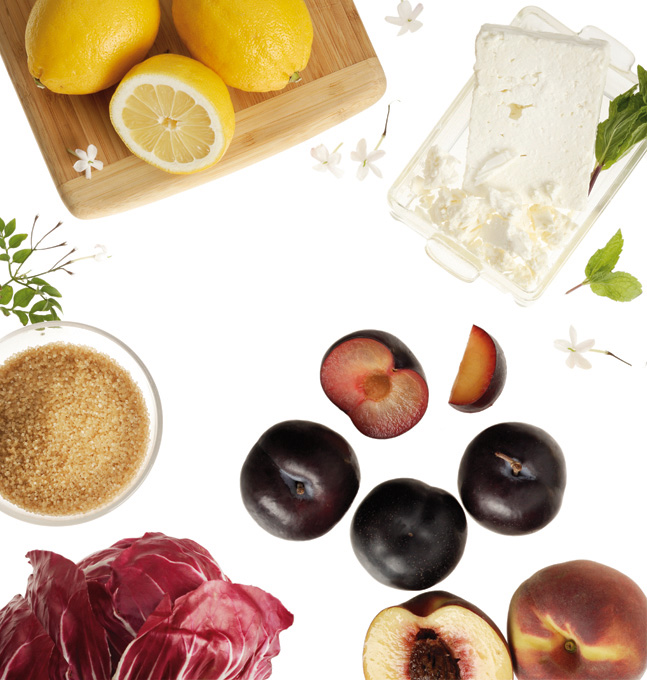 Photo by John Valls
Sure, inviting a few friends for a last minute bring-your-own-meat-and-beer night can be fun. But the setup can produce some unsavory moments — a veggie burger will dry to a crisp as a fat chicken breast finishes cooking over the coals. On the other hand, it's tempting to exert maximum control with a formal dinner party complete with salad forks and decanters. Somewhere in between sits the perfect summer party, a marriage of planning, preparation and relaxing in the moment — like planting veggie beds then sitting back and drinking fresh lemonade. To achieve this perfect balance, we asked experts in catering, bartending and entertaining to create the ingredient list for the perfect summer party.
What they recommended includes everything from fresh raspberries for a lively cocktail to Mason jars for well-placed candlelight, which celebrates the bounty of Oregon's summer and the magical mélange of planning and spontaneity.
---
Dine
Plan stress-free menus and put your friends to work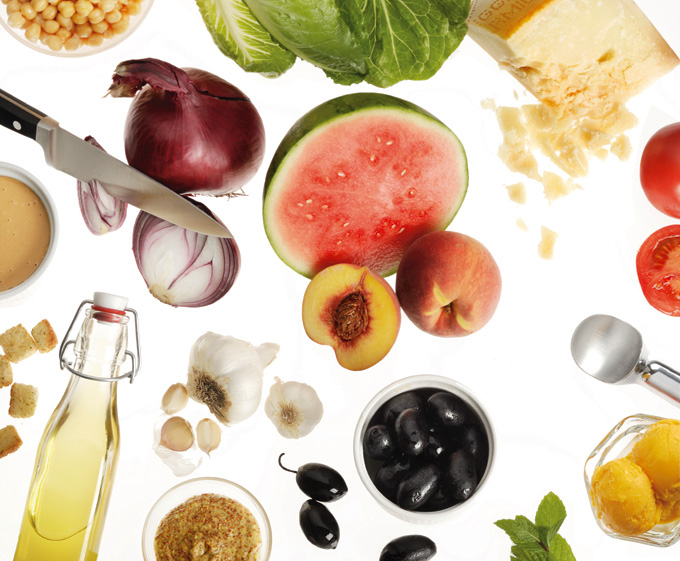 Photo by John Valls
To create a foolproof plan for what foods to serve and how to serve them, decide on the number of guests well in advance, recommends Allen Routt. He and his wife, Jessica Bagley, run the The Painted Lady, a restaurant in Newberg, and have plenty of experience feeding large groups as caterers and restaurateurs.
Before you nail down the menu, think about food costs and quantities. "Hosts always worry about running out of food, but people never eat as much as you anticipate," Routt says. "Plan on each guest eating 4 to 7 ounces of protein, and try to scale back on all portions."
Consider how much food prep you want to do during the party itself. For example, are you comfortable manning the grill for burgers to order, or would you rather be mingling with guests? Routt and Bagley say they prefer to do as much cooking as possible ahead of time to minimize stress.
One trick is to put the guests to work. "At parties, I like for the food to feel interactive," Routt says. "Get guests to peel a seafood or do a fondue, which means they're actually helping with prep but having fun doing it."
No matter what the setup, choose a few central, seasonal ingredients, such as lamb, which can be marinated and grilled well before the first guest arrives. Because it's warm outside, not even meat needs to be served piping hot, says Routt. "Serve meat at room temp along with a relish, compote or caponata, which can add spicy heat."
As for sides, Bagley says she likes to serve salads with wildly different textures and flavors. Because she says she always thinks in "threes" (three appetizers, sides, etc.), she'd serve lamb with: orzo pasta salad with black olive, tomato, chickpeas and tahini vinaigrette; watermelon salad with feta, mint, red onion and red wine vinaigrette; and grilled romaine salad with balsamic Dijon vinaigrette, shaved Parmesan and garlic croutons.
For dessert? She recommends grilling three kinds of Oregon fruits ahead of time, say, peaches, plums and apricots, then serving them with Chantilly cream, ice cream or sorbet for a sweet ending.
---
Imbine
Hire a bartender or get the right equipment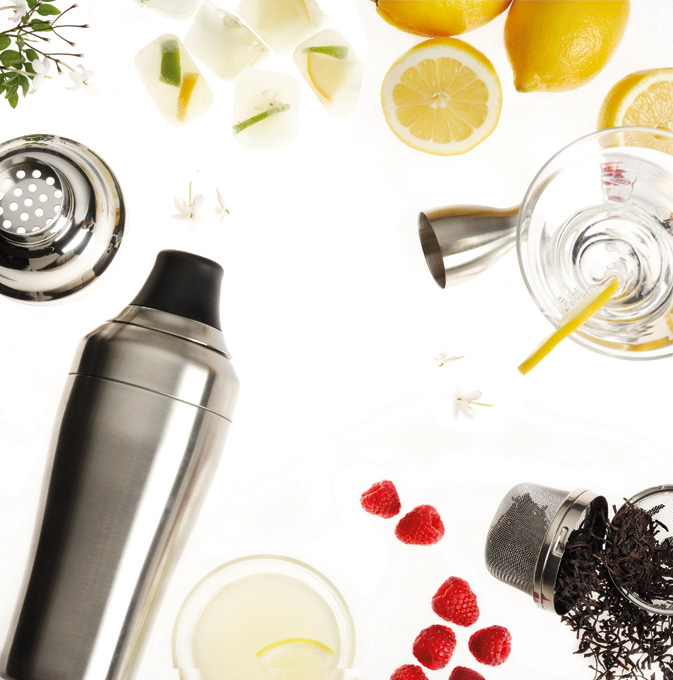 Photo by John Valls
For Christian Krogstad, owner of Portland's House Spirits Distillery, parties fall into two categories: those with more than 12 guests and those with fewer than 12. If you decide to go big, he suggests hiring a bartender. "You simply don't want to hassle with making that many cocktails yourself."
Even better, he says, is a self-service spiked punch, which he quips is "the new black." Some punch recipes call for mixing ingredients days ahead of time to allow flavors to meld, so plan ahead.
Krogstad recommends making Bombay Government Punch (find the recipe in David Wondrich's book Imbibe!), a concoction of lime, rum, arrack, nutmeg and sugar. Serve it with a ladle from a punch bowl with dainty glasses of some sort stacked nearby. Right before guests arrive, add either a large block of ice or, as Krogstad prefers, chunks of frozen tea. "Having the punch dilute over the course of the evening is a good thing, but instead of diluting with water, tea adds flavor." Make it look nice by freezing jasmine flowers or discs of lime into the tea cubes.
If you'd rather shake it up, play bartender. "If you can bake, you can make cocktails," Krogstad advises, but he says having the right equipment is essential, so don't set up the bar without a commercial shaker, fresh juices made from whole fruit and a measuring device, such as a jigger.
Also, he implores home bartenders to follow a well-tested recipe, which could be one you make ahead of time. "You can't just make things up on the fly," Krogstad says. "That approach usually ends in tears." When projecting amounts of ingredients, plan on one drink per hour, per person. If you're serving cocktails, it's unlikely guests will have more than three drinks each.
To capture Oregon's summer in a glass, the spirits maker suggests serving a Raspberry Collins, a festive summertime drink that looks beautiful in a clear glass. Serve it in smaller glasses so the drink won't get warm on a hot afternoon.
Christian Krogstad's Raspberry Collins
7 fresh raspberries
1 ½ oz. Aviation Gin
¾ oz. freshly squeezed lemon juice
2 oz. sparkling water
Ice cubes
¾ oz. simple syrup (equal parts by volume of water and sugar, stirred until dissolved)
Lemon wedge (optional)
Fresh raspberry (optional)
Muddle raspberries in a mixing glass then add gin, lemon juice and simple syrup. Add ice to the glass and shake. Strain over fresh ice. Top with sparkling water and garnish with a lemon wedge, raspberry or both. Serve immediately.
---
Don't worry
It's more about having fun than great decor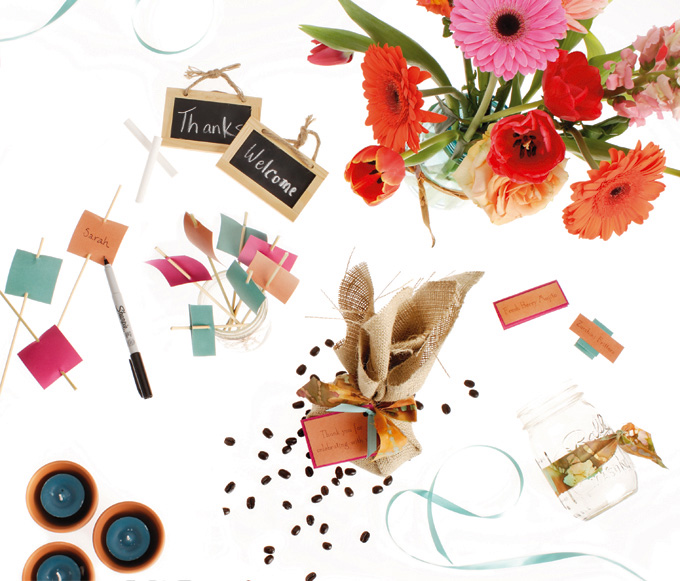 Photo by John Valls
Before you invite your partner's entire office, be realistic. "Don't over-invite guests to the point where you don't have enough space for them indoors. It could rain," says Rachelle Bell, who co-owns the Portland-based Champagne Wedding and Event Coordination with Mandi Wiley.
Pick a theme, even if it's as simple as "seasonal Oregon," "Latin fiesta," or "down-home BBQ." Having an overall theme will help you streamline ideas, so you can easily write a menu and choose music, decor and drinks. Also, making a budget and sticking to it will help the decisions flow.
A couple weeks before your party, take a close look at your space. See where people will move, starting with the entryway, and where they'll eventually congregate. Help create conversation spaces through seating arrangements, blankets (if you're outdoors) or bistro tables, ideal platforms for plates and glasses that don't require seating (and they're easy to rent). Have enough chairs for half the guests to sit at any given time.
To make your space welcoming, clear out clutter — the junk zones you tend to overlook on a daily basis — by putting that stuff in a box in a closet. On the day of the party, clear as many surfaces as possible; put appliances away.
Above all, Bell says, do as much in advance as you can, including making a timeline for the day of the party. Reach out to a friend to help clean the house. Know where the kids and the dog will hang out during the event. "These types of things can become stressors if you don't think about them beforehand."
Keep décor simple. "Candlelight is always extremely inviting and is an affordable way to create a mood," Bell says. Place tea lights in Mason jars or string lanterns outdoors. Buy whatever flowers look freshest at the farmer's market and arrange them in vintage vases from thrift shops. Or float flower tops in a large bowl filled with water.
First impressions matter. Turn on music at least 30 minutes before the first guest is supposed to arrive. "A quiet house is awkward," Bell explains. "They'll feel like they arrived too early." Also, be considerate to those with dietary restrictions by placing identification cards by all foods served.
Most importantly, she says, good food and drink will carry any party even if the decor is ho-hum and you're short a few chairs. "People won't notice if they're eating, drinking and having fun."
End the evening by sending guests home with a thank-you gift. For any party theme, Bell and Wiley say little packages of locally roasted coffee make great favors.