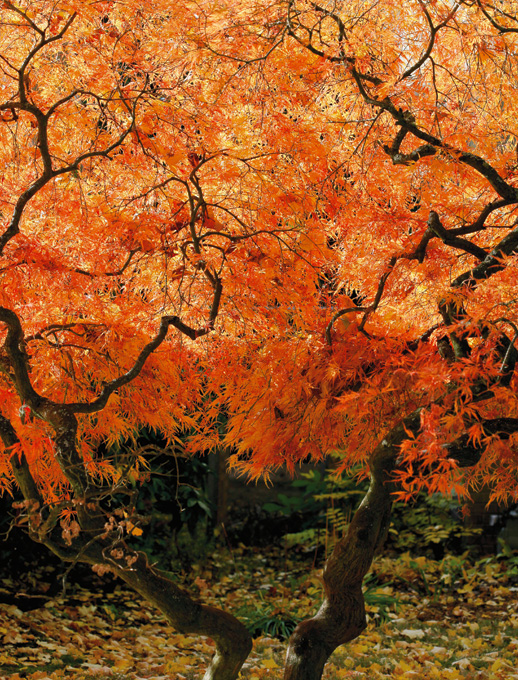 Above: Acer palmatum, known as the Japanese maple, is an autumnal icon in the Northwest readily identified by its multihued regalia and structural underpinnings. With more than a thousand cultivars from which to choose, there is a Japanese maple for every garden. They adapt well to life in the ground as well as in containers on terraces and decks. Leaf colors range from many shades of green to yellow, claret and aubergine.
Below: Hot-pink fruits that open to expose vivid orange seedcases demand an audience in our region, where the spindle tree isn't often seen in private gardens. Euonymus europaeus 'Red Cap' prolongs the season when its foliage turns red in November, adding to the applause.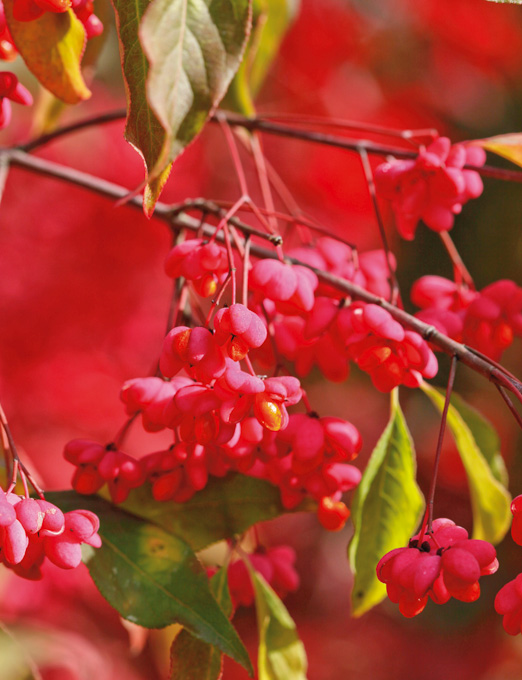 The fall garden can be as showy and vibrant as the summer spectacular. It's all in knowing how to plant for the season.
When the garden party that is summer wanes in mid-August and September, my interest in working in the garden plummets. A sense of lassitude prevails as I sit back and enjoy the garden, allowing the errant weed to flourish and perennials to set seed. A flute of prosecco replaces the clippers that are an extension of my arm during high season. Daytime heat makes me sleepy and relaxed, while longer and cooler nights presage Mother Nature's last hurrah.
A crescendo of color transforms the world as autumn takes the stage. Silhouetted against a backdrop of conifers, signature plants in the Northwest, deciduous trees and shrubs explode in a cacophony of color. Framed by scudding clouds and enhanced by the golden light of autumn, the foliage of Japanese and vine maples glow in shades ranging from saffron to garnet. Hybrid and native dogwoods announce their roles in costumes of crimson, eggplant and russet. Witch hazels chime in with leaves echoing their bloom colors of orange, red and yellow.
---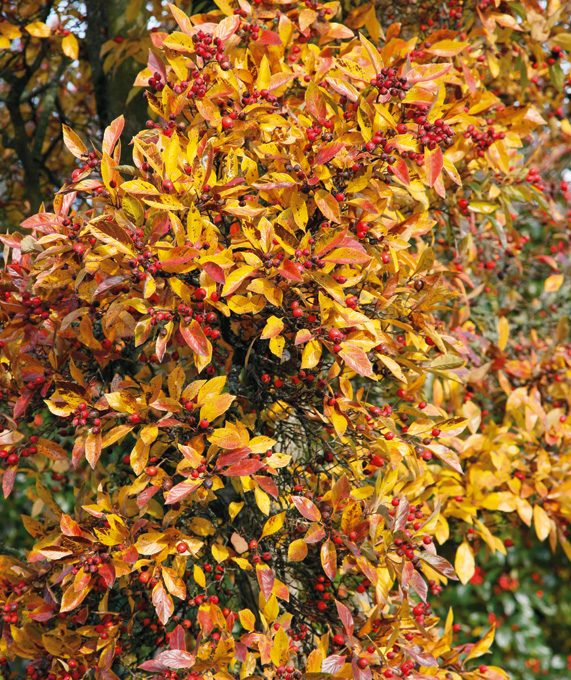 Above: Crataegus x lavallei, the Lavelle hawthorn, offers a great tow-for deal in the autumn when persistent red-orange pomes perform in tandem with a blaze of crimson and bronze fall color. The dark-green foliage is a perfect foil for white flowers displayed on a small, upright tree.
Playing supporting but interesting roles are shrubs and small trees that celebrate the season by showcasing seeds in otherworldly colors. Euonymus europaeus 'Red Cap,' known as the spindle bush, wows with hot-pink fruits that open to reveal bright-orange seedcases. Harlequin glorybower, or the peanut butter tree, takes a bow, presenting metallic-looking sapphire seeds surrounded by burgundy calyxes.
I haunt local nurseries for end-of-season sales and look at shrubs and trees garbed in fall colors. Punch up visual interest in your autumn garden by adding deciduous trees and shrubs with vivid foliage colors and intriguing berries.
---
Tips for the fall garden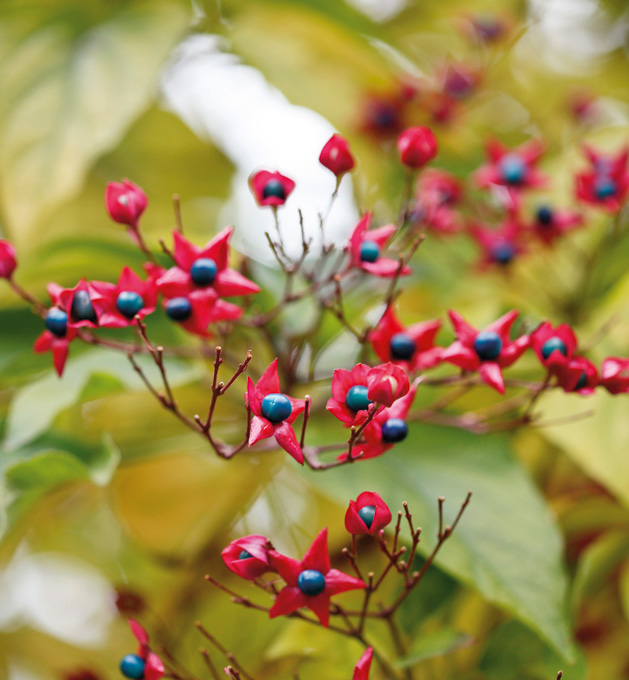 With a name like Clerodendron trichotomum, it is no wonder this small ornamental tree or shrub, with much to recommend it, goes by the name Harlequin glorybower or peanut butter plant. Panicles of fragrant white flowers surrounded by claret -colored sepals appear in midsummer, followed by metallic-blue berries in the fall. It's a good option for small gardens.
Cut back foliage on iris, peonies and hosta, lessening the opportunity for pests and diseases to overwinter. 
Pull or dig up weeds before they release their seeds to help reduce their population. 
Prune out dead, dying or diseased branches in small trees and shrubs. Trim hedges. 
Before the first frost, move containerized tender perennials, such as cannas, bananas, begonias and brugmansias, into a shed, garage or greenhouse. 
Plant spring-blooming bulbs before the first hard frost. Weather permitting, I often dash out to the garden to plant the last of my bulbs while cooking Thanksgiving dinner — not something I recommend, but it works. 
Fall is a good time for garden renovation. Transplanted perennials and shrubs root in the still-warm soil. Trees, shrubs and perennials planted in the autumn aren't as stressed as those planted in the spring, because they aren't trying to bloom while rooting out. 
Create more plants by dividing spring- and summer-blooming perennials. Don't share aggressive growers with your friends and neighbors unless they are forewarned. 
In late October or November, get the garden ready for its long winter sleep by applying a blanket of mulch.