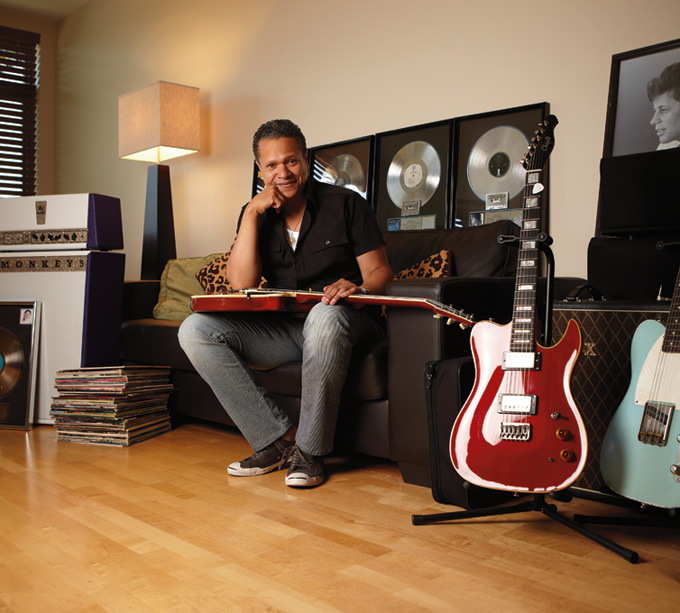 One wall of this contemporary condo shimmers with precious-metal glitz. The framed gold and platinum albums represent just a fraction of the music-industry awards presented to Eddie Martinez. "I think it's around 25," says the guitarist, who played with Robert Palmer, Meat Loaf and Run-DMC; toured with Blondie; accompanied Mick Jagger at Live Aid, and performed on movie soundtracks including Pretty Woman and Pretty in Pink. He also writes advertising jingles (i.e., a Pepsi commercial featuring Britney Spears that aired during the Super Bowl) and regularly performs with his Eddie Martinez Band. Four years ago, he bought a Portland condo and moved in, only to move out again for a place "just down the street."
"Long story short," he says. "I fell in love." With another place? "With a woman." Now the condo serves as his semi-detached music man cave.
MAN STUFF: A small round dining table, glass-top desk and chic leather sofa furnish the living room, but taking center stage are his collection of "rock-god guitars," speakers previously owned by Prince and a custom-design speaker cabinet in regal purple and white with "crushed platinum" plastic details, by 3 Monkeys Amps. "This is my furniture, for all intents and purposes."
FEMININE TOUCH: Leopard-print and green throw pillows
on the black leather sofa were gifts from his girlfriend, Sarah Mensah, COO of the Portland Trail Blazers, as was the wood-and-white-leather chair. "I love that chair, how it's some old school and some new school. Love that juxtaposition."
HOME BASE: Until age 9, he grew up in suburban Queens, N.Y., with a backyard for bare feet in the summer and snowmen in the winter. A sudden change in family finances meant a move to a fifth-floor walk-up in the Bronx. For the middle child of the seven Martinez kids, "it was a cultural shift."
MEMENTOS: He holds dear his family photographs from that time and "the first LP I ever bought: the Beatles' Revolver."
ON THE FRIDGE: Guitar and martini-glass magnets make a cool combo.
FAMILY MATTERS: His brother moved to the Portland area decades earlier, and most of his family followed, including his now 93-year-old mother. His daughter, Mia, is an attorney in New York City. Mensah's son from a previous marriage is "like my son," says Martinez. "All that plus a couple of dogs makes up our family."
{besps}articles/2012/2012_OctNov/Martinez|width=680|height=500{/besps}
{besps_c}0|01.jpg|Handmade guitars, collectible amplifiers and framed gold and platinum albums make the best accessories. That and a black leather sofa is about all Eddie Martinez needs in his man cave/home office in the old Multnomah Village neighborhood in Portland.|PHOTO MICHAEL COGLIANTRY{/besps_c}
{besps_c}0|02.jpg|A collection of vinyl, a glitzy 3 Monkeys Amps and a framed platinum album commemorating more than a million sales of Robert Palmer's "Riptide" on which Eddie Martinez, now of Portland, played guitar.|PHOTO MICHAEL COGLIANTRY{/besps_c}
{besps_c}0|03.jpg|The stack of vinyl includes several artists Martinez played with such as Prince, Robert Plant and Yoko Ono.|PHOTO MICHAEL COGLIANTRY{/besps_c}
{besps_c}0|04.jpg|Guitarist Eddie Martinez keeps a collection of vintage and handmade instruments including ones by Breedlove Guitar Company and Griffin Guitars both of Oregon.|PHOTO MICHAEL COGLIANTRY{/besps_c}
{besps_c}0|05.jpg|With crushed platinum-color sparkle and white vinyl amplifier from 3 Monkeys Amps, who needs furniture?|PHOTO MICHAEL COGLIANTRY{/besps_c}
{besps_c}0|06.jpg|Guitars, equipment and a picture of John F. Kennedy fill the condo Eddie Martinez uses as a home office for writing and playing music.The Portland-based guitarist has played with and/or recorded with some of the most familiar names in rock and jazz.|PHOTO MICHAEL COGLIANTRY{/besps_c}
{besps_c}0|07.jpg|The Vox pattern is as recognizable to musicians as the Burberry plaid throw is to home design fans.|PHOTO MICHAEL COGLIANTRY{/besps_c}
{besps_c}0|08.jpg|A guitar with wood, steel and mother-of-pearl inlay has all the craftsmanship of truly fine furniture.|PHOTO MICHAEL COGLIANTRY{/besps_c}