If your idea of getting wild means using a red-and-green tartan plaid tablecloth during the holidays, it's time to reexamine your sense of possibility when it comes to decorating the tabletop with patterns.
Patterned linens and dishware can create any kind of mood, from elegant and refined to bold and modern. Think neutral tones combined with tulle prints, or a table blanketed with various scales of chevron. "Patterns can be a fun way to showcase your own personal style and set the tone for a meal," says Hailey Bernstein, owner of Zest Floral and Event Design in Beaverton. "The table is a place where there aren't rules."
That said, following a few basic guidelines will ensure a harmonious table, says Alison Van Delden, junior designer at Garrison Hullinger Interior Design in Portland. "Choose a color palette, whether it's pastels or jewel tones, and stay within it," she says. That hot-pink polka-dot vase probably won't mesh with a table awash in earth tones.
In the same vein, Bernstein recommends sticking with one family of fabrics. "Satin won't look good with linen," she says. "Try the same washed linen in different patterns for the tablecloth, napkins and runners."
When mixing patterns, create some breathing room with backdrops of solid color. For example, floral-rimmed dishware and a leafy table runner will pop atop a solid-colored tablecloth, and will avoid any sense of claustrophobia. Fabric on fabric? Yes, says Van Delden. "Don't be afraid to create layers."
The hottest patterns right now feature enlarged classic patterns, which can turn a simple plate into a bold, graphic statement. For inspiration for the tabletop and beyond, Van Delden recommends checking out designers Tobi Fairley and Jonathan Adler.
If you're feeling bold, assign each place setting its own pattern by using unmatched napkins, vintage china or glassware. Before you know it, you'll have banished that tartan plaid to the boring bin.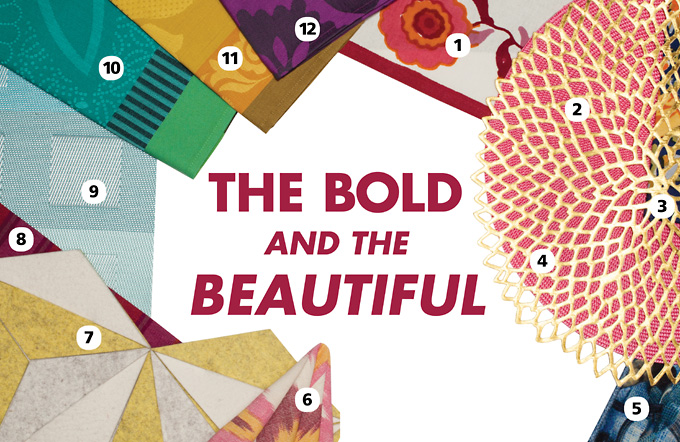 1. TREETOP MULTI RED NAPKIN: $10, Couleur Nature; at Ink & Peat, Portland
2. DEBORAH RHODES PINK LINEN BRAID PLACEMAT: $22, Deborah Rhodes; at Uptowne Papers, Portland
3. JARDIN FLOWER TEA TOWEL NAVY/ORANGE NAPKIN: $14, Couleur Nature; at Ink & Peat, Portland
4. GOLD PRESSED DAHLIA PLACEMAT: $10, Chilewich; at Relish Home and Interior Design, Portland
5. NIKKI NICHOLS CUSTOM TABLE RUNNER: $395, Nikki Nichols Fabric, custom made by Cielo Home; at Cielo Home, Portland
6. JULIAN MEJA DESIGN COTTON IKAT NAPKIN: $38, Julian Meja; at Uptowne Papers, Portland
7. CRAFTED SYSTEMS ASSEMETRICAL HEX IN SUNFLOWER/CLOUD/CREAM: Runner $325, Crafted Systems; at Relish Home and Interior Design, Portland
8. RAJASTHAN-POMEGRANITE NAPKIN: $21, Le Jaquard Francais; at Please Be Seated, Portland, 503-595-1736 
9. CHILEWICH ENGINEERED SQUARES AZURE PLACEMAT: Runner $16.50, Chilewich; at Relish Home and Interior Design, Portland
10. BAMAKO-TURQUOISE NAPKIN: $21, Le Jaquard Francais; at Please Be Seated, Portland 
11. SAMARKAND-CITRON NAPKIN: $21, Le Jaquard Francais; at Please Be Seated, Portland 
12. ARGENTINE-PURPLE NAPKIN: $21, Le Jaquard Francais; at Please Be Seated, Portland