Above: Under the massive canopy of a neighboring Norway maple, Robert and Julie tend to their backyard habitat. A large swath of gravel deters weeds, helps with winter drainage, and simplifies daily cleanup after their dog. Two 6' tall blueberry plants flank the formal stepstone path leading to a small seating area enclosed by free-standing curved steel trellises that will become living walls.
The Backyard Habitat Certification Program is an ongoing partnership between Portland Audubon and Columbia Land Trust.  It covers over 200 acres of backyards in Portland and has distributed over 15,000 native plants this year.
Photos by Yoo Jean Han
One of my favorite parts of building gardens is the opportunity to connect people to place in a new way. And what better way to make that connection than through the goal of creating habitat. Our clients want their gardens to feel rooted in place, striking a balance between everyday human needs, and those of the wider natural world. Setting the intention to create a Certified Backyard Habitat allows us to make informed and focused decisions from the get-go about materials, layout, and plantings. Homeowners love knowing that their investment is helping restore habitat and diversity to our unique Northwest bio-region. With 200 acres of certified habitats, and the number of enrolled properties growing each month, change is happening. We are weaving our individual gardens together into a larger, vibrant web, and a greener future for our state.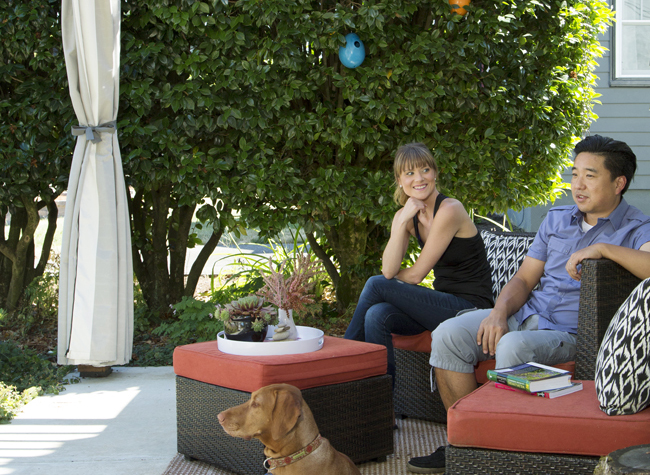 Robert Kim, Julie Teal, and Rigby relax on their front patio in Northeast Portland. This outdoor room allows the family to interact with passing friends and
neighbors while enjoying views of the tiered garden. Canvas curtains on one side of the pergola create a privacy option for evening events and meals.
Colorful egg-shaped nests hang from Camellia shrubs to invite songbirds. Designed and built by Terracord Landscapes. Nests available at Birds & Bees
Nursery, Portland.
IDENTIFY AND MANAGE INVASIVES SAFELY
Invasive plants choke out native plant species that provide food, forage, and shelter to wildlife. Over centuries, animals in our region have developed specific relationships with the plants that grow here. When an introduced plant spreads rapidly and replaces habitat for native species, it can effect a broad portion of the food chain. Most of us can easily identify the most prominent invasive plants —Himalayan Blackberry, English Holly, and English Ivy, for starters — but there are dozens more, with the list evolving each year. In Portland-area yards, I often encounter Spurge Laurel (Daphne laureola), Herb Robert (Geranium robertianum), Myrtle Spurge (Euphorbia myrsinities), and Tree of Heaven (Ailanthus altissima). For up-to-date information about invasive plants in your area, check out www.OregonInvasiveSpeciesCouncil.org.
To remove the smaller plants, diligent handweeding can do the trick. Larger areas benefit from sheet mulching, where a blend of cardboard, woody plant debris, compost, and mulch are placed directly over the plants you want to remove. This approach smothers the unwanted plants and provides rich, water retentive soil to plant in. Sheet mulching won't work in areas that are already high grade (such as most curbside planting beds) or in areas prone to high winds, but in many small gardens, it's a great way to go.
To tackle larger trees and shrubs, consult a certified arborist who has experience removing invasives. Think about reusing branches to line paths, create trellises, or start a brush pile to invite nesting birds. Instead of painting toxic herbicide on the stump, consider having it groundout with a stump grinder, and reusing the chips along paths and borders and in your compost. Another option, if the stump is not an aggressive resprouter, is to inoculate with mushroom spores. The fungi will help break down the stump faster and also contribute to overall soil health. Terraccord Landscapes has been working with local mycologists to develop inoculation strategies for residential yards. An inoculated stump bursting with beautiful, fantastical fungi can provide the perfect setting for a child's fairy garden, in addition to being a wonderful way to create wildlife habitat.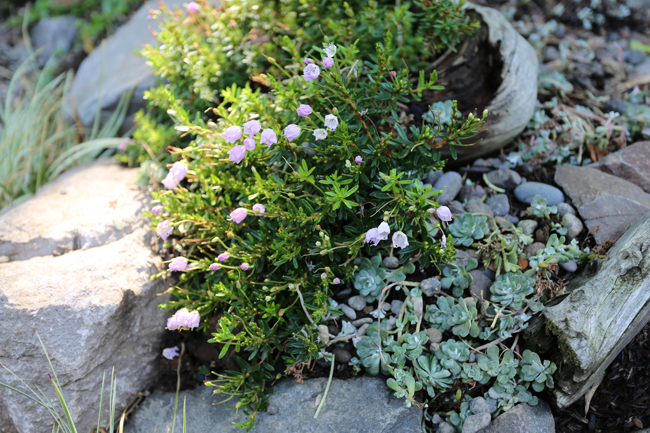 x Phylliopsis 'Sugar Plum' is a gorgeous hybrid of two rare NW Native heathers. Planted with Sedum spathufolium 'Cape Blanco.'
BUILD A FOUNDATION WITH NATIVE PLANTS, PAYING ATTENTION TO PLANT COMBINATIONS
Our NW bio-region hosts an incredible diversity of plant life. We are lucky to have access to a huge array of wildflowers, unique evergreens, and powerful medicinal plants. These plants aren't just helping sustain the food chainfor wildlife. In our urban gardens, they provide dynamic textures, winter flowers, and a wide range of color when paired with other ornamentals and non-native plants. I like to call this "Native Fusion" gardening, because we're not interested in the simplistic viewpoint that native equals good, non-native bad. The goal instead is to weave together native and non-native species in a way that is beautiful for our gardens and generous to wildlife in all seasons. Native plants are insanely adaptive. There is a native plant for any spot in the garden — from that waterlogged, shadowy corner, to the rockiest, sun-blasted site. Thankfully, in recent years, local nurseries and growers have expanded their native plant sections to better reflect the amazing diversity of the NW plant palate.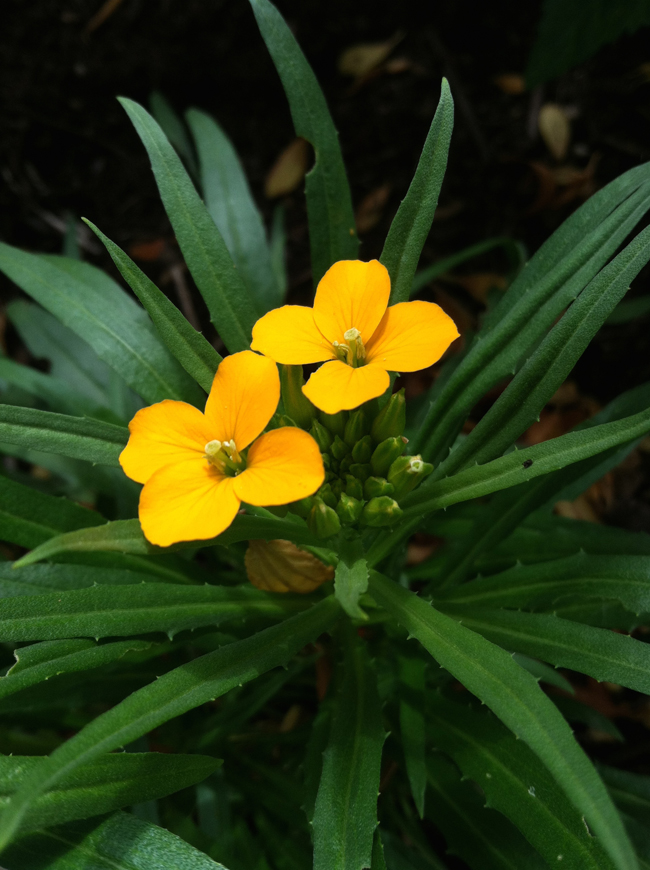 Western Wallflower (Erysimum capitatum),
an underused, beautiful Northwest
native, is easily adapted to most gardens.
Next time you visit your favorite garden center, challenge yourself to find a native plant you have never seen before. We're moving beyond sword ferns and douglas fir trees here. How about Yerba Beuna (Micromeria douglasii) the beautiful, xeric groundcover with exquisite tiny white flowers, that adds flavor to cocktails and summer salads? Or the showy fountain of blooms cascading each summer from western Goatsbeard? (Aruncus dioicus). The Cascara tree (Rhamnus pershiana), with its compact growth habit and elegantly shaped leaves, makes a great addition to even the smallest gardens. Bonus: birds love the jet black berries. There are so many choices when it comes to native plants, it is easy to feel overwhelmed. One easy goal to set for yourself is to try to find a native plant for every 'tier' of your garden, from groundcover on up to specimen tree height. The Backyard Habitat Certification Program provides professional, targeted recommendations for your yard along with substantial discounts at native plant sales.
RETHINK YOUR MAINTENANCE PATTERN
We need to modernize our attitudes towards landscape maintenance, embracing more fully nature's cycle of death and rebirth. To quote James George, lifelong environmentalist: "What has to change more radically is my whole attitude to nature, from one of domination to an attitude of stewardship." As stewards of our garden habitats, we move into a place of deeper observation. We question the voice that tells us something 'bad' is happening if insects or bite-marks appear on leaves; instead we observe to see if whatever is feeding might in fact be a future butterfly. We move away from the outdated notions that leaf litter is 'messy,' moss is 'harmful,' and that woody shrubs need fastidious pruning every year. Designating certain areas of the garden as hands off zones for human interference not only cuts back on your maintenance regime — it also allows your habitat to evolve into a more complex ecosystem for wildlife to flourish. Avoiding pesticide and herbicide spray allows arthropods to make homes in our gardens, which in turn invites in birds of every color. Have you ever seen a Goldenrod Crab Spider? You might not even know it, because they have such incredible camouflage tactics. I guarantee an encounter with this incredible arthropod, perched inside a flower, will make even the most squeamish gardener smile.