Photo by Holly Stickley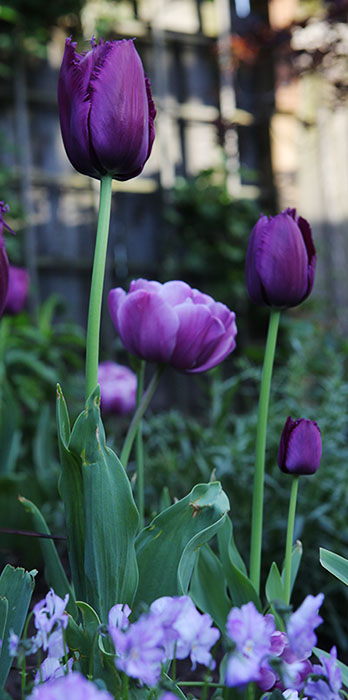 There are many lessons about bulbs I could teach you — designing, sourcing, and planting, but I think you'll really appreciate this one — learned first hand by yours-truly, the hard way.
Last fall, I planted 100 tulip bulbs at my house, and about 1000 at my clients' homes. I love tulips — there are so many varieties and colors — I go crazy with happiness…:-)
By December, I still had a few boxes of leftover varieties — 15 in this box — 9 in that box, etc. My plan was to plant the leftovers in pots with a loose design aesthetic — meaning no design…:-) Because the cold hit us early in Portland, I was dragging my feet to pot them up, so out in the garage they sat, where it was cold.
Then one night, early December, I heard rustling noises in the garage — yikes! I called to our kitty Gwendolyn, but she was in the house snoozing in her favorite spot. I quickly slammed and locked the kitchen garage door. My husband Fred was at a gig, but I texted him — no response — fart. I was freakin' out, but then what could he do? I would have to wait it out…
Move forward a couple of months to Sunday, February 7th — beautiful, sunny low 50 degree day in Portland — absolutely gorgeous! I decided it was a good day to putter in the garden and organize the garage. I still had the boxes of leftover tulip bulbs and some looked in perfect condition — but didn't I have a bunch more?
Then I saw it…black droppings — yikes, mice!! I don't know why, but mice scare the be-jeepers out of me. Maybe it's because they have those long skinny tails and scurry about at lighting speed.
I canvassed the space — opened the cupboards — oh my, what a site I would see and smell! I'm not sure how many there were. They shredded plastic, cardboard, and dried leaves for bedding. I also had tender perennials wintering-over in the garage and a wheelbarrow of mulch keeping dry. They had a lot to work with — and tulip bulbs for breakfast, lunch, and dinner! They had everything they could ever want — it was their dream come true!
I was astonished at how much havoc they could wreck. It took a few hours to clean up the mess. We took everything out of the garage and washed the cupboards and concrete floor with a bleach/water solution. We found the hole in the floor that they were coming through, and blocked it off with a brick. So far so good, no signs as of today.
What really makes me mad, is that I know how rodents love bulbs — I can't believe how dumb I was! When I plant, I dip every single bulb in a rodent repellant solution.
Well, that's my bulb lesson for this season. Don't make the same mistake that I did!
To end on a pretty note… I'm looking forward to seeing tulip beauty very soon — can't wait!
Love, Holly ~ Your Queen Bee at The White Pear