Once confined to the countryside, it's safe to say that farming has officially put down roots in the city. Boasting benefits for both the environment and the communities that they serve, it's easy to see why fans and farmers alike advocate for the urban approach. 
Crops that are normally out of season can be found stuffed into gallon-size freezer bags at the local supermarket and meals that in the past would've taken hours to make now take mere minutes in a microwave. However, within recent years there has been a definitive shift in the culinary sphere towards, what has been coined "slow food": as in meals prepared by hand and made from fresh, locally grown ingredients.
Those who choose to go the extra step to cut out the middleman and produce their own food are still a relative minority, but the urban-farming movement is growing. Beyond knowing exactly where your food comes from, what gives urban farming its appeal? We spoke to some of our own Portland, Oregon, farmers and farm storeowners about the movement and its aim toward accessibility and fresh produce for all.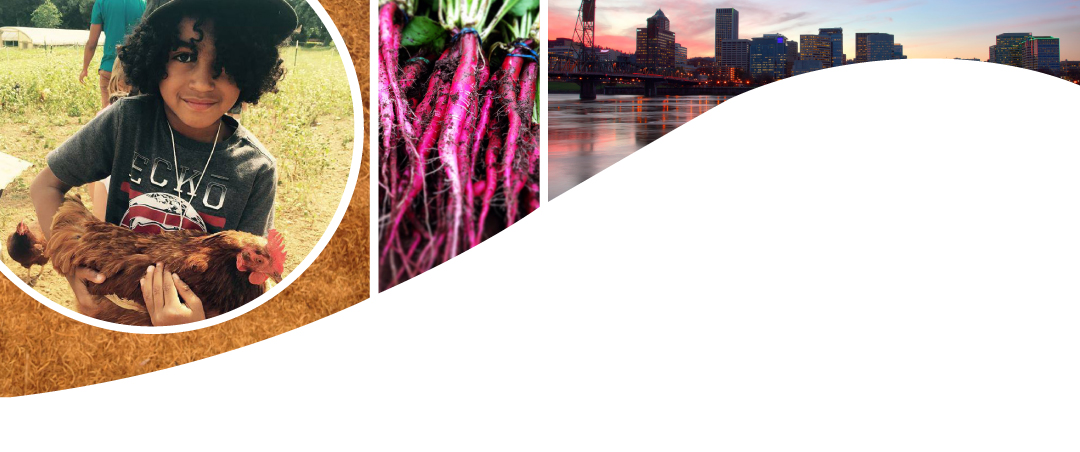 Nestled in Portland's Northeast Cully neighborhood, surrounded by homesteaders and supportive neighbors, lies the Side Yard, an urban farm turned supper club turned catering company run by resident Stacey Givens. Originally from Redondo Beach, Calif. Stacey moved to Portland 10 years ago, working her way in and out of local kitchens. Drawn to the city's food and farming culture, much like what she grew up with, Givens later took inspiration from this for the Side Yard.
"I grew up in a large Greek family where we grew our own fruits and veggies and had huge family style meals… I wanted to stick to my roots and create a place where people feel like family when they visit."
Beyond just her family of farm visitors and volunteers (who work in exchange for seasonal fresh produce), the Side Yard supplies 15 local restaurants, such as 23Hoyt and Veritable Quandary to name a few, with organic veggies, fruits, herbs and more in true farm-to-table style, or as Givens calls it, "seed to plate." Being that the Side Yard is essentially just its name, a side yard, at least in location and size, her clientele list is impressive. While she undoubtedly takes pride in this, for Givens, success isn't measured in the tangible. She and the Side Yard thrive on their contributions to the community, which Givens believes is a direct result of urban farming.
"I believe that urban farming can change the world! It makes our food as local as it can be. By growing what we need in neighborhoods near where we live, we decrease food miles, make farm education easily accessible, offer local job opportunities and add greenery to our cities."
And while many cities across the country are embracing urban farming, Portland holds a special significance for Givens. "The sense of community in Portland is like no other place," she says. "It's the people that make it so amazing, and this is the reason why the Side Yard, along with many other urban farms, works so well here. I love this city!"
http://www.thesideyardpdx.com/
Measuring at just over a quarter acre, also in Northeast Portland, Fox + Bear Urban Farm is unique in that it's run in total by just one farmer. And while Katie Boeh characterizes her farm as a micro farm, it's far from that in production, specializing in everything from annual vegetables (35 different varieties, in fact) and fruits to herbs, eggs and even honey. But she recognizes the challenges of having such a small plot to work with.
"Micro farming comes with its own unique set of challenges as production capacity will always be constrained to some extent by the footprint of my property," Boeh tells me. "Rural farmers may have 10, 20, 100 acres to work with; I have to be conscious of every square foot. I am constantly working on strategies to reduce waste, increase efficiency, layer the use of space and refine crop selection… I find these challenges inspiring and worth- while." Despite the challenges, Boeh is poised for and has experienced many successes. While quite a few urban farmers work on leased land within the city, Boeh owns her property in its entirety, and stresses the importance of keeping land available and undeveloped for farming use now and in the foreseeable future. "The more densely we develop the inner city, the more we lose potential urban farm land. The future of urban farming really depends on the preservation of some larger plots within the city to be protected from development." For Boeh, however, the desire to save land goes far beyond just growing organic crops.
"I think urban farm enterprises are becoming an important addition to sustainable, localized food systems… [They're] places where city folks can begin to interact with and experience where their food comes from in tangible ways at a scale that is accessible."
http://foxandbearurbanfarm.com/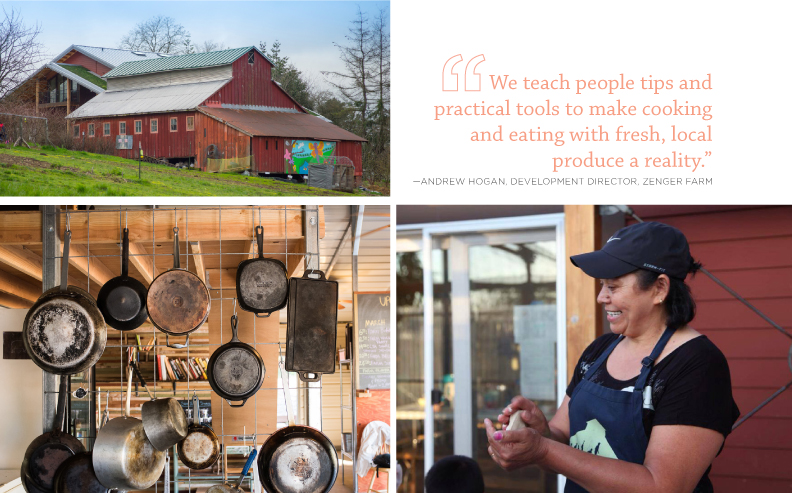 In contrast to both Fox + Bear and The Side Yard, Zenger Farm, located on the far outskirts of SE Portland, is a bit larger of an operation. It's also quite a bit older: the land that Zenger Farm occupies was part of a 320-acre donation land claim by sawmill operator William Johnson, who furnished lumber for some of Portland's earliest homes during the mid-19th century. Eventually, the land was purchased in 1913 by Swiss dairy farmer Ulrich Zenger, where Zenger Farm gets its name. Yet even with such a rich history, Zenger Farm is constantly looking forward.
"Zenger Farm's work is built on the pillars of education, access and empowerment. Annually, we educate 10,000 kids and families about how growing good food is possible anywhere, even in a city!" says development director Andrew Hogan.
"We teach people tips and practical tools to make cooking and eating with fresh, local produce a reality; we also teach people about their role in their local and regional food systems and ecosystems." Four acres on the property are home to a variety of mixed vegetables and fruits, and also play home to laying hens, turkeys and honeybees, and everything grown and produced on the farm stays right here in Portland. While some might find this desire to keep things strictly local as insular, executive director at Zenger Mike Wenrick believes otherwise. "A robust food system where all people have access to the bounty of delicious crops is a regional value. We have vibrant farmers markets, great participation in CSA [Community Supported Agriculture] farms and innovative initiatives to ensure that low-income families can access farm-fresh produce from Portland- area farms." Visitors young and old, in addition to enjoying Zenger's bounty, can take classes, participate in camp and volunteer to help keep the farm running smoothly in all aspects. After all, as Hogan tells me, "we believe in nourishment as a basic human right and access to good food for all."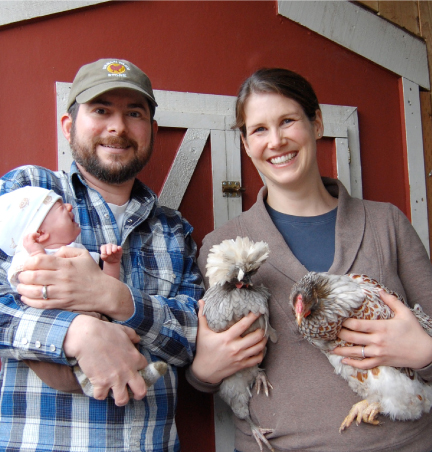 Among other things, at least when it comes to urban farming, Portland is perhaps most famously known for its growing population of clucking, feathered residents. "Urban chickens," as they are often called, are popping up in more and more backyards around the city, and perhaps no one is wiser to this than Robert Litt, author of "A Chicken in Every Yard," as well as co-founder of Urban Farm Store in Southeast Portland with wife Hannah.
"I met my wife in 2007 and we were wed within a year. She shared my intense interest in gardening and had, like me, also recently taken to keeping a few laying hens in the garden," Litt tells me. "We loved to watch them graze and scratch, mowing down weeds and bugs and providing loads of terrific compostables. They were just the thing to complement our lifestyle, and the flock expanded." This personal passion has since expanded to their shop, where visitors can purchase everything they need for a fully functional flock, including their own chicks. But Urban Farm Store also stocks lots of veggie and flower starts, and even beekeeping supplies, with none of the pretense.
"My aim for the store is simple: to successfully demystify urban farming and make it seem normal, easy and mainstream." For Robert, this is key to the future success of the movement.
"The future of the movement itself, from my perspective, rests on this ability to become mainstream. There have long been isolated individuals and communities that grow their own food and live by these values. They are the purists and the leaders, but the ideal they uphold is demanding and requires skill and, above all else, lots of time. Even spending only a few hours a week in contact with the source of food is life changing and empowering."
At the heart of the Litt's efforts both at Urban Farm Store and beyond, is the desire to really get down to the basics.
"Everybody's got to eat, and everybody can grow his or her own food."
https://www.urbanfarmstore.com/
 Naomi Montacre of SE Portland's Naomi's Organic Farm Supply is similarly passionate about keeping urban farming as accessible as possible. Once a resident of Brooklyn, New York working in the film industry, she decided to leave the bombarding neon world as she calls it behind and put down roots in Oregon and eventually Portland. With money she squirreled away and a love of organic agriculture and food production, she decided to start a shop of her own.
Headed by a team of both humans and goats (Oona Bee Riot and Binga Von Flair), as the name suggests, the shop is all about organics, from fertilizers and compost to potting soils and animal feed provided for everyone from those just making a foray into the hobby to those with established plots and even organic farms in the surrounding Oregon countryside. But, as Montacre insists, it's definitely not about the monetary gain.
"The capitalist part is harder for me. It works out, thankfully. But if it wasn't for the people, I definitely wouldn't want to be involved in retail."
The people she describes are at the heart of everything she and her store strive, for and she admires and serves as aid to her customers in whatever ways they need to help them along their own personal urban farming journey.
"Over the years, things have evolved, but the core principle has always been the love of people and what they're doing," says Montacre. "cultivating relationships and watching people and their gardens and farms grow."
http://naomisorganic.blogspot.com/
From the farmland to the storefront, for the movers and shakers of the urban farming movement, it's about much more than the net gain. It nourishes its local neighborhoods in mind and body while creating and providing an important sense of community in its own right. But ultimately, at its core, it's about getting back to a life of simplicity and not of convenience; of fresh veggies, fruits and herbs lovingly planted by gardeners and green thumbs alike, even in their own backyards.