Text & Photos by Holly Stickley
Struggling to find just the right ground cover? Check out these gorgeous ground covers and see if one, two, or ten strike your fancy! Enjoy, and as always, love hearing from you!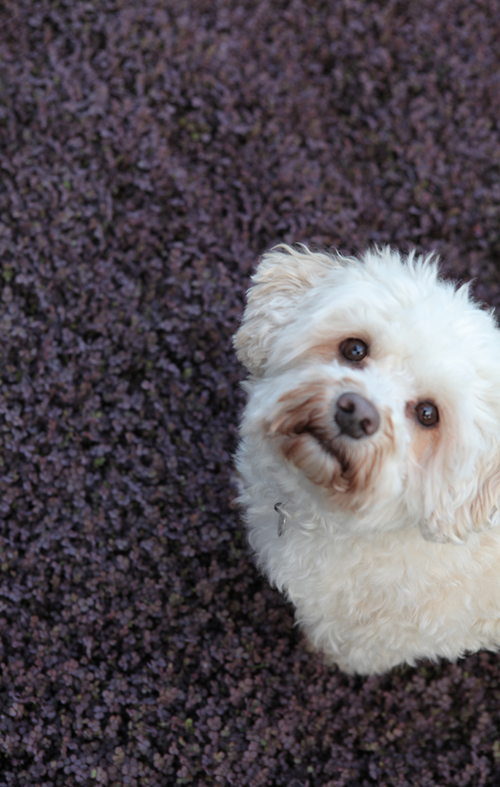 Chester on a carpet of Purple Goose-Leaf 
Purple Goose-Leaf
Acaena inermis 'Pupurea'

A stunning low-growing ground cover from New Zealand. Three inches tall by a 12″ wide. Scalloped leaves, 3″ across with 11-15 tiny purple-brown leaflets creates a carpet of delicate fern-like foliage. In the summer, tiny globe-shaped flowers (brownish-green sepals with white anthers), rise above the foliage on short stems. Plant between paving stones, on a garden wall, on banks and on slopes. Gorgeous mixed with bright-gold foliaged plants. Plant in full to partial sun. Needs a well-drained location. Drought tolerant once established. Evergreen.
Zones 6-9.
---
White Nancy Dead Nettle
Lamium maculatum 'White Nancy'
White Nancy produces milky-white clusters of small, hooded flowers in late spring and sporadically throughout the summer. Just 6″ high, spreading to 18″. Stunning silvery leaves with narrow green margins.  An eye-catching ground cover even when not in bloom. Plant in partial sun. Needs regular water. Semi-evergreen. Zones 3-8.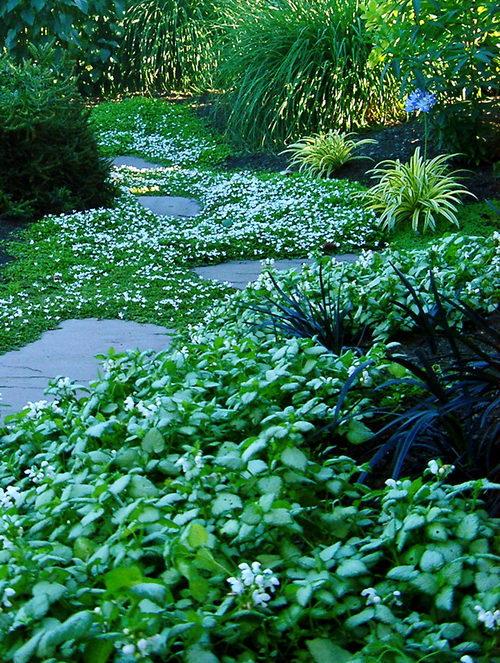 Foreground: Lamium White Nancy
Background: White Star Creeper along the stones
White Star Creeper
Isotoma fluviatilis alba

I love both the blue and white star creepers.  Tiny green leaves form a dense carpet 2-4″ tall, spreading 12-18″ wide. Delightful tiny star-shaped flowers smother this plant all summer long. Plant in full or partial sun. Needs weekly water or more in extreme heat. Evergreen. Zones 5-9.
---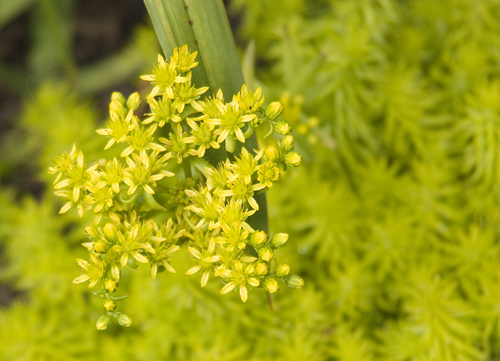 Angelina Stonecrop
Sedum rupestre 'Angelina'
Brilliant chartreuse-yellow, needle-like foliage spreads quickly to form a low mat-forming ground cover, 4″ tall by 24″ wide.  In late spring, flat, broccoli-shaped flower heads with upward-facing, starry-crystalline blooms emerge. Gorgeous planted around perennials and annuals with dark colored foliage. Adds bright color to flowering borders, containers, and dry slopes. Amber-orange winter color in northern climates. Best in full sun. Drought tolerant once established. Evergreen. Zones 3-11.
---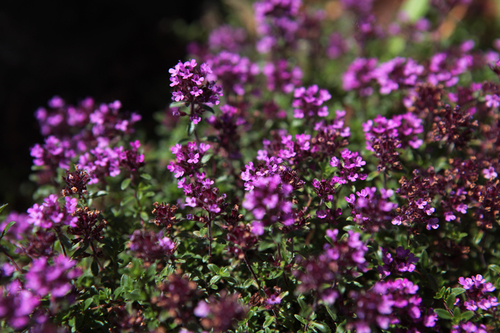 Red Creeping Thyme
Thymus praecox 'Coccineus'
Early summer brings a blanket of deep lavender-red blooms on this fast spreading, semi-evergreen ground cover. Just 3 to 6″ tall by 12 to 18″ wide, the foliage is intensely fragrant when crushed. Charming when planted between paving stones and trailing over edges of pots. Tolerates light foot traffic. Plant in full sun and well-drained soil. Water regularly when top 3″ of soil is dry. Evergreen in the south. Semi-evergreen in the north.  Zones 4-8.
---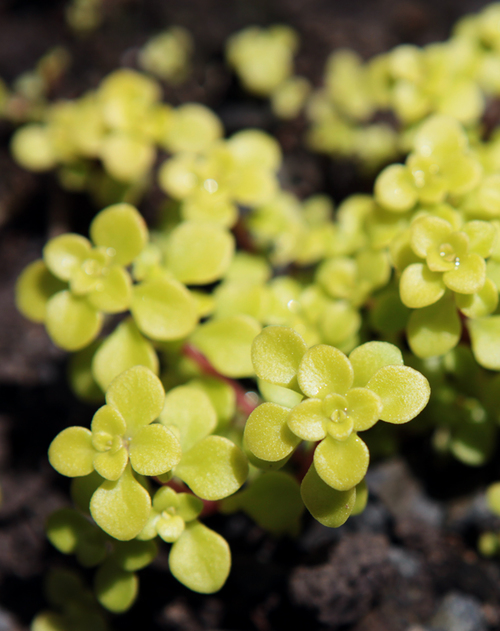 Golden Japanese Stonecrop
Sedum makinoi 'Ogon'

I love this perennial for its delicate, bright golden-yellow foliage and its tolerance of partial shade. Two inches tall by 12″ wide. Insignificant tiny yellow starry flowers in spring. Striking color accent in rock gardens, rock walls or containers. Can take all but the hottest sun. Moderate water every 10-14 days. Herbaceous perennial. Zones 6-9.
---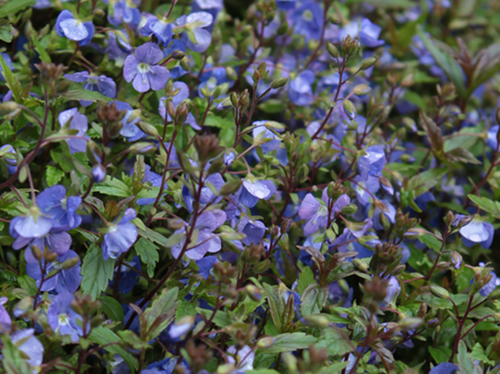 Veronica Georgia Blue
Veronica peduncularis 'Georgia Blue'
A mass of long-blooming, small, blue-purple flowers blanket this low-growing purple-tinged, medium-green foliage for months, and sporadically throughout the year. A great weed-suppressor or cover for spent spring bulbs. And, it's nice to have a ground cover that blooms late winter, early spring. Plant in full to partial sun. Needs regular water. Evergreen.  Zones 4-9.
---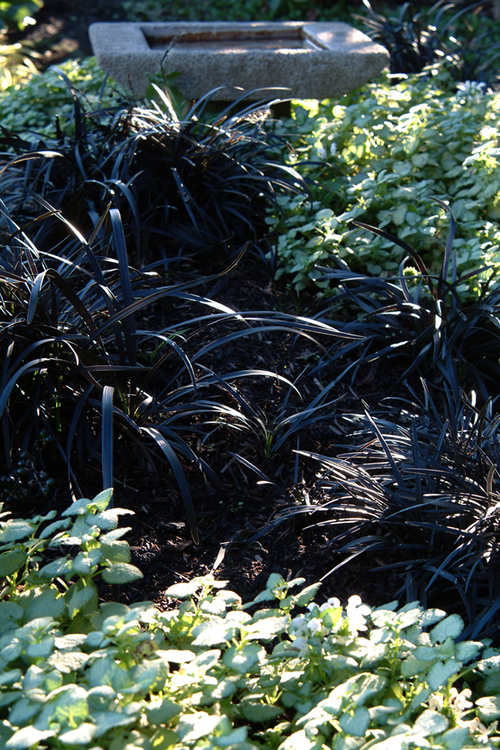 Black Mondo Grass
Ophiopogon planiscapus 'Nigrescens'
Stunning purplish black, grass-like foliage. Great for edging in mass or with contrasting bright colors. Produces dark lavender flowers and purple fall berries. In my garden I've planted it underneath a berm of black bamboo and on another berm with Lamium 'White Nancy.' Fabulous in mixed containers too. Spreads slowly. Plant in full to partial sun. Needs regular water. Evergreen. Zones 5-10.
---
Black Scallop Bugleweed
Ajuga reptans 'Black Scallop'
My favorite ajuga. Glossy, oversized deep purplish-black scalloped-shaped foliage. In spring, short spikes of vibrant deep blue flowers makes a dramatic contrast with the dark foliage. Mat-forming, 3 to 10″ tall by 3′ wide. Plant a foot apart to fill in quickly or space 3′ for more gradual coverage. A gorgeous ground cover for the garden floor or spilling over a container edge. For the darkest leaf color, plant in full sun. Can tolerate part shade. Drought tolerant once established. Evergreen in mild and warm climates.  Zones 4-11.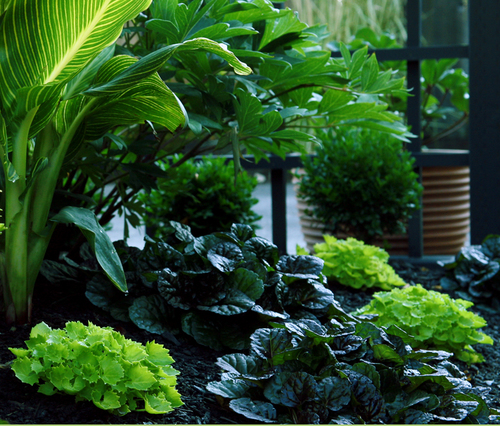 Dickson's Gold Bellflower
Campanula garganica 'Dickson's Gold'
Dickson's Gold Bellflower is a gorgeous bright, gold-leaved bellflower. Just 4-6″ tall, spreading 8-10." The foliage has interesting texture with its serrated saw-tooth edges. In summer, starry lavender-blue flowers compliment the compact mounds of golden foliage. Gorgeous planted alongside dark colored foliage. Plant in full sun for gold color foliage, or partial shade for chartreuse color foliage. Needs good drainage. Regular water during the summer. Herbaceous perennial. Zones 5-7.